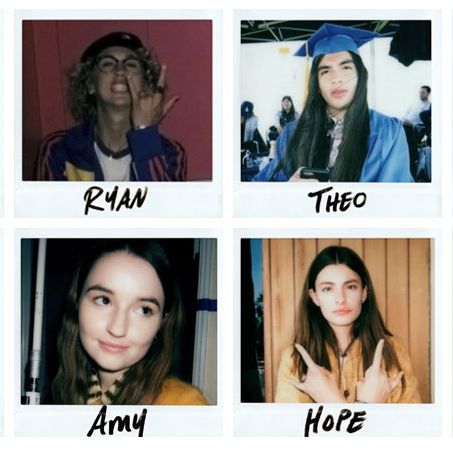 Photo: Booksmart/Instagram
Booksmart's plot can be boiled down to this: two girls, one party — and then another party, and then another party, and then a hilarious almost-crime, and then a jailbreak. As Molly and Amy, Beanie Feldstein and Kaitlyn Dever traverse the suburbs on a quest to have a novel night of fun before their graduation from Crockett High School. Along for the ride is a sprawling ensemble of characters, including a hot mean girl, a hot mysterious girl, a rich airplane nerd, a pair of skaters, and a pair of theater obsessives. As categorizable as they seem, these kids aren't stereotypes. They're messy and unpredictable, as real as the person you sat next to in homeroom or avoided on your way to a tailgate. Booksmart gives all of them a scene in which to shine and a line that's begging to become some 17-year-old's Instagram caption. Besides co-leads Dever and Feldstein, and Billie Lourd, the actors behind these characters are (mostly) newcomers, so ahead of the movie's premiere, Vulture spoke to the breakout stars before they, well, broke out:
Kaitlyn Dever
Kaitlyn Dever (who's previously appeared on TV in Justified and Last Man Standing, and in movies like Short Term 12) was Booksmart's earliest student: She had been loosely attached to the project for a couple years, and was officially cast when Olivia Wilde signed on to direct. What kept her onboard all that time? "For young women, there's some sort of misconception where people think that we can't be funny. Bridesmaids was a huge inspiration, for me and Beanie both, going into this," she says. "Also the fact that I'd be playing a character where her sexuality is not a defining characteristic. I really loved the idea of getting to lead a film that had two leading female characters, and it was about their friendship, where that was really sort of the love story."
What she was like in high school: "I would say I was in between being street smart and book smart — leaning towards street smart, though. I was kind of like an Amy the first two years of high school. I was homeschooled, so my experience was a little bit different because I was on a TV show during high school, so I couldn't really go to public school."
Molly Gordon
"I'm incredible at hand jobs, but I also got a 1560 on the SATs," Molly Gordon's Booksmart character, AAA, says in the trailer. (Is it the movie's most winning line? Mayhaps.) Instead of patronizing the character's sexuality, Booksmart embraces it: AAA likes to kiss boys and isn't slut-shamed for it. "Getting to say that I got a good grade on the SATs was fun," Gordon, who recently appeared in Hulu's Ramy, says. "Or that I went to Yale. I didn't go to college, so it was fun to get to pretend-do that. When I was saying this line, I was like, This is a bad score! It was out of 2400 when I took the test."
The best party she went to in high school: "I went to one Halloween party when I was in 9th grade that the 11th graders threw. There was a line, and a bouncer or something. I wasn't on the list, obviously, so I snuck through a ravine to get in. It was just so fun to be with all the older people. I was completely sober, and I thought it was so fun. When I actually started drinking at parties, I was like, This is horrible. But I think because I snuck in and I got to kiss an older guy, it was a very exciting night."
Skyler Gisondo
As Jared, Skyler Gisondo (Santa Clarita Diet, Wet Hot American Summer: Ten Years Later) plays Crockett High's rich kid. Where other high-school dramas would make him perma-popular or frustratingly aloof, Booksmart tethers him to a particularly high-school anxiety: fitting in. "Reading the script, it was clear that he's such a good dude. Jared tries and tries so hard because all he wants is to desperately fit in and be seen," Gisondo says of the character. That desperation is charming, even when Jared's doing the absolute most to get in everyone's good graces. He has secretly strong opinions about airplanes and musicals that won't be spoiled here.
Best party he went to in high school: "This group of dudes in my grade made this Facebook page called The Wolf Pack and would throw these parties called 'wolf parties.' If it was a wolf party, it was a crazy party — but in reality it was just a bunch of 17-year-olds on their phones, hanging out in someone's basement or someone's mom's house while she's out."
Mason Gooding
The host of Booksmart's big party — the one that Molly and Amy fight their way to get into — is Nick, played by Mason Gooding. (Something that will become important in a moment: His dad is Cuba Gooding Jr.) Nick is tall and dreamy, and, against her better judgment, Molly secretly harbors a crush on him. When they lock eyes at Nick's party, the lights dim and the music changes and they start waltzing and twirling and gliding in a dream ballet. "We did about four or five rehearsals, each one lasting about five or six hours," Gooding says of the scene. He has some amateur dance experience, but nothing like the work that went into pulling the sequence off. "My dad was a break dancer when he was a kid; he used to break dance as part of a side gig. Growing up, he always made me bust a move whenever he thought it was appropriate. So I know how to do little break-dancing moves."
After Booksmart wrapped, Gooding snuck offset with some goodies: "In one scene, I'm in this floral-print underwear — the most comfortable underwear you could have ever seen. I'm like, This has to come home with me. So that's right there in my drawer, I'm looking at them now," he told Vulture. "And then I took home so many hair products. I had bleached my hair before we started filming, and my hair was about as dry as could be. The hair department sat me down and they had a whole conversation with me about how to take care of bleached hair. I have a drawer full of purple shampoos, silk pillowcases, the works!"
About his most memorable line in the movie: Once scene in Booksmart calls for a line that will make Molly's knees buckle, and it turns out Gooding (who's appeared on TV in Ballers and The Good Doctor) stepped up with a suggestion that made the cut. "They asked, 'What would be the sexiest thing you think he could say?' Beanie had been speaking about Harry Potter all day, and I was like, 'Why don't I just ask you what house you're in?'" Feldstein had an even better idea: "She was like, 'No, what would be sexy is if you told me what house I was in.'" (Scriptwriter Katie Silberman ultimately came up with the perfect hybrid answer: "half Slytherin, half Ravenclaw.")
Nico Hiraga
Nico Hiraga read for the parts of Jared and Nick before casting director Alison Jones had him try out for Tanner, the Stanford-bound soccer player. Tanner is half-jock, half-skater (in fact, you might recognize Hiraga from Skate Kitchen), cool in a shrug-and-grin kind of way. "I was kind of similar to Tanner in high school, honestly. I was just fucking mischievous, really couldn't stand academics. I wasn't a dick like he is in the bathroom scene. I was more into sports. I did play soccer. I was just kind of a troublemaker!" Hiraga didn't officially get a high-school superlative in his yearbook but received a few unofficial ones from his friends: "Most likely to be a professional dancer, most likely to get in trouble for the dress code, most likely to be a nudist."
His best friend on set: "Molly Gordon, amazing girl. I got to carpool with her every day to work because our call times were kinda the same. Molly really held me down for sure, besides Mason and Theo. [The guys] had a couple slumber parties. It was amazing. It was like high school again."
Diana Silvers
Diana Silvers, who will soon appear opposite Octavia Spencer in Ma, was more of a Molly in high school — "I was a straight-A student, like, 100 percent" — so playing Hope, Booksmart's hot mean girl, was tough. "Olivia was like, 'You have to be meaner!'" she recalls. For Hope — mysterious, rude, and rebellious — Silvers got precise direction from Wilde: "It took an effort to get it out of me. Ultimately I was like, Okay, what were girls like to me in high school, and how do I channel that into Hope? And then, a-ha! There we go!"
The movie that made her want to act: "When I was 12, 13, I saw What's Eating Gilbert Grape and that movie completely changed my life. It just inspired me to want to actually do everything. I was going through my, like, 'Oh my God, DiCaprio's so hot!' phase and my mom was like, 'Yeah!' He's not hot in it, but he is so talented and it blew my mind. I fell in love with everything about movies after that. I got to work with Juliette Lewis in my fourth real movie, which was such a cool full-circle moment. Her character in Gilbert Grape is why I wanted to become an actress."
Austin Crute
"It's almost like you're too cool for Jared," Austin Crute recalls Allison Jones telling him. He originally read to play the nerdy rich kid, but Jones had something else in mind for him: the ultra-dramatic theater star, Alan. Crute, who's appeared on Atlanta (as the black Justin Bieber) and Orange Is the New Black, grew up in Atlanta, where he was always theater-kid-adjacent: "I was in every production and I had a shining role, but I would still sit with athletic people and then switch up and sit with all the cheerleaders and switch up and be with all the black girls and then switch up and be with the nerds," he says. "I was table hopping, I was clique hopping! I was theatrical, but I wasn't a drama kid."
His favorite scene to film: "The graduation scene was so fun and so funny — literally all day people were just doing cartwheels and skateboarding, doing crazy stuff. If you stay to the end of the credits, you will hear me and Noah Galvin doing a rendition of a completely made up and improvised song — 'Crockett, Crockett, We Will Rock It' — that I pulled out of my behind to sing to the graduates of Crockett High School."
Noah Galvin
Alan and George are Booksmart's theater kids: George is the high-strung producer auteur to Alan's star. Everything about George is intense and dramatic, including his decision to host a murder-mystery party the night before graduation. Noah Galvin (the star of The Real O'Neals) initially auditioned for Alan, but Wilde and Silberman decided to reshape another character to craft George in Galvin's image instead. "The murder-mystery party was really fun. My cousin Sam was a dancer who was in 'Sleep No More' for many years," Galvin says. "So I have seen 'Sleep No More' 17 times. I sort of took inspiration from the 'Sleep No More' experience for George's murder mystery."
The craziest party he went to in high school: "I went to high school in New York City, and we always found ourselves doing crazy stuff like winding up at people's crazy apartments. One kid had what felt to me at the time like six different apartments. Really, I think there were only two: his family apartment, and then they were building a mansion somewhere in like Soho. I remember party hopping between these two apartments. His parents would show up at one apartment and we would have to go to the next one. There's 50 kids, and we would trash it every time and we never got in trouble. It seemed like the family was okay with it — old New York City wealth very much on display."
Victoria Ruesga
Like Hiraga, Victoria Ruesga's character Ryan is most readily described as a skater kid — and the object of Amy's crush. Ryan's easygoing nature becomes a source of funny consternation in the movie: Is Ryan into Amy, or is she just super-friendly? Does she identify as queer? "I spent a lot of time filming with [Kaitlyn] because I'm like her crush," Ruesga explained of her first acting gig. "She was so kind to me. She knows that I've never done anything like this before, and I would text her, like, 'Yo, what does this mean? What does that mean?' She held my hand through this whole thing."
The story of her audition: Ruesga got a text about an acting gig from her friend Mikey Alfred, a producer of Mid90s and the owner of the creative company Illegal Civilization. Ruesga didn't have Alfred's number saved, though, so she ignored the text. "I happened to check my email a couple days later, and I saw there was a script from Mikey. I was like, Oh, shit. That was Mikey and I just made him look terrible! Of course it was the day of the audition when I texted him back, like, 'Dude, I just saw your email. I didn't know this was you. I thought you was like a weird creeper who wanted to lure me to this address and then kill me.' Mikey screen-shotted the text and sent it to Allison Jones. She was like, 'She seems a little eccentric. Why don't you bring her in here tomorrow?' And it all worked out."
Eduardo Franco
"I don't know if I was anybody in high school, like, any sort of person," American Vandal's Eduardo Franco says of his high-school self. "I think there's a word for it. In-betweener, right?" In Booksmart, he's Theo, the guy who was held back once or twice, making him a couple years older than the other students. He has a big crush on Crockett High's cool teacher, Ms. Fine. In one scene, he subtly but deliberately unbraids his hair when she enters the room. "In movies it's always like the chick sees a hot guy and she's like, 'Oh my God,' lets her hair down, and then asks how she looks." Instead, Booksmart lets the guy groom himself for a woman's attention. "I'm packing hair," Franco says of his inches. "So I'll do it."
The craziest party he went to in high school: "I don't drink, so I was always driving. We're hanging out, having a good time by the beer-pong table. Somebody said something stupid — we were talking and joking around and having a good time — and then all of a sudden the music goes off and this big-ass dude yells, 'Yo, everyone, shut the fuck up!' And we all turn around and we're like, 'What?' And I figured, Oh, the cops are here. Okay, well, let's just leave. The guy's like, 'This one's for the ladies.' And then he turns the music back on and plays 'Make It Nasty' by Tyga." Later, a fight did break out at the party, Franco says. "I drove to a Jack in the Box, sat in the parking lot, and said, Okay, that's the last party I ever go to."