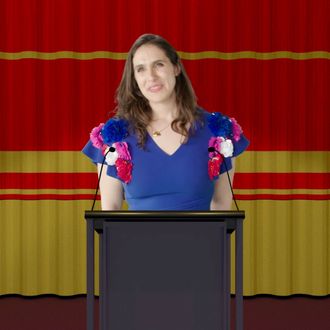 Megan Amram in
An Emmy for Megan
.
Photo: Abso Lutely/Vimeo
A little over a year ago, the comedy gods blessed us when Megan Amram released her web series An Emmy for Megan, an admirably shameless ploy for Amram to win an Emmy in the Outstanding Actress in a Short Form Comedy or Drama Series category by just barely meeting all of the minimum requirements for consideration. Things took an exciting turn when Amram received an Emmy nomination for the series, but she ultimately lost the award to CBS late-night host James Corden. Then, to make matters even worse, the Television Academy announced new changes to the category that will now require a "new vetting procedure" and revamped minimum requirements. "Although it has not been verified and I have not spoken to anyone at the Emmy Academy and there are other valid reasons I could see to change the rules, I am willing to state on the record that this rule change was 100 percent due to my award-deserving series An Emmy for Megan," Amram told Vulture about the changes at the time. "I look forward to this coming year, when season two of An Emmy for Megan will deal with the real-world repercussions of season one."
Finally, season two of An Emmy for Megan has arrived, and it delivers all of the top-notch comedy and drama that An Emmy for Megan fans have come to expect. Things are a little different this time around — Amram can't say "Emmys" or "the Academy" for legal reasons, and the episodes now end with a new Emmy for Megan aftershow hosted by Patton Oswalt called Talking Megan — and Amram enlisted an impressive list of stars to help her fill out the new batch of episodes. Guest appearances include Nathan Fielder, Mandy Moore, Kate Berlant, John Early, Awkwafina, John Mulaney, Megan Mullally, Nick Offerman, Phil Lord, Chris Miller, Natasha Lyonne, and Lin-Manuel Miranda — but to be fair, the majority of celebrity cameos happen during the episode where Amram tries really hard to hit the minimum two-minute episode-length requirement. Without giving too much away, let's just say that this season ups the ante on last season's shocking death and even includes an interactive element for fans. (Check it out here when you're done watching.) Your move, Television Academy.
Watch all of the new An Emmy for Megan episodes right here: