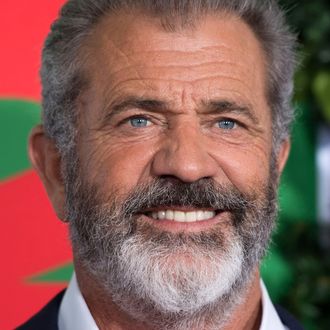 Photo: Valerie Macon/AFP/Getty Images
Mel Gibson is making another movie, but this time it includes a possibly uncomfortable reference to a prominent Jewish family. After Deadline first reported that Mel Gibson would be starring as the patriarch of the superrich Rothchild family alongside Shia LaBeouf in the film Rothchild, many people had questions. Those questions included but were not limited to: Was this a movie about the incredibly well-known super-wealthy Rothschild family, who happen to be Jewish and a frequent target of anti-Semitism? And is casting someone who famously once went on an anti-Semitic rant in this role a good idea?
Well, don't fret. Gibson's publicist Alan Nierob was kind enough to write an email to the Daily Beast explaining the confusion: "I feel the need to spare you any embarrassment as I'm told this film is about a fictional family (hence the name 'Rothchild') vs the Rothschild family to which you are referring." See? One name has a whole "s" and the other doesn't. Boom. Case closed. The film follows the son of a runaway Rothchild who was denied the family fortune, who then makes plans to reclaim this wealth by helping his various unsuspecting relatives meet with unfortunate "accidents." See? It's not about the Rothschilds, it's about Monty Navarro.