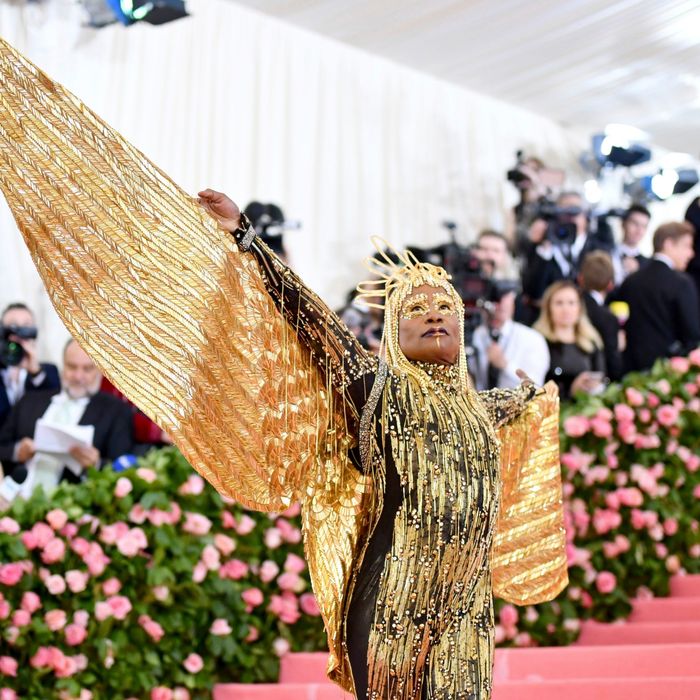 Billy Porter
Photo: Charles Sykes/Invision/AP/Shutterstock
No offense to the many wonderful women giving us incredible camp looks Monday evening (we're specifically looking at you, Céline Dion, Janelle Monáe, Zendaya, and Kacey Musgraves), but from the moment Pose star Billy Porter arrived to the 2019 Met Gala on a black draped palanquin, carried by six gilded attendants, well, it was clear: The boys, they're back in (fashion) town.
And while we're not really experts on what exactly falls under the camp rubric, we're absolutely certain John Waters must be rolling in his grave at the evening's excellent men's looks, the grave he had dug specifically for when he loves something and needs to roll around about it, since John Waters is still very much alive. So, without further ado, an extremely unofficial rundown of the Met Gala's best men's camp looks.
With a name like Hamish, it has to be Bowles.
Almost all the photos of Harry Styles taken on the pink carpet look like he's silently wishing he just put on the other earring, but this outfit is perfect as is.
Do you think Jared Leto just had that head sitting on a side table next to his keys and grabbed it on his way out the door?
Oh no, Ezra Miller.
And oh yes.
Spring has Sprouse! (Is that camp? Just try and stop us from believing it is.)
You can't understand how Ryan Murphy has so many series in production, and you weren't even factoring in all the time spent harvesting pearls for this amazing peach Poseidon cape.
You expected Ru to wear a gown, so he went suit and kept going until it grew a neon zebra head.
As president of Jujamcyn Theaters, Jordan Roth oversees five Broadway theaters and, also, is one.
Can something be so not camp it becomes camp again? Could someone who knows better tell us? If so, ladies and gentlemen: Frank Ocean.