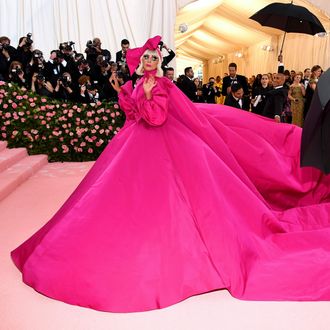 So much dress!
Photo: Dimitrios Kambouris/Getty Images
Lady Gaga heard that the 2019 Met Gala theme was "Camp" and arrived with a commitment so intense it feels like she was trying to earn extra credit. On Monday night, Lady Gaga strolled into New York City's Metropolitan Museum of Art with a giant pink dress (an homage to the best song in War Paint, we hope), before dramatically transforming into a black dress with an umbrella (an homage to that time Glee got Gwyneth Paltrow to participate in an "Umbrella"/"Singin' in the Rain" mash-up), before dramatically transforming into a slim pink dress and sunglasses ensemble, complete with a gigantic cell phone (an homage to … Lady Gaga?), before going for a full bra-and-fishnets experience (an homage to Liza Minnelli as depicted in Fosse/Verdon, now airing on Tuesdays at 10 p.m. on FX).
In addition to all of that drama, Lady Gaga also arrived with several people attending to her, as well as a wagon that seemed to carry various Gaga-esque accoutrements — probably stuff like the concept of "splendor" contained in a vial, and hopefully a tiny piece of paper with the handwritten results of a Google search for Irina Shayk, and maybe even a link to Jeremy Renner's app. All in all, Lady Gaga really tried and succeeded at the concept of "camp," which is defined largely by trying and failing, which means maybe she wasn't "camp," or maybe she was because she failed at failing. Anyway, she looks good in pink!