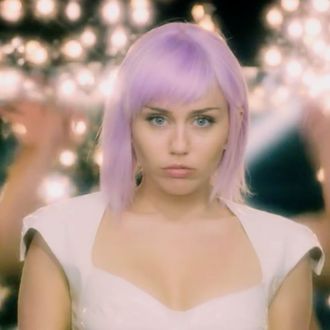 Miley Cyrus as Ashley O in
Black Mirror
.
Photo: Netflix
Black Mirror is hands down one of our favorite sci-fi anthology series. It's punched our emotional guts and made us uneasy about newfangled technology for four seasons, and in the new three-episode season airing June 5, it brings us a story about the dark side of the music industry with none other than genre-less comeback queen Miley Cyrus as a melodramatic-purple-haired pop star whose a seemingly charmed life isn't as it seems. In an interview with BBC Radio 1 Newsbeat, Cyrus says creators Charlie Brooker and Annabel Jones did a "really deep" dive into her own experiences in the music industry, but despite the plot sharing similarities with Cyrus's own life, i.e., being a pop star, living in Malibu, and working closely with her family, the episode isn't about her story. It's broader.
"This is the story of females in the music industry," Cyrus tells Radio 1 Newsbeat. "I understand everyone's gone through this but I do think for females in the industry… it's hard to be taken seriously. People assume that if you're not wearing a body suit and singing pop music, why would anyone want to see you."
In season five's second episode titled, "Rachel, Jack and Ashley Too," Cyrus plays pop star Ashley O who's actually struggling inside, taking pills and journaling about how [press] junkets suck. "It's getting so hard to keep doing this," she says in the trailer. Plus, there are these creepy Ashley Too robot dolls programmed with her voice that says things like, "I'll be here for you" and "Believe in yourself." The episode is "outrageously out there and dark," Miley tells Radio 1 Newsbeat. "We love anything about the darkness of technology. I love that."
We do too. Here's the trailer again.