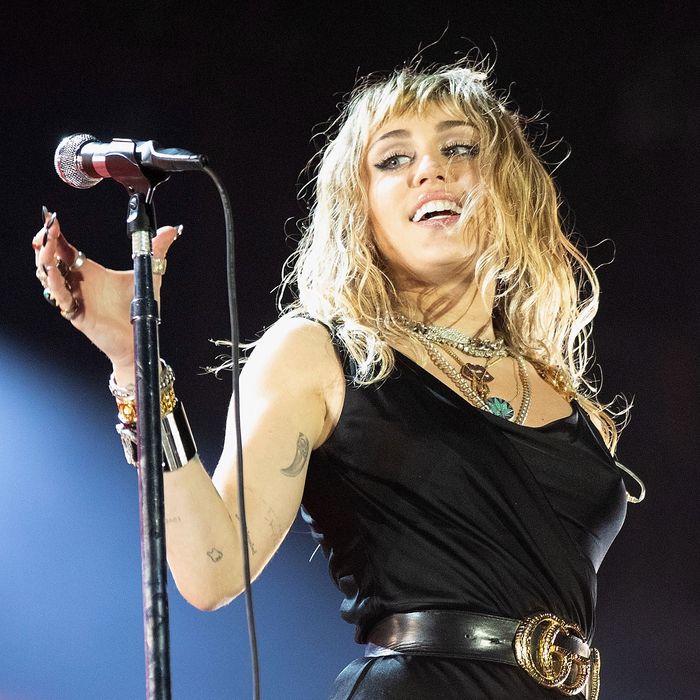 Still,
She Is Coming
is an encouraging step toward embracing everything Miley is, all at once.
Photo: Jo Hale/Redferns
Miley Cyrus's five years spent playing a tween with a famous alter ego set a standard for her career since stepping away from Disney Channel notoriety into a more traditional singing career. You never know what you're going to get with her. 2008's Breakout was all clinical pop-rock sounds. 2010's Can't Be Tamed traded clipped guitars for Britney-esque synth-pop and ballads. 2013's Bangerz made a beeline for all the hottest names in hip-hop. 2015's Dead Petz traded beats for psychedelic space pop. 2017's Younger Now sold a more organic rendering of the rock and pop style of the Hannah Montana years.
Cyrus upset a lot of onlookers coming on strong with each new incarnation and trying something else entirely in a year's time; many hip-hop fans swore her off for good after the Bangerz years, where she glommed onto the biggest trap hit-makers, foisted southern strip-club culture on middle America (well, tried), and then denounced the whole scene when things got hot for her. White artists take up space in hip-hop culture at the expense of struggling young artists of color who don't always come from the same means; anyone lucky enough to gain a platform in the culture should either love it hard or leave it alone. Miley rejecting rap as strongly as she embraced it makes it hard to trust her intentions in the scene.
It's tough to tell whether Cyrus has since mellowed out or if she was enjoying the quiet between releases, but last fall's Mark Ronson collaboration "Nothing Breaks Like a Heart" was a smart recalibration. It embraced Cyrus's milewide country streak while providing a slippery blend of dance-pop and Americana production values underfoot. Cyrus's best songs connect her history — never forget that she's Billy Ray Cyrus's daughter and Dolly Parton's goddaughter — with her present interests. There's a sense that if she would stop fidgeting, she could be a nexus joining the country, rap, and pop worlds more organically than Nashville guys who borrow moves from Drake. Her new EP She Is Coming, the first in a series of three that comprise the forthcoming full length She Is Miley Cyrus, seems to have taken up the mission.
She Is Coming is a return to form (of sorts?) for the Tennessee singer, who is, in spite of her fiercest efforts in the druggy, Flaming Lips–assisted experiments of Dead Petz and the saintly pop-rock palate cleanse of Younger Now, still most acutely known for party pop songs and the overeager hip-hop inversion of Bangerz. The new EP's best tracks revisit prescient ideas about mixing genres that Cyrus ditched while escaping the scene of the post-Bangerz backlash. (Give credit where it's due: Cuts like Bangerz's "4X4" floated the same smart crossover ideas as artists like Florida Georgia Line, but did so without any of the bro-country baggage.) The bad ones suggest that none of the time the singer spent palling around with rappers netted her an acuity with their craft or a reliable sense of what is and isn't hair-raisingly uncool.
"Unholy" and "D.R.E.A.M." wisely revisit the chipper mood of Miley's best-loved hits. (I still hear "Party in the U.S.A." at bars, and people still go up for it.) The understated trap production and festive lyrics work well. "Party Up the Street" is a sorta-dancehall bop that coasts, as many hits in this era do, for betting on the melodic sensibilities of Swae Lee. (In the past two years alone, Swaesus blessed us with triumphant performances on "Sunflower," "Chun Swae," "Spoil My Night," "Sativa," "Borrowed Love," and "Sicko Mode," and also scored a left-field holiday classic in "Christmas at Swae's." We don't deserve him.) She Is Coming saves the best for last, as Cyrus and Ronson regroup for "The Most," a rootsy tune about trying not to disappoint loved ones that might be the singer's most stately, self-aware tune since "The Climb."
She Is Coming doesn't go off without a hitch, though. "Cattitude" pairs Cyrus with RuPaul for a ballroom track that is better in ideas than execution. The rapping is stilted, and the hook grates, although points should be awarded for the sequencing, which schedules RuPaul's voice immediately after Ghostface Killah wraps his spot on the slight Wu-Tang flip "D.R.E.A.M." Even when she misses here, it feels like Cyrus is trying. It's too early to speculate about what the rest of the album has in store, but for now, She Is Coming is an encouraging step toward embracing everything Miley is — the hearty country singer, the restless sampler of sounds, the sort of overbearing pop star, and the outspoken queer advocate — all at once.