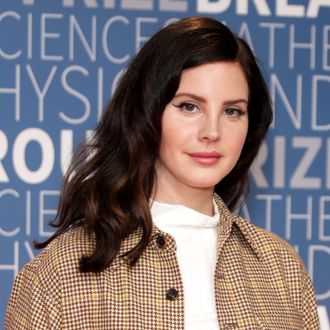 Lana Del Rey.
Photo: Miikka Skaffari/Getty Images
In the aughts music scene, there was a run where Moby was about as big as it got, and he's recently released another biography touching on that high-living era of his life. Then It All Fell Apart explores his childhood years as well, but right now we'd like to draw your attention to a particular anecdote about the time Moby put the moves on Lana Del Rey when she was still Lizzy Grant. The two apparently met at a bar in New York City back in 2006, and she agreed to meet him for a date at his apartment, which, the book notes, had five balconies. Moby took Del Rey to each and every one of them. She was charmed, but then she apparently gave him a little perspective check once they sat down to eat.
During dinner she told me she was a musician so I asked, "Will you play me some of your music?"

"Sure, do you have a piano?"

"Yes, back on the second floor," I said.

"Floors in an apartment." She shook her head. "Moby you know you're the man."

"Ha, thanks," I said.

"No, not like that. You're a rich WASP from Connecticut and you live in a five-level penthouse. You're 'The Man.' As in, 'stick it to The Man.' As in the person they guillotine in the revolution."

I didn't know if she was insulting me but I decided to take it as a compliment.
The night carried on and Del Rey did indeed end up playing for Moby on his second-floor piano. Obviously he was impressed — because this is Lana Del Rey — and then he tried shooting his shot with her one more time, only to be denied again. Moby kissed her, but she curtailed the makeout session.
"What's wrong?" I asked.

"I like you. But I hear you do this with a lot of people."

I wanted to lie, to tell her that I didn't, that I was chaste, sane, and ethical. But I said nothing.

"I'd like to see you again," she said.

"Me too."

I walked her downstairs to the twenty-ninth floor and kissed her good night at the bank of the elevators.

This wasn't how I imagined the night ending. I'd assumed that we would end up christening my new apartment with vodka and sex. But to my surprise, this was almost nicer.
And now you know about the time Lana Del Rey curved Moby, and he loved it.