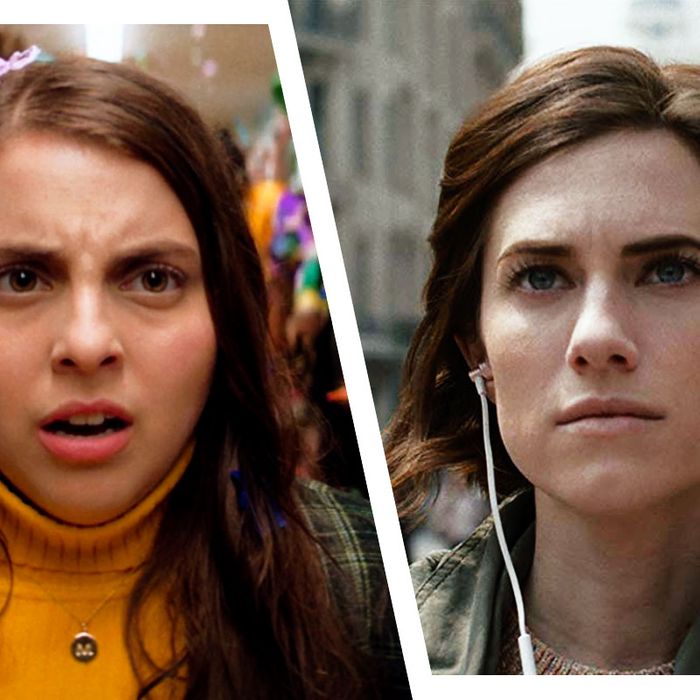 Photo: Vulture, Annapurna and Netflix
Summer is here (unofficially, at least) and already filled with must-see movies (more to come!). Whether you plan to head to the theaters for new releases this weekend, or play catch-up on the most talked-about films, we have everything you need to have a cozy three days worth of cinema:
Booksmart
The newest addition to the teen-movie canon, Booksmart successfully recreates the essence of high school. Emily Yoshida writes about Olivia Wilde's directorial debut and how perfectly it captures the teenage experience "in all its cringey, sincere glory." Leads Beanie Feldstein and Kaitlyn Dever's chemistry convinces Yoshida "they are fully capable of getting high off their own two-person collective effervescence." Watch the first 6 minutes online if you're really unsure of how much you'll love it.
John Wick 3 — Parabellum
David Edelstein writes Keanu Reeves "is fun to watch in combat" as the titular character of the John Wick franchise. In John Wick 3, Reeves returns as the dog-loving, gun-slinging protagonist dead set on revenge. This time, he's joined by co-star Halle Berry (who gets to do cool dog stunts) and John Wick superfan Mark Dacascos as the main antagonist. If you can't wait for more, don't fear, there's already a fourth installment slated for a 2021 release.
Aladdin
If the coming weekend grips you with a fear of having to entertain your young children for more than the regular 48 hours, sit them in a theater so a blue Will Smith can keep them quiet for a couple of hours. The CGI remake made David Edelstein think, "If I were a Disney stockholder, I'd be pleased at how well it hits its marks." Once it's over, you can take the kids home and put on the animated original, since Edelstein admits "I never thought I'd say these words and am horrified doing so, but I miss Gilbert Gottfried's voice as the evil bird sidekick, Iago."
Brightburn
Brightburn is a dark exploration of what happens when someone with superpowers goes evil. David Edelstein says Elizabeth Banks, who plays the mother is "very good and un-gimmicky." The movie gets its R rating from the "yucky gore set pieces" and the abrupt turn it takes when the super-powered Brandon "starts disemboweling people."
The Perfection
Jordan Crucchiola writes, "The less you know about The Perfection going in, the better off you are." The horror film follows cellist Charlotte (Allison Williams) who reconnects with her old mentor, who is now touring with new star Elizabeth (Logan Browning). It's hard to tell if audiences are supposed to root for Charlotte or fear her. The Perfection comes out on Friday, May 24.
Wine Country
Amy Poehler makes her directorial debut in Wine Country, which brings together her old SNL pals Maya Rudolph and Tina Fey, former SNL writer Paula Pell, Ana Gasteyer, Rachel Dratch, and Emily Spivey. Dratch stars as Rebecca, whose friends band together to celebrate her 50th birthday in Napa Valley. The film has gotten mixed reviews, but if you want a feel-good film, grab a bottle of wine and hit play on Netflix.
Pokèmon Detective Pikachu
Bilge Ebiri writes that if you love Pokèmon, Pokèmon Detective Pikachu is the movie for you. The film takes the creatures you know and love and drops them in a film-noir starring Ryan Reynolds as the titular electric animal who, alongside Tim (Justice Smith), searches for Tim's dad Harry, who was Pikachu's partner on the police force. Ebiri says it's great for "Pokèmon obsessives," but for everyone else, "You chuckle, you go 'aww' a couple of times, and that's it." Not a bad way to spend a Saturday afternoon.
Avengers: Endgame
Seriously, have you been living under a rock? If you avoided spoilers (or are a masochist and enjoy reading them) and still have not seen Endgame, do it. The three-hour conclusion to a large portion of the Marvel Cinematic Universe is, as David Edelstein writes, "light on its feet and more freely inventive than it needed to be." The film picks up sometime after Avengers: Infinity War and even with all the fanfare, Edelstein says (in his spoiler-free review), "I had a good time and my daughter had a great one."
The Souvenir
Edelstein writes, "The movie is never not fascinating." Joanna Hogg's The Souvenir chronicles the quest of rich filmmaker Julie (Honor Swinton Byrne) to make a film about working-class boys with lives completely different from her own. Edelstein says Byrne "projects intelligence even when Julie isn't thinking clearly," and Byrne's mother, Tilda Swinton, who plays Julie's mother Rosalind, is simply "amazing."
Charlie Says
"A bit heavy-handed, that," Edelstein writes, "but true to the early '70s and very much on point." Charlie Says is yet another portrayal of Charles Manson (played by Matt Smith) that attempts to explore the almost mythic nature of the cult leader. Edelstein says Smith's Manson is "a wild-eyed cretin but with just enough of the hippie-singer dreamboat about him to make him credibly magnetic." Hey, you can't see Once Upon a Time in Hollywood yet, so why not try Mary Harron's tale!
Aniara
Aniara imagines what life would be like for humans who finally get off of Earth and must survive in the endless void of space. The film follows the protagonist MR, who operates a room that simulates life on Earth to make the passengers less homesick. Already tried High Life and enjoyed it? Then go for Pella Kågerman and Hugo Lilja's Swedish Aniara.
The Hustle
So The Hustle has not done great. It currently sits at 15 percent rotten on Rotten Tomatoes and 35 percent on Metacritic. Anne Hathaway and Rebel Wilson star as rival grifters in a remake of Dirty Rotten Scoundrels. But, the New York Times' A.O. Scott calls the remake of a remake "downright innocent," and leads Hathaway and Wilson apparently "make decent sport of it." Eh.