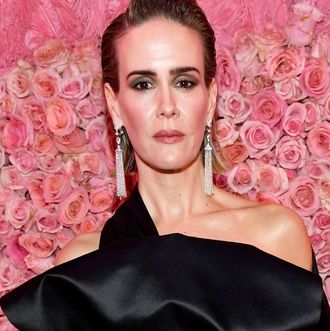 Photo: Kevin Mazur/Getty Images for The Met Museum
FX is coming for every single one of your television awards. The network announced today that its assembled a large, extremely all-star cast to join Cate Blanchett in its miniseries Mrs. America, about the fight to pass the Equal Rights Amendment and the subsequent backlash lead by Phyllis Schlafly. Blanchett will play Schlafly, the conservative woman from Illinois who organized against the ERA, with Uzo Aduba playing congresswoman Shirley Chisholm; Rose Byrne in the role of activist Gloria Steinem; Kayli Carter in the fictional role of a housewife who becomes an early disciple of Schlafly; Ari Graynor as Brenda Feigen-Fasteau, a lawyer who co-founded Ms. magazine with Steinem; Melanie Lynskey as Rosemary Thomson, another friend and early ally of Schlafly's; James Marsden as Illinois congressman Phil Crane, a powerful advocate of Schlafly's agenda; Margo Martindale as Bella Abzug, a congresswoman who championed the ERA; Sarah Paulson, who will reprise her Carol best-friend duties and play a fictional character named Alice, Schlafly's closest confidante and a fellow anti-ERA warrior; John Slattery joins in the role of Schlafly's husband, Fred; Jeanne Tripplehorn will play Fred's sister Eleanor Schlafly; and finally, Tracey Ullman will play feminist activist Betty Friedan, author of The Feminine Mystique and co-founder of the National Women's Political Caucus.
Mrs. America is created and will be written by Emmy winner Dahvi Waller, and it will premiere sometime next year.