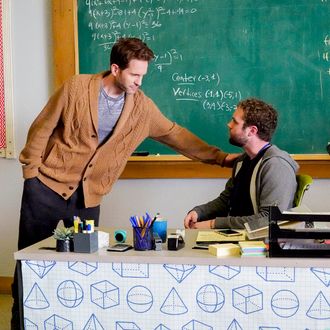 Glenn Howerton and Brooks Wheelan in
A.P. Bio.
Photo: NBC/Evans Vestal Ward/NBC
It's an endless summer of A.P. Bio. Per Variety, NBC won't be renewing the comedy starring Glenn Howerton; the latest season was reportedly the second lowest-rated scripted series for the network. Creator Mike O'Brien shared the news on Twitter, writing:
I'm intensely sad to announce that AP Bio will be ending after this season. This has been my favorite project of my life and that's because of the amazing writers, cast and crew. As most canceled shows probably feel, I think we were just hitting our stride and everyone was still
O'Brien reminded fans that there are still four more episodes left ("They're 4 of my favorites") before its departure. In March, O'Brien told Vulture that in season two, Howerton's character, Jack, the mean-spirited A.P. bio teacher, warms up a bit. "With the kids, there's going to be more moments of him saying, 'We're buddies,' and hugging them," he explained. "But I think in trying to make sure we're never corny, comedians will err on the side of being less warm. And now we've turned the dial so there's the warm look, but he also says, 'Hey, good job.'" Here's hoping the class gets one good group hug in before the end.