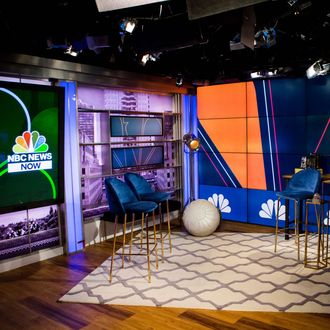 NBC News launched a new streaming channel on Wednesday designed with cord-cutters in mind. Dubbed NBC News Now, the free service will offer a daily diet of breaking news, interviews, and original in-depth reported pieces as well as headlines every hour. Though some content from the Peacock's existing news brands (Today, Meet the Press, NBC Nightly News) will no doubt find its way onto the service, the goal is to focus on original content produced by Now's roughly 20 New York–based staffers.
While NBC has had an all-news cable channel for decades in MSNBC, Now is targeted at audiences that either don't have access to traditional cable/satellite TV or who prefer streaming content. At launch, Now will feature 40 hours of original programming each week (Monday through Friday from 3 to 11 p.m. ET) and exist as an element of the current NBC News app (available for mobile phones as well as the Amazon Fire TV, Apple TV, and Roku platforms) and as section of the NBC News website.
NBC News Now joins an increasingly competitive streaming news landscape: CBS and ABC have both launched direct-to-consumer, free streaming news services over the past few years. Meanwhile, start up Cheddar has targeted cord-cutters seeking business-related news. CNN also recently began repurposing some of its content on the Viacom-owned free streaming platform Pluto TV. Fox News doesn't currently offer a free streaming only service, though it does have Fox Nation, a subscription-based streaming platform offering up opinion programming to die-hard fans willing to shell out $6 per month for an extra dose of Sean Hannity and other Fox News hosts.