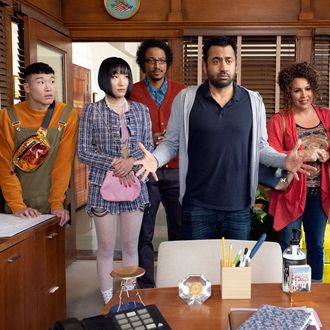 Kal Penn and the cast of NBC's Sunnyside.
Photo: NBC
NBC is making plans for the fall and, not surprisingly, a new comedy from Mike Schur is already on the calendar. The network announced Monday that Kal Penn's Sunnyside, for which Schur will serve as supervising executive producer, has been picked up to series. Penn will star as Garrett Modi, a disgraced former New York City Councilman hired by a group of immigrants to help them along the path to naturalization, provided Garrett can stick to the straight and narrow. Joining Penn in the cast (which you can see in the promo image above) is Diana Maria Riva, Joel Kim Booster, Kiran Deol, Poppy Liu, Moses Storm and Samba Schutte.
NBC has also placed a series order for legal drama Bluff City Law, which stars Jimmy Smits and Caitlin McGee as Elijah and Sydney Strait respectively. As the father/daughter legacy of a well-known Memphis family of lawyers, the estranged pair are brought back together by the unexpected death of Sydney's mother. Naturally, this leads her to rejoin her father's law firm and you know, if these two shows could have a crossover episode, they could probably wrap up a lot of Sunnyside's storylines in a season of two.