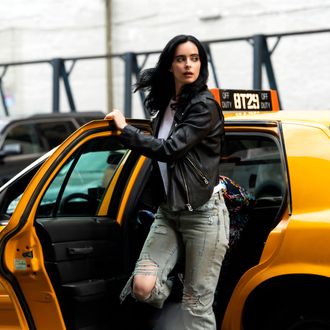 Photo: David Giesbrecht/Netflix
Jessica Jones and her iconic jeans have returned. According to a release from Netflix, in the third and final season, Jessica and her best friend (now possible superhero) Trish will go head-to-head against "a highly intelligent psychopath" (read: not Kilgrave) and work on their broken relationship and their conflicting ideas of what it means to be a hero. In a date-announcement clip, there's a quick glimpse of Jessica and an unknown man saying she will no longer be "a fraud" and "a cheater." Even after a mostly optimistic season-two finale, it seems Jessica still has some more troubles heading her way.
Photos from the third season show Jessica's sometimes-friends Jeri (Carrie-Anne Moss) and Malcolm (Eka Darville) looking very serious, Trish (Rachel Taylor) boxing, and Jessica (Krysten Ritter) drinking in a bar while a man stares her down. The show also stars Benjamin Walker, Jeremy Bobb, Sarita Choudhury, Tiffany Mack, Jessica Frances Dukes, Aneesh Sheth, and Rebecca DeMornay. Jessica Jones was officially canceled earlier this year, but Netflix promised fans a third and final season to say good-bye to the beloved "hero." The Punisher and Jessica Jones were Netflix's two final Marvel shows canceled after Disney announced its new streaming service, Disney+. The final season of Jessica Jones comes on Netflix on June 14.