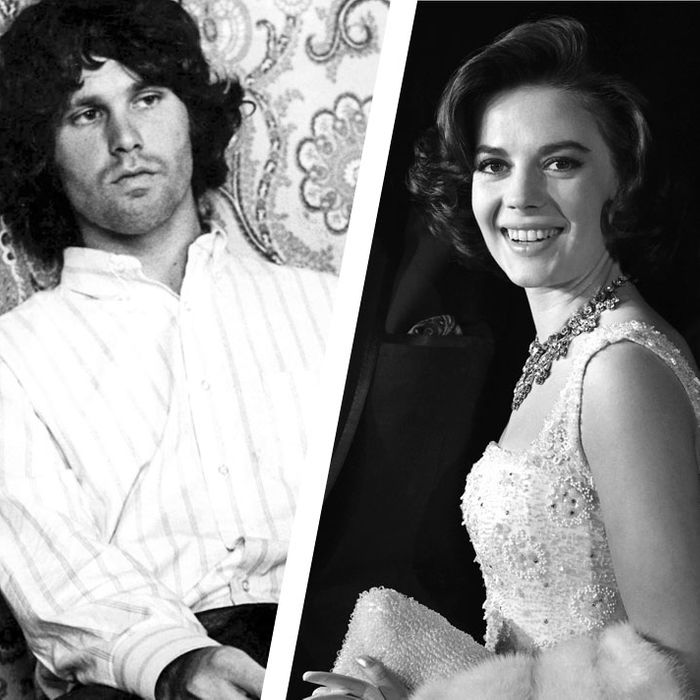 From left, Montgomery Clift, Jim Morrison, and Natalie Wood.
Photo: Vulture, Getty Images and Shutterstock
The Chateau Marmont, Hollywood's answer to the Hotel Chelsea, has had its share of thrills and tragedies over its 90-year history in Los Angeles. Shawn Levy's dishy new book, The Castle on Sunset: Life, Death, Love, Art, and Scandal at Hollywood's Chateau Marmont, brings that history to life: There never seems to be a dull moment at the Sunset Strip haunt, where the ghosts of Hollywood's past and present still seem to shake things up.
Levy traces the tumultuous history of the legendary apartment house turned luxury hotel by recounting the Hollywood haunt's early years well into the decadent '60s and '70s, when the once-glamorous destination fell into a kind of bohemian disrepair, only to be resurrected again as a luxurious star-studded retreat.
Along the way, some crazy stuff went down. Here are some highlights.
The castle on the hill has also long been known as a haven for closeted Hollywood talent prior to Stonewall, like beefcake actor Tab Hunter and Psycho's Anthony Perkins, who both met at the pool. The grounds soon became a daytime hot spot for many of the most famous (and most hidden) Hollywood queers of the 20th century. Hunter and Perkins dated secretly for years, while others, like actor Roddy McDowall, were known to call up Scotty Bowers, a legendary pimp to the stars, for his own kind of fun. McDowall liked to have male tricks sent to his suite to indulge in amyl nitrite poppers during hookups. Bowers would eventually expose many of gay and lesbian Hollywood's best-kept secrets in his 2013 tell-all memoir, Full Service: My Adventures in Hollywood and the Secret Sex Lives of the Stars. Author Gore Vidal vouched for Bowers's shocking tales as he, too, lived and worked at the hotel while he was writing his gender-bending Myra Breckinridge.
Exclusivity was one of the reasons director Billy Wilder considered the hotel his home away from home (his actual home being in Vienna). He even shot a few scenes from Sunset Boulevard at Schwab's Pharmacy just down the street. In fact, Wilder loved staying at the hotel so much that once during Christmas 1934 when the place was totally booked, he decided to stay in the downstairs ladies' room for the night rather than check into one of the many other hotels lining the strip. In later years, Wilder loved to tell people that he stayed in the smallest room at Marmont: "It had six toilets!"
The combination of privacy and beauty meant that plenty of stars found both love and success at the hotel, however fleeting. Sidney Poitier and Diahann Carroll, both married to other people, conducted a short but passionate romance in secret here, while teen screen queen Natalie Wood shacked up with the much older bisexual director Nicholas Ray when she was just 16. Wood was "auditioning" for her role in Rebel Without a Cause, starring fellow heartthrobs James Dean and Sal Mineo. Ray, who was known for his dalliances with both men and women, regularly held script readings at his bungalow with the young cast. It was rumored that in addition to sleeping with Wood, Ray also became lovers with Mineo.
Other celebrities ended up at the Chateau after being kicked out by their significant others, like John Wayne, Desi Arnez, and Graham Nash. Still others recuperated after stints in rehab or post-op. After Montgomery Clift's car accident that left his face disfigured, he checked into the hotel where he binged on pain medication and booze. He was in such bad straits, in fact, that he was known to wander the hallways in stupors. It got so bad that Clift was once found naked on his terrace, screaming into the night. Sadly, his face (and career) was never the same after the accident.
Rock god Jim Morrison also checked into swinging Marmont during one of his drug-and-booze binges. In fact, the Doors front man nearly fell to his death in 1970 while climbing on a top-floor balcony (he landed two floors down). "It was outa sight, man," he later said of the near-death experience.
Led Zeppelin's over-the-top antics still loom large over the Chateau. The Brits were so raucous that Robert Plant and his mates were moved from a suite inside the main building to a private bungalow where they notoriously used drink carts to transport nude groupies, as well as their intoxicated guitarist Jimmy Page, from room to room.