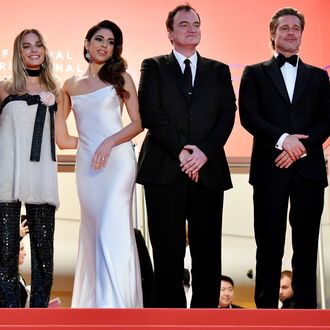 Photo: Alberto Pizzoli/AFP/Getty Images
Happy Once Upon a Time … in Hollywood Day! Quentin Tarantino's ninth feature has premiered at the Cannes Film Festival and dropped a full trailer and a magazine cover story. Ahead of the screening, the director posted a plea asking that no one leak spoilers, but we are gathered here today for a much more pressing matter: Movies can live and die by an audience's applause, so just how long was Once Upon a Time … in Hollywood's standing ovation? No one seems to know for sure!
Tarantino got some pre-screening applause, especially sentimental considering that 25 years ago he arrived on the Croisette with Pulp Fiction. But that's not the applause we're here to count. Variety and The Hollywood Reporter claim the post-screening clapping clocked in at six minutes; Deadline declares it was really seven. The Twitter account DR Movie News claims it was eight minutes! Vulture was absent from this particular Cannes premiere, but we feel comfortable estimating the official number of minutes as: more than just a few minutes but less than an hour.
Let's just throw out numbers here: Maybe six minutes and 37 seconds, which just happens to be the length of the Rihanna song "Same Ol' Mistakes"? What about six minutes and 12 seconds, which happens to be the length of another Rihanna song, "Desperado." Just spitballing here.