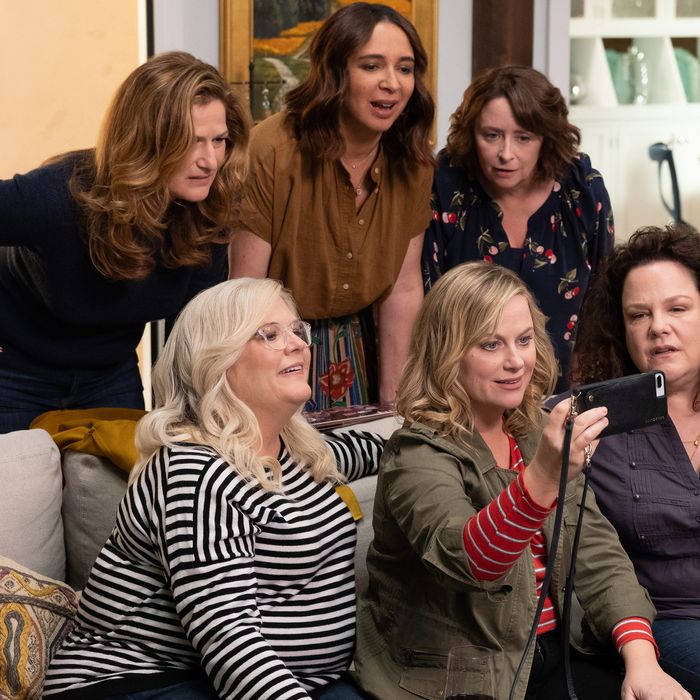 Photo: Colleen Hayes/Netflix
Paula Pell has a lot in common with her Wine Country character, Val. They're both crass divorcées, they've both had double-knee replacement surgery, and they both gift sex toys dressed up as Dildo Claus and get topless during booze-fueled dance parties.
"Our characters are very close to who we are with some artistic license heightening it," Pell tells Vulture. "I had been divorced and was really depressed, wanting any kind of connection with anybody. I was trying to date and being really awkward about it. I got knee replacements and wanted to have a new life and start over. All those things happened during the writing of this, so it's very close to my heart. And I am a filthy person. I mean, you can't get away from it."
Wine Country reunites Pell, who served as a writer for Saturday Night Live for 17 years, with her old co-workers Rachel Dratch, Maya Rudolph, Ana Gasteyer, Emily Spivey, Tina Fey, and Amy Poehler (who also directed). The script, written by Spivey and Liz Cackowski, is based on a trip the group took to the California vineyards for Dratch's 50th birthday, with much of the onscreen mishaps and antics based on real events — like the scene in which Pell gifts all of her friends expensive sex toys.
"I went the night before the trip to the Hustler store and bought very high-end vibrators for everyone, so much so that the woman working behind the counter let me use her employee discount because she felt so bad," Pell explains. "It was over $800. Nothing but the best for my friends. I don't know how the hell I got through TSA with all that."
After two and a half decades in the industry, the Netflix movie marks Pell's first big film role. Though she began her career as an actress and toured with a one-woman show, she's stayed mostly behind the scenes, originating classic SNL characters like Debbie Downer, the Culps, and the Spartan Cheerleaders from the writers room. At SNL, she was terrified of even briefly appearing on camera for sketches — "I'd have abdominal disruption before. It's one line, so if you fuck it up, you're an idiot," she says. It was only when her friends got their own shows, 30 Rock and Parks and Recreation, that she was able to appear in small roles, like Pete Hornberger's wife, Paula, and Ron Swanson's mother, Tammy Zero.
But that's all changing now. Beyond her relatively recent forays into film — serving as a script doctor for Bridesmaids and This Is 40, then writing Sisters, starring Fey and Poehler — the 56-year-old is finally ready to show off her scene-stealing talents. In Wine Country, those stolen scenes primarily take the form of dance parties based on actual girls'-weekend footage Pell promises will never see the light of day. "At one point, I came out singing 'As If We Never Said Goodbye' from Sunset Boulevard. I had a cornucopia on my head and a skirt on, nothing else," she says. "When we were doing the scenes, it was in the ether, so I said, 'If you want me to do a topless scene, I'll 100 percent do it.' Then my agents called, panicked, when I signed the nudity waiver." (She jokes that after her knee replacement, she'll "get the boobs next. They're members of SAG.")
Wine Country — which Pell describes as a kind of therapy (she and her co-stars spent just as much time in long, intense talks about their lives behind the scenes as their characters do in them) — comes on the heels of a string of 2019 Pell TV performances. Earlier this year, she reprised her role as Helen on NBC's A.P. Bio and appeared as the Elaine Stritch–like character of Patty on the Documentary Now! episode "Original Cast Album: Co-Op." "It's a great little triumvirate," she says. "I've been lucky enough to sort of gradually get into these bigger roles that give me a little more visibility. I've been around all my friends getting famous for many years, and I don't have any desire for that, but I would love to have the opportunity to do really fun acting projects because of this new exposure."
One thing that's made the prospect of fun acting projects more feasible is the increase in roles she's seen for fat women in comedy who aren't just the "really, really nice cousin." Pell's been writing about being a fat women since she joined SNL in '95 — her first sketch revolved around a plus-size women's clothing store. "It got so few laughs because people thought it was some guy writing it and being mean," she recalls. "I wanted to walk out and say, 'Look at me. I'm five-foot-two and 200 pounds. I wrote this from my experience!'"
In 2006, around the same time she was serving as SNL's head writer, Pell created her own sitcom, Thick and Thin, about two sisters, one fat and one who loses a significant amount of weight. "We did six episodes and it never saw the light of day," she says. "Certain people on the executive side of creating shows were really excited about the fact that it was kind of groundbreaking, but it was still an era where people got nervous about it. With fat, I think it's kind of one of the last bastions of comedy. 'Write it from the inside out' is what I always used to say about writing about fat or being gay."
Pell is happy that things seem to be changing, one show at a time. "Things like Shrill are written from a real perspective of somebody that knows what it's like to have someone make you leave through the back door after they slept with you. I cried so hard watching it. Aidy is such a powerhouse," she says. "It's better now, the clothes are better, but the ways people are cruel or looked down upon are still out there, completely. It sucks being young and vital and growing up big. It's a pretty recent thing to have diversity within the creators and executives that are green-lighting it, instead of trying to explain to an old white man what it's like to be a young fat girl. I've done it. It's not fun."
While she mulls over her next projects, Pell is trying to savor her current moment, especially after the four-year post-divorce depression she experienced. She's got her seven pets — four dogs and three cats, all over ten years old — and, more importantly, she's newly engaged to stand-up comedian Janine Brito, whom she met about two years ago through Twitter. "I never thought I would want to be with someone in comedy," Pell says. "If you told me that, I would roll my eyes so hard, I'd have to go to the ER. She is just an absolute wonderful love tornado."
With all that to be happy about, she still needs the occasional reminder to savor things. "When there's a surge of good things in my life, I feel like, 'Okay, who's going to die?' I carry around that fear sometimes, but this has been the most incredible two years. That's my hardest thing: to be present and absorb it. When you get older and a little sturdier in your bones, you're able to. I'm hoping I can take in all this good this year and feel like I deserve it — and enjoy the hell out of it."