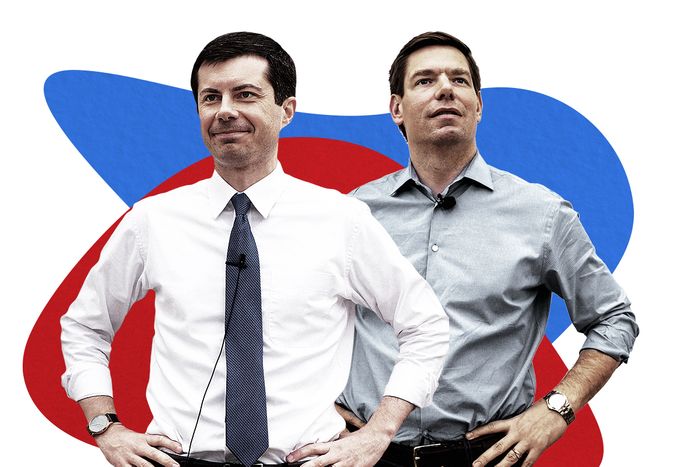 Photo: Vulture/Zuma Press Inc./Alamy Live News
Pete Buttigieg, Mayor of South Bend, Indiana, and Eric Swalwell U.S. Representative from California, weigh in on HBO's Veep.
Who is your favorite Veep character?
Pete Buttigieg: Gary. It's hard to watch, but the bizarre form of loyalty he represents is also hard to look away from because of how it mixes the endearing with the contemptible.
Eric Swalwell: Richard.
Which character is most like someone you know in Washington?
Buttigieg: I can think of quite a few people like Ben — under no illusions yet unable to stay away.
Swalwell: Ben.
Could Selina Meyer beat Trump in 2020?
Buttigieg: Tough to say — they would be well matched. There's the same level of cynicism and self-orientation — and with both of them, the burning but unanswerable question is the same: Is the president in on the joke?
Swalwell: You mean could China beat Russia?
Where does Veep rank among political shows?
Buttigieg: The best political TV show of our time is Game of Thrones, but Veep is high on the list, partly (if sadly) because of a certain degree of realism that anyone who has worked in politics can recognize.
Swalwell: After watching them all, Washington should aspire to be more like The West Wing. Things are dark, but few in Washington are as evil (or efficient) as the characters in House of Cards. The reality is most days feel like Veep.
Which Veep character would you want on your staff?
Buttigieg: It's a tie between Sue the scheduler and Marjorie the
Secret Service agent. They are the only completely honest people on the show.
Swalwell: Sue.
Do you think Jonah was inspired by Ted Cruz?
Buttigieg: No.
Swalwell: Yes.
Which Veep insult is your favorite?
Buttigieg: Let's discuss this after my political career is over.
Swalwell: Sue to Mike (after he asks if the president has time for a speechwriting meeting): "Can mice levitate? Can they levitate and fire lasers out of their mouse eyes? We've just asked each other equally ridiculous questions."
*This article appears in the May 13, 2019, issue of New York Magazine. Subscribe Now!