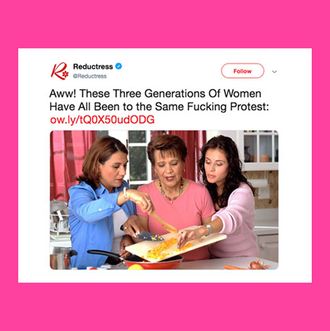 So good.
Photo: Reductress/Twitter
Look, we're not saying it's a competition or anything, but when it comes to satirical publications attempting to tackle the Alabama abortion ban, no outlet has come even close to touching what's happening over at Reductress this week. Since the news broke, the editors and writers at the site founded by Beth Newell and Sarah Pappalardo have pumped out a staggering amount of articles ruthlessly covering all aspects of the story, and the resulting satire is a case study in how crucial it is to have more women writing comedy, especially in the world of satire. Here's a sampling of some of the coverage Reductress has published so far:
As a bonus, we'd also like to throw out an honorable mention to this gem from Milly Tamarez's up-and-coming satirical site Flexx, because it's too perfect to leave out:
Thank you, Reductress and Flexx, for figuring out how to mine devastating humor out of some of the most devastating news in recent memory. We see you, and we salute you.