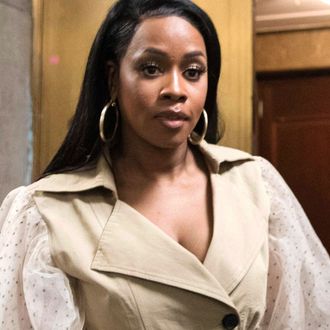 Remy Ma.
Photo: Mary Altaffer/AP/REX/Shutterstock
Rapper Remy Ma looked quite serene during a short court appearance on Wednesday evening, just hours after she turned herself in for allegedly assaulting her Love & Hip Hop: New York co-star Brittney Taylor.
Ma, whose legal last name is Smith, stands accused of hitting Taylor "in the face with a closed fist, causing bruising and swelling to her right eye" at 9:30 p.m. on April 16, during an Irving Plaza cancer benefit concert.
During a bail discussion, Smith's lawyer said that she was a performer at this benefit, but offered an alibi for the specific time frame: motherhood.
"That is a complete impossibility because at 9:30 p.m … she was at home nursing her 4-month-old," said Dawn Florio, Smith's attorney. She later added, "My client denies these allegations; these are false allegations."
Florio said the case has already had a negative impact on Smith, who is on parole for the 2007 shooting of a friend.
While Smith had been a "perfect" parolee, Florio said, she now has to wear an ankle monitor. Her curfew has been moved from 11 p.m. to 8 p.m., and she has to check in with parole services every week instead of every four months.
Smith, who sported a khaki trench-coat-style top featuring translucent, lacy sleeves, and gold-heeled shoes, was released on $1,500 bail. While leaving court, Smith shook her head when asked if she had any comment on the allegations.
Fat Joe, who is close with Smith, was also at court. Though he sported an attention-grabbing pink, white, yellow, and gray tracksuit, he didn't say anything.