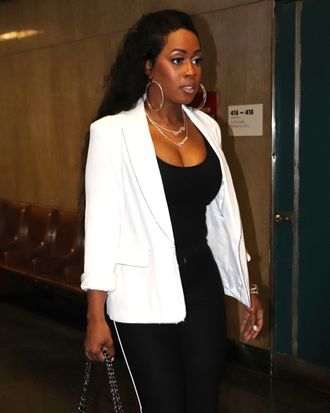 Rapper Remy Ma is scheduled to go on trial July 12 for allegedly assaulting her Love & Hip Hop: New York co-star, Brittney Taylor.
Ma, née Smith, is accused of whacking Taylor "in the face with a closed fist, causing bruising and swelling to [her] right eye" on the evening of April 16, at an Irving Plaza cancer charity concert. Smith faces misdemeanor assault and harassment charges, according to court documents.
A confident, poised Smith had a polished look when she arrived at Manhattan criminal court on Friday morning, sporting a white blazer and matching stilettos, as well as black pants and a coordinating Chanel purse.
At Smith's last court appearance, her attorney conceded that she did perform at this benefit, but insisted she was with her baby at the time of this alleged assault, not at Irving Plaza.
"That is a complete impossibility because at 9:30 p.m. … she was at home nursing her 4-month-old," Dawn Florio, Smith's lawyer, claimed during the initial court appearance.
It was revealed during Friday's court proceeding, however, that an updated criminal complaint put this alleged assault at 10:30 p.m.
Prosecutor Juan Maldonado said in court that the Manhattan District Attorney's Office had offered Smith a no-jail plea deal. Under this deal, Smith would plead guilty to the top charge, assault in the third degree, and complete anger management.
Smith, who didn't enter a plea in court, rejected this deal, prompting the upcoming trial.
Florio also claimed in court that "through social media, Ms. Taylor has on the record [said] that she suffers from mental illness, bipolar depression." Florio also said she wants prosecutors to find out whether Taylor is under "psychiatric treatment."
Asked whether she was looking forward to her upcoming trial, Smith replied no.
"Who looks forward to going to trial? I have things to do in my life. I have a real job. I have a family. I have a husband. I have a daughter," she said.
Asked for comment, Taylor's civil attorney, Sanford Rubenstein, told Vulture in a phone call, "We have confidence in the Manhattan District Attorney's Office to present this case at trial, and Brittney continues to cooperate with the authorities."
Florio previously claimed Taylor's accusation had already harmed Smith, who is still on parole for the 2007 shooting of a friend. Florio insisted that Smith was a "perfect parolee," but authorities now require her to sport an ankle monitor. Smith's curfew was also cut from 11 p.m. to 8 p.m. She also has to check in with parole officials every week rather than every four months, Florio previously said.