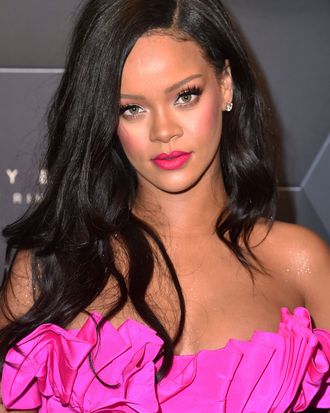 Rihanna.
Photo: Stephen Lovekin/REX/Shutterstock
While Rihanna has been occupied building a fashion and beauty empire, minding her business, and leaving Leo on read (we assume!), yeah, yeah, yeah her music has fallen a bit to the wayside. We know! Because her fans will not stop harassing her for her new album. First of all, how dare you? Second, all that spamming her Instagram comments has been for naught because Rih still doesn't have any answers for you. In a new interview with T Magazine, she's confirmed that, yes, her reggae album is in the works … but that's it. That's the tea. She can't say when it'll drop because she doesn't know, and she can't tell you its title because it doesn't have one. "So far it's just been R9, thanks to the Navy," she says. "I'm about to call it that probably, 'cause they have haunted me with this 'R9, R9, when is R9 coming out?' How will I accept another name after that's been burned into my skull?"
But if you must know more, Rih also confirms that she's not working with Lady Gaga on it (but she's not opposed to collabing). And she's also definitely, hell to the no not working with her ex Drake. Not now, maybe not ever again: "Not anytime soon, I don't see it happening. Not on this album, that's for sure." Curse us with more Drake struggle patois? Rih would never!