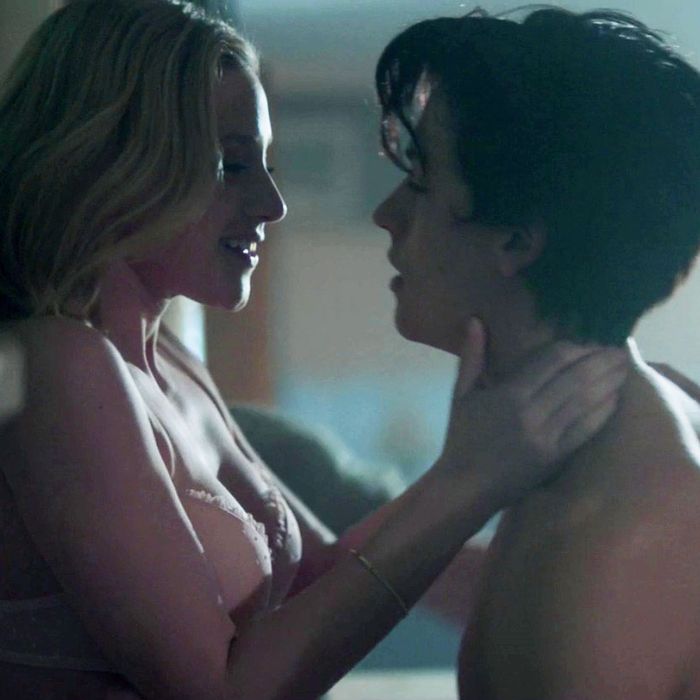 Two things are always true on Riverdale: Everyone is hot, and everyone fucks. After three seasons of intrigue and scandal, we now know that Veronica keeps her pearls on and Jughead takes off his hat. We've seen Cheryl Blossom and Toni Topaz dipping their toes in the pool of starter BDSM, donning leather catsuits for a bit of burglary-as-foreplay, and testing the network standards department with their partially unclothed make-out seshes. And the abs, oh, the abs! It's hardly breaking news that TV viewers like watching absurdly good-looking people go to town on each other, but few shows embrace that fundamental truth quite like this CW teen drama.
All of which left Beaverdale writer and director April O'Neil in an unusual artistic predicament. How do you make a porn parody out of a show that's already a porn parody of itself?
"Have you read the new Riverdale comics?" O'Neil asks. "The comic takes these characters we've grown up with and essentially perverts them. The Cheryl-Jason incest is insane! Veronica's a vamp. It's so gratuitous. It is sort of like a porn parody, following the whole Rule 34 thing. We're all older now, and we have the thought of Oh, that cartoon character I always liked — I can watch them have sex now? Interesting."
Back in 2016 at San Diego Comic-Con, O'Neil got her first eyeful of the Riverdale pilot, but even before the TV adventures of Archie & Co. attained phenomenon status when Riverdale debuted the following January, the longtime adult actress and web-renowned empress of all things nerdy had recognized a huge reserve of erotic potential. O'Neil had already begun preliminary discussions with her associates at Wood Rocket — a Las Vegas–based production company known for putting the "poon" in lampoon — about making a pass at an adults-only Archie. She knew her time had come.
"We did it all before the show even aired, so we did the parody in the style of the comics," O'Neil says. "We didn't even know it was going to be called Beaverdale. [The producers] changed that on us last-minute. It was just going to be 'XXX Archie Parody' or something."
Much like the writers of Riverdale, O'Neil was keenly attuned to the libidinous undercurrents that motivated the original comics. The entire franchise hinges on the will-they, won't-they love triangle between Archie, Betty, and Veronica, with Betty all sweet and virginal while Veronica plays the more self-assured seductress. Archie and Jughead offer a vessel for the distaff take on that same fantasy, giving women (and gay men) a hunky jock to slobber at and a sensitive, artsy loner to moon over. The CW's modern, woke Riverdale largely did away with the romantic-rivals shtick and coupled Betty with Jughead — a show about two girls sniping at each other because they like the same boy? In the year of our lord 2019? — but for Beaverdale, O'Neil got back to those very basics.
"Betty was always the strong girl next door lusting after Archie, and Veronica really only wanted Archie when Betty did," she says. "I tried to play off that competition between them. When you do a parody, you've got to pair up your characters, so you're considering that Betty and Veronica are best friends and do all sorts of things together. It made sense for them to have a threesome with Archie."
When it came to casting, O'Neil tapped her friend Janice Griffith to play Veronica and the four-foor-nine Piper Perri (O'Neil describes her as "the tiniest, cutest little thing") for Betty. The rivals overcome their enmity in Beaverdale by bonding the old-fashioned way, meaning Archie gets to have it both ways, a little innocent and a little sinful. "I could never pick between Betty and Veronica," O'Neil confesses. "I see Archie torn between them and I'm like, I get it, Archie!"
Similarly potent premises formed the foundation for Beaverdale's other two scenes. When Jughead is down in the dumps about Archie hogging all the tail, Ethel Muggs (memorably portrayed by Adriana "Squirt Queen" Chechik) comforts him in a way no hamburger possibly can. Her pass at Jughead is a far cry from Shannon Purser's chaste come-ons in Riverdale's second season — if nothing else, there was certainly less squirting — but the same jilted loneliness drives her actions.
The standout scene involves Cheryl Blossom (Lena Paul) and Reggie (Tommy Pistol) being inexorably drawn into hate sex by their class differences. Though the show mixed things up by sending Veronica into Reggie's arms and rewriting Cheryl as a proudly queer woman, Beaverdale returns Reggie to his roots as the snooty, richer-than-thou foil to working-class Archie. There has always been an undercurrent of class tension on Riverdale, with Archie and the blue-collar Andrews family contrasted against Veronica and the white-collar Lodges. Archie, however, never told Veronica to call him poor and jam the tip of her pinkie finger into the hole of his penis.
If conceiving the film came naturally to O'Neil, realizing her vision was another story. Porn shoots emphasize speed and frugality above all else, so she had only two days and a modest $75,000 budget to shoot three scenes. Even worse, a kidney stone incapacitated her for half of the first day, leading to an unauthorized hairpiece for Cheryl. Archie's iconic red do wasn't much better off: "In an effort to save time, someone trimmed the wig before the guy playing Archie got to set," O'Neil recalls. "Once we put it on him, it was obviously too short. Half the fucking scene, I was just trying to tuck his hair back in. What're you gonna do? That's showbiz."
Production hiccups notwithstanding, O'Neil looks back on Beaverdale as work she can be proud of. She just wishes she could take another whack at the material, given what she'd do with three more seasons' worth of teen hormonal absurdity. She's got a couple of ideas about Betty's lingerie-and-bobbed-wig-clad alter ego "Dark Betty," and mentions a running joke on the Riverdale subreddit about Veronica's tendency to solve her problems with sex. "I'm always on the subreddit," O'Neil says. "Everyone's like, 'This is an insane shitshow!' And that's why we fucking love it!"
O'Neil understands the purpose and operation of the CW show, appreciating it on its own terms as a machine that creates pleasure. Beaverdale serves the same function, offering a second variation on the theme of the original comics. Betty and Veronica, for example, aren't just a blonde and a brunette. They're classic manifestations of blonde-ness and brunette-ness. "There's a fine line between making fan fiction with sex in it and actually making fun of what the thing is," O'Neil says. "We want to keep enough in to show that we're playing with its characters and ideas and styles."
Pornography, at least the good kind, isn't as simple as pressing body parts together and letting the cameras roll. O'Neil brings deliberateness and intention to what some still dismiss as common smut, keeping in mind that stimulation may end between one's legs but must start in the brain. From its earliest inception, the Archie comics tapped into powerful, eternal forces of wanting: Betty is to Veronica as Jackie is to Marilyn as the Madonna is to the whore. In this respect, the squeaky-clean, all-American Archie has always been waiting for the porn treatment.
Riverdale posits a Hot Archie Who Fucks as a network-friendly, softer alternative to the softest of softcore. With Beaverdale, O'Neil winnows the notion down to its base, situating her scenes at a purer, denser level of libido. Her film isn't just pornographic for depicting unsimulated penetration, though there's certainly plenty of that. It's pornographic in its self-honesty, its willingness to own sexiness as a raison d'être, its celebration of pleasure as an end unto itself. Riverdale has to busy itself with serial killers and death cults and corpse-strewn proms — and that was only last week! — between its passionate yet relatively tame sex scenes. Beaverdale doesn't bother with the pretense. It knows what you want, and it wants to give it to you.
"The thing about porn is people get to see fantasies that they might not get to experience for themselves," O'Neil says. "People want the opposite of what they've already got; that's the nature of wanting. Who fantasizes about their own life?"