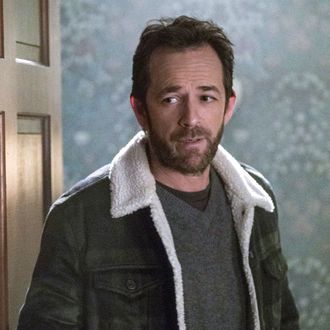 Luke Perry as Fred Andrews.
Photo: The CW
Last night, roughly one million different things happened on the season-three finale of Riverdale, as tends to happen on any given episode of the show, but we didn't hear much about Archie's father Fred Andrews, who's supposedly still out of town, away from much of the action. Luke Perry, who played Fred, died while the show was filming earlier this year, and after the show dedicated an episode to Perry, his last scene was a relatively minor moment between Archie (KJ Apa) and his father. But according to creator Roberto Aguirre-Sacasa the show won't address Fred's absence directly until next season. "When Luke passed, we had already broken and written a lot of the end of the season," Aguirre-Sacasa told The Hollywood Reporter. "And we wanted to honor Luke, and figure out the best way to handle the character of Fred Andrews in the show, so we sort of said, you know what? Let's not squeeze, let's not rush to squeeze something into the finale, or into the last couple of episodes, let's really think about it, and let's tell that story at the beginning of season four."
"Luke was one of the hearts of the show — Luke and KJ, their relationship, and as crazy as things got, we always turned back to them," Aguirre-Sacasa added. "That was so wonderful to have, and so that was part of our thinking too. We wanted to take the time to understand how the show will change [without Fred], and how we could best address that." For now, in a way, it's nice to imagine Fred Andrews alive and well and still giving out fatherly advice somewhere.