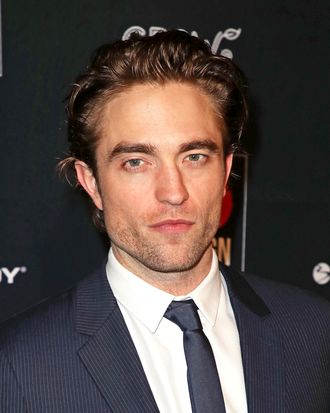 Robert Pattinson.
Photo: David Livingston/Getty Images
Finally, Robert Pattinson can put those hours of Twilight Brooding School to good use. Variety is reporting that Pattinson will don the latex cowl for director Matt Reeves in the next Warner Bros. Batman movie. However, Deadline is saying that Pattinson is only on a short list that includes X-Men: First Class's Nicholas Hoult. People usually play Batman, then Dalí, but R-Pattz is nothing if not an iconoclast! Reeves has been developing the project since 2017, and the still-untitled Caped Crusader project is set to come out on June 25, 2021. Reeves is still putting the final touches on the script. No start date for shooting has been set, and Pattinson is next scheduled to film a movie for Christopher Nolan. If he gets it, Pattinson will be the youngest film Batman, but he's way older than Gotham's Bruce Wayne and that time Mordred zapped Batman into being a kid again. Both actors make sense as a Batperson. Pattinson is an A-level brooder, and Hoult nailed being a borderline sociopath who doesn't value his friends way back when he was on Skins.
Update, May 31: RBatz is official! The next Batman came to a Sophie's choice between Robert Pattinson and Nicholas Hoult, and Warner Bros. has approved Pattinson. "Pattinson has been considered a frontrunner because the filmmaker [Matt Reeves] liked him," Deadline reported Friday morning, "but the studio was torn between him and Nicholas Hoult, and wanted both of the actors on tape because this is such a big decision on a cornerstone Warner Bros DC franchise." Nicholas Hoult, beloved, never fear! You're now free to star in the Conversations With Friends adaptation we definitely want to happen.