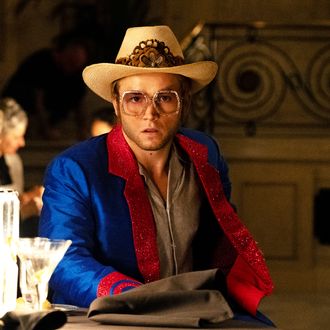 Photo: David Appleby/Paramount Pictures
The forthcoming Elton John biopic Rocketman includes a sex scene between between star Taron Egerton and Richard Madden, who plays John Reid. This makes sense and is entirely un-scandalous, because Elton John is in fact a gay man, and he did have a real-life romance with Reid. But regardless of reality, Russia is taking issue with depictions of gay sex in the film, and "all scenes with kissing and sex between men" have been excised from reels that will run in Russian cinemas, according to a Facebook post from a critic in the country. (They've also removed scenes with drug consumption; since John rose to fame in the '70s, we don't know what movie is even left after you cut the drugs and the gayness.) In total, a reported five minutes of the film has been shaved off and "the closing credits amended to drop references to the children the British rock singer is raising with his partner, David Furnish," according to The Hollywood Reporter. John and the filmmakers have responded to the censorship in a joint statement.
We reject in the strongest possible terms the decision to pander to local laws and censor Rocketman for the Russian market, a move we were unaware of until today. Paramount Pictures have been brave and bold partners in allowing us to create a film which is a true representation of Elton's extraordinary life, warts and all. That the local distributor has edited out certain scenes, denying the audience the opportunity to see the film as it was intended is a sad reflection of the divided world we still live in and how it can still be so cruelly unaccepting of the love between two people. We believe in building bridges and open dialogue, and will continue to push for the breaking down of barriers until all people are heard equally across the world. 
Russian culture minister Vladimir Medinsky responded to the reports by saying, "We do not cut anything, I don't even understand what this is about," and that "everything is decided by the distributor" not the ministry. Even if that is true, there are strict anti-gay laws in Russia, and it's illegal to promote "nontraditional sexual relationships." We're betting, though, that censors weren't able to wipe all the different kinds of gay in Rocketman. So, jokes on them!