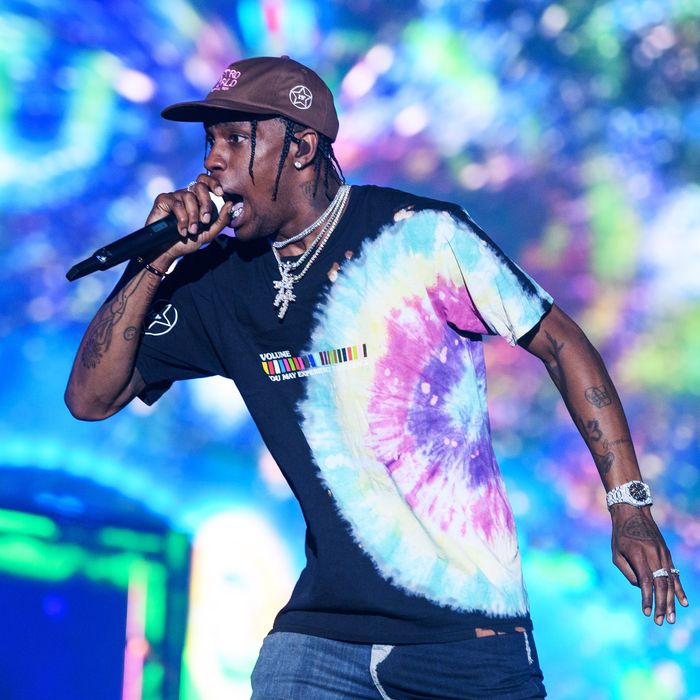 Just about everything that could go wrong did.
Photo: Jason Koerner/Getty Images
Rolling Loud, the largest U.S. hip-hop festival, ran into an improbable number of hurdles in its fifth anniversary outing over the weekend in Miami. Marred by false threats of an active shooter, very real offsite shootings involving Young Thug and NBA YoungBoy, Kodak Black's wild last-minute arrest, Lil Wayne's no-show, and unpredictable weather, just about everything that could go wrong did. And yet the show went on as best it could with solid headlining sets from Migos, Travis Scott, and Kid Cudi; star-making performances from Megan Thee Stallion and Lil Uzi Vert; and, oh my God, a Billy Ray Cyrus sighting. Vulture was on the ground for everything you might've missed.
LOW: The gun scares
We wouldn't normally begin with a low, but at this year's Rolling Loud, unfortunately, two frightening false alarms cast a shadow over the festival for much of the weekend. Just as day one, on Friday night, was getting to one of its biggest names, Cardi B, a stampede broke out near the main stage with people running in terror toward the exits amid what turned out to be a false report that an active shooting was taking place. Fans jumped fences and trampled over others to get to safety, and several attendees sustained minor injuries, while security provided no information. Confusingly, the first statement from the festival was a guy over the loudspeaker yelling, "Why is everyone panicking?" Quickly, the music stopped (Rick Ross's set on a smaller stage was paused) and police, with several choppers overhead, arrived on the scene, after which the festival confirmed there was no cause for concern; performances resumed, with some delays, and those who had exited were permitted to return. The following morning, festival co-founder Tariq Cherif offered slight clarity with a statement that a "disturbance" led to the stampede. "Let's all come together today with positivity," he added.
And yet a similar incident happened on Saturday night. During Travis Scott's headlining set, a swarm of fans stampeded toward stage right following a second gun scare. However, the rush this time lasted only a few minutes before those running realized it was yet another false alarm. The festival did not make a statement addressing the incident, and after a brief lull in Scott's set (seemingly owing to technical difficulties and Scott's moving to a higher platform), the festival resumed. No threats were reported on the third and final day of the festival.
HIGH: Lil Nas X brought Billy Ray Cyrus and yeehaw culture to a rap festival
If you're only given ten minutes, make it count. That's exactly what Lil Nas X did with his set on Sunday, when he made what must've been a record-short appearance to perform his viral chart-topper "Old Town Road" with the one, the only motherfuckin' Billy Ray Cyrus and his gitar. At a hip-hop festival. The future is yeeeeeehawwwww.
WHOA: Kodak Black's arrest and Lil Wayne's no-show
While fans were standing around the main stage waiting for Kodak Black's set to begin on Saturday, the Florida rapper was busy getting arrested. In fact, Kodak never even made it to the festival; instead, he was picked up by police as part of a joint sting by federal agents and local authorities and booked on federal and state firearms charges. It's not clear what specific incident led to his arrest, but it was reportedly the result of an "extensive investigation." (And just the latest in his ongoing legal saga.) Despite reports that he'd been arrested on festival grounds, Rolling Loud issued a statement saying that he was "arrested on his way to the festival and we have no knowledge of what led to the arrest since he was not on festival property." That statement came just hours after Lil Wayne bailed on his Saturday set after insinuating that the Hard Rock Stadium was in cahoots with police. Wayne explained in a tweet that he couldn't perform after being notified of a mandatory police search to enter the stadium. "I do not and will not ever settle for being policed to do my job," he wrote. He was ultimately replaced by Meek Mill (who, despite all his very public legal battles, presumably complied with the search).
HIGH: Lil Uzi Vert's parting message
There are many things to be thankful for about Uzi coming out of retirement. And while some might say chief among them would be the promise of that new album appearing that he maintains he's been blocked from dropping, I'm gonna go with being blessed to see him perform again. Because while, yes, Uzi did tease the album (he completed the last song the other night, he swears), what he did after the tease was the real gift. "Y'all ready for the album?" he asked twice. And then, poof: "Okay, bye." That's it. That's the show. Amazing.
LOW: Miami's unpredictable weather
As if gun threats, arrests, and no-shows weren't enough to rain on Rolling Loud's parade, then came the literal rain. Just as Sunday was getting under way, a lightening storm broke out of nowhere, causing the festival to be put on hold for nearly two hours for safety. Meanwhile, fans both inside and outside the stadium got drenched. Things got muddy afterward, of course, but we've seen worse. It was then sunny skies for the rest of the day, like the rain never happened — typical Florida!
HIGH: Megan Thee Stallion's handstand twerk
Like Megan says, real hot-girl shit only. If you've yet to be introduced to rap's newest queen, allow Megan Thee Stallion to make an unforgettable first impression to get Sunday going again after the long rain delay. For her Rolling Loud debut, the Houston rapper tore through her arsenal ("Freak Nasty," "Big Ole Freak"), then dropped even more jaws by getting down to business for a handstand twerk and splits to Juvenile's "Slow Motion." We are equal parts in love and lust, thank you.
WHOA: Lil Yachty performed the song he wrote for City Girls, with Yung Miami
It's become somewhat of a meme that Lil Yachty wrote pretty much all of the extremely anti-trash-dudes anthem that is City Girls' "Act Up." (We have him to thank for this gem of an affirmation: "Real ass bitch, give a fuck about a nigga.") And while it hadn't been entirely clear how much the City Girls appreciated his spilling that tea about who wrote what, there was no animosity at Rolling Loud. After performing the song herself earlier in the day on Friday, Yung Miami turned heads when she joined Yachty for his set for a repeat performance of "Act Up" with him. (She handled her own verse though, for the skeptics.)
HIGH: The monster stage
Pro tip: Never ignore the smallest stage. While it's typically where you'll find all the fresh talent with a tiny (but dedicated!) following, sometimes you'll also randomly get a rare chance to see huge names in an intimate setting thanks to some scheduling magic. Case in point: Waka Flocka Flame's incredible rap show turned rave (who expected Waka to be the lone EDM representative at this festival?) and ILoveMakonnen's delightful dance party for about 150 people.
LOW: Sound issues
It's a challenge for every festival (Coachella this year was plagued by them), and Rolling Loud was no exception to being hampered by sound issues. Travis Scott's mic cut out entirely during his headlining set on Saturday, interrupting his show; Young Thug couldn't hear himself for most of his (among general unpreparedness — looking at you, DJ); and someone seemed to forget to turn on the subwoofers during Kid Cudi's headlining set, sucking a lot of the feeling out of his most emotional songs.
WHOA: Young Thug and NBA YoungBoy involved in shootings offsite
In addition to Kodak Black, a couple more rappers ran into some dicey situations outside the festival. On Friday, the day before his set, Young Thug was reportedly involved in a drive-by shooting after performing at LIV nightclub; no one was hurt, and Thug performed at the festival the following day. On Sunday, hours before his set, NBA YoungBoy (a.k.a. YoungBoy Never Broke Again) was involved in a shooting near one of Trump's resorts; his girlfriend was reportedly shot, and one person was killed, but the rapper still performed.
HIGH: Kid Cudi's therapy session
Despite Cudi's sound woes, not all catharsis was lost. Cudi has long been public about his battles with mental illness and reflected on how it has defined his music while introducing one of his toughest songs, "Mr. Rager." "I wrote this song when I was in a really dark place," he said. "And I want y'all to know that you can make it through, you can get out. I do songs like this, and I think about where I was at, and I look at where I'm at now, in front of y'all, and it's a beautiful thing to be able to enjoy these songs." Yes, I cried. What of it?!