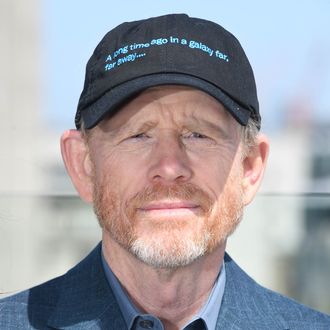 Photo: Stuart C. Wilson/Getty Images
If you were on the fence at all about whether you really have to subscribe to another service in Disney+, then you can just get in line now. Variety reports that Ron Howard is in talks to make a series based on the glorious 1988 film Willow, which he directed. Willow is set in a mystical world where there are faeries and trolls and witch queens and, at least in the film, a sword-fighting rapscallion named Madmartigan played by Val Kilmer. The original story focused on a Nelwyn man named Willow (Warwick Davis) who ends up on a quest with Madmartigan to save the realm from a wicked dictator, the Queen Bavmorda. They have to save a baby and people turn into pigs and it's all extremely 1980s.
Solo screenwriter Jon Kasdan has apparently been "hounding" Howard about the series, as Deadline reports, and the director recently said on the Happy Sad Confused podcast that there are "serious discussions" happening about more Willow. He also confirmed that the one and only Warwick Davis would return, with a possible plot that centers on him as a "mature" version of his titular role. (Kind of like Disney's very own retired hero Bilbo Baggins at the start of Lord of the Rings.) Besides being great news for fans of the fantasy film, a Willow return would provide a fresh slate of whimsical character names to enjoy once Game of Thrones goes off the air. If you like Steelshanks Walton, you'll love Airk Thaughbaer and Elora Danan. If you're going to miss Smalljon Umber, meet Franjean and Rool. Still in mourning about Melisandre? Cherlindrea has you covered. Basically, Willow the series is your new Game of Thrones, if it happens. So cross your fingers.