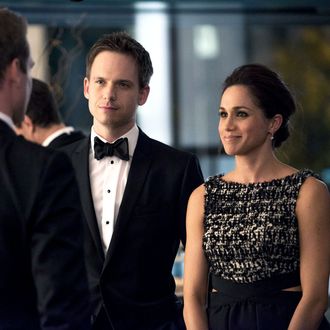 This morning, a baby boy who's possibly going to be given the title of the Earl of Dumbarton (we're not kidding!) was born to Meghan Markle and Prince Harry. The unnamed child — who was "safely delivered" at the couple's home — is currently seventh in line to ascend the British throne, which is a nice prime number. But enough about the monarchy: Markle's former Suits co-stars are loving this squishy lil' royal baby! This is just as wonderful as the royal wedding for them! "Just heard that the world just got heavier by 7 pounds and 3 ounces. Much love to him and his incredible parents," Patrick J. Abrams, who departed Suits with Markle in the seventh season, wrote. "Learned first hand 7 months ago how transformational becoming a parent is and couldn't be happier for Meghan and Harry as they begin this adventure." Added pal Sarah Rafferty: "Hearts are leaping for a beautiful, wondrous and healthy baby boy! Sending much love and wishes for every blessing across the pond today and everyday!"
And, obviously, the official Suits account had to get in on the action.
We'll await the show's inevitable final-season parallels, where it's revealed Rachel Zane has a son named Harry and is living in a town called Windsor.