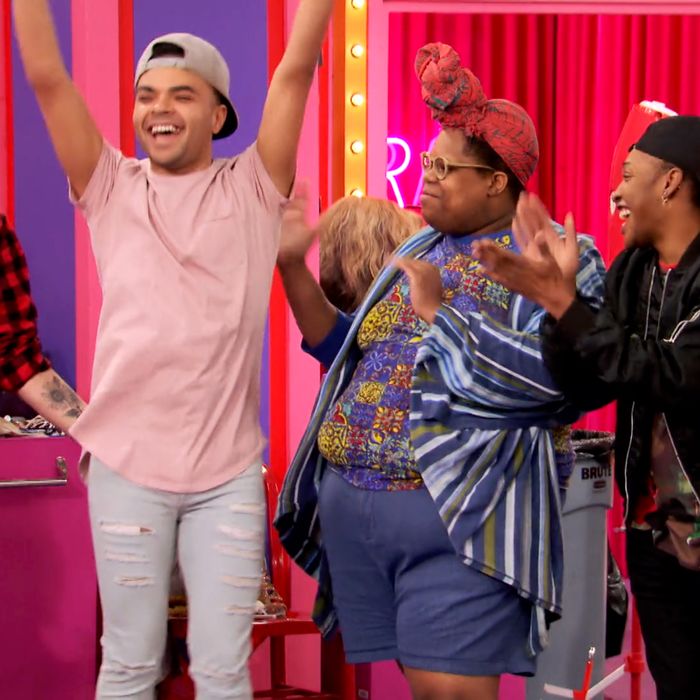 With Plastique gone, the competition has gotten real. At this point, these queens must be truly serving Charisma, Uniqueness, Nerve, and Talent — and in this particular episode of RuPaul's Drag Race, they must also serve witchcraft and wizardry. And we've got a couple Hermione Grangers in our midst! They can't do magic like her, but they can turn a look. (We all remember her garment at the Yule Ball in The Goblet of Fire. We all do! All of us.)
But first we get a fun little mini challenge — featuring a brief appearance from Emmy Award Winner (!!!) Delta Work — wherein the girls are each paired with a member of the Pit Crew and asked to do some sort of relay race where they squish balls in between two different body parts to try to get… you know what, bitch? This is a lot to explain. This challenge exists so we can see nearly naked men, and that's fine. Miss Vanjie wins this challenge (a first for her) and is given the responsibility of splitting up two teams to perform in a magic show. She opts to put herself on a team chock full of charismatic queens, getting together with Silky, A'Keria, and Yvie. The show tries to make a whole to-do about Vanjie not selecting Brooke Lynn for her team, but I get it. You don't want to bring work into the bedroom. You want things to stay fresh.
Okay, sidebar: I'm guessing these two have not had #conjugaltime, right? The show would probably frown on this, correct? Contestants like Willam have supposedly gotten the boot for getting it in, yes? I am not sure what the rules are here, but I do feel like Vanjie and Brooke Lynn seem to know each other, if you catch me. Or maybe this is a whole Chris Pratt-Schwarzenegger situation where they're saving each other for marriage/when they get their phones back. Bitch, I don't know. I also don't know about Chris Pratt anymore. I couldn't buy into Avengers: Endgame because the whole time I'm like, this guy's crazy though, right? Anyway, back to my job.
In prep(aration), it's suggested that the team with all of the charisma is going to be the successful one — but then again, it's super-unwise to bet against Nina West in a comedic performance challenge, and Brooke Lynn has been surprising us in this arena as of late. Shuga Cain will also, at the very least, be reliable. Meanwhile, Team Vanjie is feeling like they can improvise. These are, of course, famous last words. Very few people in this world who have committed to just doing improv have made it. Zing! No, but, they will probably be messy if they don't prepare. These girls (Vanjie in particular) aren't good at managing the craziness once it starts crazying (see: last week's catfight moment).
The girls get some time with a real live magician in order to prepare for the main challenge. Yes, these queens are going to learn magic tricks done on a professional level in mere hours. To me, this does not measure any magical aptitude the queens may have, but kinda just shows how easy magic is to do? I don't mean to talk down to any magicians. All I'm saying is, if A'Keria C. Davenport can swallow a whole balloon, I'm probably gonna be paying to watch her do that in the future. Nothing against any neckbeards, it's just that they can't slam their crotch to the ground to "Confident" by Demi Lovato while simultaneously, like, making their thumbs switch from one hand to the other. You know? You know.
In the workroom after the magical teachings, we learn that Team Black Magic (consisting of the girls who can actually pull off that team name) have had to change a lot about their performance because the original content they were loosely planning and improvising would be inappropriate to air on Miss VH1. So they've thrown some stuff together, allegedly, that is more suitable. Whatever is going on is seriously grinding A'Keria's gears, as the usually positive queen seems downbeat and unhappy. We'll be looking forward to seeing what goes down with that, as well as what exactly is going to happen with this whole Nina and Brooke Lynn situation. Nina is butthurt, justifiably, that last week Brooke Lynn shined because Nina stepped to the side and let her, and this week will be a true test of how bad Nina wants this. It's time to stop setting the other queens up for success. It's time for Nina to un-hurt her butt.
The magic show and runway will be judged by Ru, Michelle, Ross, and guest judges Gina Rodriguez and Katherine Langford. Cute! Also cute is the entire performance by The Mighty Tucks, the team consisting of Nina, Brooke Lynn, and Shuga. Consisting of not only entertaining and surprisingly real-seeming magic, but also choreography and tons of joie de vivre, this is really fun. Nina is far and away the star here. Her magic performance, a gag in which bottles and bottles of booze seemingly appear out of thin air under canisters, is professional grade. And she performs it all the way to the hilt. Backed up by Brooke and Shuga, who frame her with big smiles and consistent movements, Nina West gives a performance I could really see her taking on the road. "Magic!" she screams, like a goddamn drag queen, whenever she pulls off a trick. It's fabulous and funny. Shuga doesn't seem to get as much time to execute her magic trick, revealing clean tucking panties, and it also doesn't seem as magical. But by the time we've registered that almost nothing happened with Shuga, we've moved on to Brooke. The Canadian queen grabs a little glass ball of out thin air, seemingly creating a solid mass out of a bubble she's blown, and then we move on to the final trick, making Brooke Lynn disappear, then making Shuga disappear, then bringing them both back! It's a "Reverse Shangela!" The judges are gagged and laughing as the Mighty Tucks back away and head offstage, chanting all the way. "Magic…magic…magic."
By comparison, the other team, Da Black Magic, is dull and unrehearsed. They're able to pull off a couple cool tricks involving Silky and A'Keria (the former pours a full milkshake into a folded piece of construction paper and it disappears, while the latter swallows an entire long-ass balloon), but it's clear that the ladies could have used more time to negotiate the comedic beats, and certainly need to workshop their movements. Compared to the other group, this looks amateur. Judging by what we see, Yvie is in trouble. Her magic trick (pulling out a bra from… her bra? I don't know) is labored and doesn't make much sense, and she seems the least comfortable on stage in terms of knowing what's going on moment to moment. On the runway, she will claim that she wrote most of the banter, which I would have kept to myself if I were her. Vanjie also isn't impressive. She's Vanjie, so you almost forgive her, but it's late in the competition and we've gotta be discerning. Her magic trick seems small compared to everyone else's (she makes ketchup and mustard disappear in a tiny brown paper bag), and the whole thing reeks of "girl, I better sell this with my personality because, oof." The ladies successfully make Vanjie float in thin air as a finale, but this was altogether hard to watch. They'll have to bring it during the Caftan Realness runway, each of them, to avoid lip-synching for their life.
Caftan Realness is overall fun to watch, as there are some real slays. Brooke Lynn Hytes is absolutely the dominant runway queen of the season, as she works her plum fabric like the hottest, richest woman at the pool with all the hot, rich women. And Nina West, in my favorite look of the week, belongs at that same pool. I just really buy her whole story in this shimmering look. "Getting ready for a long day … of sitting," West purrs, and I'm fully on board. Silky Ganache also turns an impressive look and wig, with balls stacked one on top of the other, and Yvie's holey look is paired with a holy twist, as she gags us by doing a crazy little trick with her arms as she walks away from the judges. She is giving us prayer hands, but her hands are behind her? Her body continues to horrify, impress, and amaze all at once, which is Yvie's whole thing. Ten points to Slytherin (which I feel is right for Yvie). Over at Gryffindor, Vanjie looks fantastic. "Wealthy white woman on vacation," indeed. In minutes, Michelle will call this her favorite look of the week. A big win for her.
Shuga Cain looks fabulous in her first look, but the two reveals she pulls off lessen the effect, and that's never good. Her looks scream "money," and I even like her body shape more than usual, but something about Shuga is, yet again, not standing out. A'Keria is fully wearing what is not a caftan, and it's by far her weakest look of the season. We've seen her pull off such amazing things on this runway that this can't help but feel like a disappointment.
The judges are not into Da Black Magic, and they are really into The Mighty Tucks, but for some reason the result is not that cut-and-dried. After some back-and-forth drama on the former team about who wanted to prepare and who did not, it's clear that they're too average across the board for Ru to really decide who should be in the bottom. Shuga, meanwhile, is so overshadowed by Brooke Lynn and Nina West on the latter team that it feels right to see her land in the bottom two. She is joined rightfully by Vanjie, and this is gonna be a tough one. Was Shuga the worst of the week? No. Would we rather have Vanjie in the competition? I mean, yeah!
The lip sync shows why. "No More Drama" by Mary J. Blige is a legendarily emotional song, and Vanjie sells the shit out of it. It's definitely her best lip-sync moment in her time on this series, as she removes accessory after accessory because, not for nothing, she is absolutely done with this drama! Shuga holds her own, but it's no match for the relentless emotion Vanjie is bringing to this. She just has star quality, and she serves it here. She also serves us a little bit of nipple, which doesn't make me mad. Shuga Cain leaves us, and she may not really understand why, but I do. She is an excellent drag queen, but this is a television show. We need magic characters to keep the magic alive. So unfortunately, bitch, Alakazam! Poof. Avada Kedavra. (I know! It's harsh!)
Big ups to Nina West for her Big W this week, as it's well deserved. We've got several girls left who have won two challenges, so it's truly a dead heat here on season 11. The question is, how much longer can Vanjie hold on? She's now had several lip syncs, and she always turns it out, but how much longer can she get by on being a star? How much longer until she, yet again, "Miss Vanjies"? Is it too late to turn it all around?
No, but seriously, do you think Vanjie and Brooke have banged?