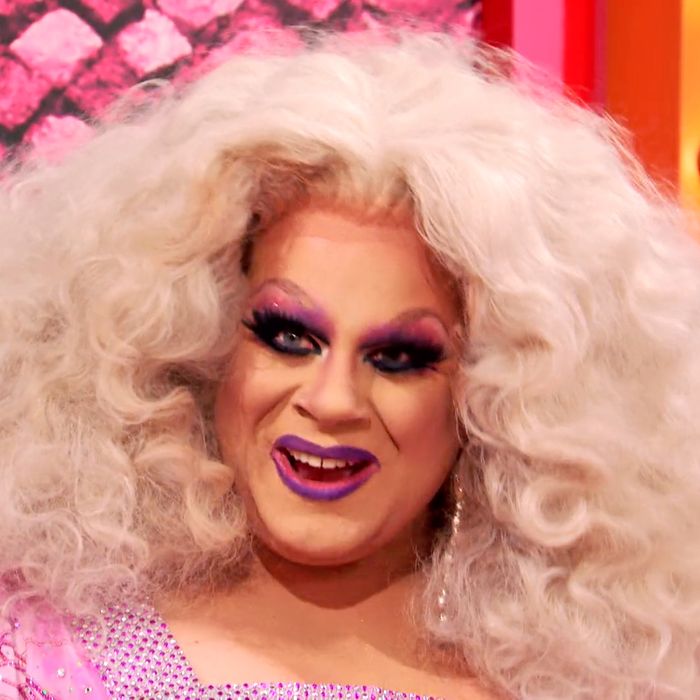 After what genuinely feels like three years, we are finally down to our top six queens, and with the solid but ultimately unthreatening Shuga Cain gone from the pack, it feels, in many ways, like this could be anyone's game. Despite receiving extra harsh (and deserved!) critiques as of late, Vanjie and Silky are still very much the stars of the show from a personality and entertainment standpoint. But they're both feeling the heat in terms of having their performances live up to their hype and potential, and that manifests in what is definitely the most dramatic episode of the season thus far.
But that doesn't mean we can't at least start the episode with some silly bullshit. The fake-bitch-slap mini-game is one of my favorites, and I'm glad it's becoming a staple. Owing to Ru's accidental, and actual, slap of Asia O'Hara last season, the girls will now be both fake-slapping and reacting to those fake slaps in a rotation. Mama Ru is just gonna stay out of it. The result is extremely fun, and while Silky is dependably all over the place physically and Nina shows it's possible to slap vertically (?), it's Brooke Lynn Hytes who takes the week, yet again leveraging her surprising wit and dancing ability for a win, even in a slapping challenge!
Right after Brooke's victory, Ru welcomes back Shuga Cain, Plastique Tiara, Scarlet Envy, Ariel Versace, Honey Davenport, and Soju for some good old-fashioned makeover tomfoolery. It wouldn't be a season of Drag Race without this episode, in which the fates of our remaining queens are in some small or major way in the hands of the eliminated girls. This is all important, but before we can get into what exactly is going down here, we have to talk about Honey Davenport, who is psycho hot with this beard. Does it have to go? I'm gonna assume she'll have to do drag at some point, but could we possibly do female illusion and keep this, in Honey's words, "dick magnet" on her face? I am forgetting Kahanna is even missing, and Kahanna looks like Kahanna. And you know they didn't just not address this in the workroom. This is a look worthy of an entire subplot. I would much rather hear about the history and future of this "dick magnet" than talk about wigs. Which we will.
But before we can get to the biggest non-controversy-that-is-somehow-given-screentime in series history, Brooke Lynn pairs up the girls for the main challenge, which will test the ability of the remaining queens to makeover an eliminated queen into a member of their own drag family. We're not exactly reinventing the wheel here with this challenge; in fact, it's basically one we've already done before in season seven, this time without the "conjoined twins" element. Still, it's fun to see how Brooke Lynn decides to pair people up, as it's an opportunity to strategically get in someone's way by pairing them up with someone who either doesn't make sense aesthetically or is Soju and is (no shade!) nowhere near the professional level of these other drag queens.
Brooke Lynn decides to hit both these boxes by pairing Soju up with Silky, who doesn't necessarily scream "Soju" in vibe or aesthetic and now has to make up not only for her own shortcomings in design challenges and runway presentation as of late but also her partner's inability to walk the runway, even in a basic heel. I would agree with the girls that it feels shady, but truth be told, someone had to be paired with Soju and no one would have been happy about it. The other teams are Vanjie–Ariel, A'Keria–Honey, Nina–Shuga, Yvie–Scarlet, and Brooke Lynn–Plastique. Right off the bat, that last pairing the obvious front-runner.
And now, let's talk about the wigs of it all. Ariel, upon sitting down with Vanjie, wants the tea about what happened to her "babies," a.k.a. her wigs that she left behind in an emotional huff after clearing out the workroom. We remember that Plastique laid claim to many of these wigs, stating that Ariel was her best friend and that she explicitly left them there for her. The wigs ended up being passed all around, with other people simply taking them or remembering similarly that Ariel said they could be used. Not the case, holds Versace, who is now here to say that she only allowed one person the use of one wig; Silky was told she could use her "big red one." With the truth now out, this will surely make for fireworks later. Surely. This will pay off.
Meanwhile, Scarlet is once again stalking around the workroom modeling her and Yvie's high-fashion denim look, and Soju is getting into her cyst. Silky tries to float away from that conversation and get this girl into some heels, but Soju reveals that because of her tendonitis, her walking-in-heels situation is tenuous. She sometimes just wears — gasp! — flats. A quick demo of Soju's complete inability to walk normally in a lifted shoe shocks and gags the entire workroom, and at this point I do agree with Silky's assertion that this isn't feeling very fair. Brooke Lynn gets to be with Plastique. I mean, come on. My complaint is less with Brooke for pairing them together and more with the show for making it an option. Where was Ra'Jah? Where was Kahanna, even? This is a yikes. Brooke Lynn is asked by Ru if she meant to be shady by putting them together, and she can't really give an answer. I'm sure she'd like to take credit for masterminding this, but … someone had to get Soju! It really doesn't feel calculated to me.
Ru makes her way over to Silky and lists her crimes over the past couples weeks. Chiefly, Ru wants to know what's been up with her visible padding on the runway as of late. Silky, clearly flustered by everything about the day's situation, can barely give Ru coherent answers. She looks purely overwhelmed for the first time this season. "Now, Brooke Lynn paired you with Soju," says Ru, right in front of Soju. "Do you think she was being shady?" In minutes, Soju will start trying Silky's patience in a real way when she questions the methods Silky uses when putting on makeup. She uses a Sharpie to draw on her eyebrows and lip, and it's worked just fine for the "hoes" at home that she "made beautiful." These were allegedly "hoes that looked like Wesley Snipes. Hoes that looked like John C. Reilly." So Soju can just sit tight and do what she's told, sayeth the Reverend.
Elsewhere, Nina details her concept to Ru. She's going to combine a rainbow-pride look on her with a transgender-pride look on Shuga, and it already looks like a miss. They do not look like they're going to have much of a family resemblance, which is something the judges always read the girls for, no matter how well the looks work individually.
The next day, A'Keria decides to get a little messy and bring up all of the drama discussed the day prior. First, the goddamn wigs. It comes to light that Ariel is wanting to know what is up with her belongings. The girls bat this back and forth, with Plastique being put on blast by the other girls. For some reason, Ariel backs down almost immediately. She doesn't want to get directly pissed at anyone in the room. It seems that she's most irritated at Ra'Jah, who allegedly took one particular wig Ariel loves and who is not here to be a part of this conflict. Silky even comes forward to say she's taken a couple more wigs, and Ariel is silent. It's almost like she doesn't want to play ball with this shit anymore. Guns blazing yesterday, now she simply says that she wants her wigs back and that's it. Cool. This is something that we spent time on!
A little bit more interestingly, Scarlet stated earlier that Silky and Vanjie's presence in the workroom as current contestants surprises her. A'Keria, the bone carrier of the season, lays down the bone. Scarlet explains that she believes Silky has had more help than the other girls, and her runways are held to a different standard. Immediately defensive, Silky says that she has not had that much help and that her runways are better than Scarlet's. Vanjie jumps in to say that Scarlet should have been eliminated weeks before she was during the group lip sync. It feels like this could stop here, but it does not. Silky is at her absolute wit's end, and the last person she probably wants to hear from, Yvie, jumps in. Because of course she does!
Silky demands to know how she's been helped to some huge degree. Having had enough, Yvie whips around: "Your hair. Your hair, for starters." She then talks about how she's gone to her other Dreamgirls (A'Keria and Vanjie) for sewing support. Vanjie screams that Nina has had help too. Silky reasons that the Dreamgirls are mostly there for each other's emotional support. It's probably one of the more dramatic displays thus far this season, and I guess I can see both sides.
Lena Waithe and Wanda Sykes join the judges for the runway presentation, which is all over the map. When Yvie and Scarlet come out in their "denim high fashion," I'm of two minds about it. They're very creative, and they have a strong family resemblance, but the looks are more crafty than high-fashion, which was the intent. Nina and Shuga (nailing a Nina West energy on the runway) look a little costume-y in their pride looks, and they don't necessarily look to be in the same family. They look like friends! Which unfortunately matters in this challenge. A'Keria and Honey are serving peak A'Keria Chanel Davenport — read: big old colorful Texas pageant drag — and while she took care of her sister Honey, A'Keria is the main event. This is Polished with a capital P. She looks wealthy.
Silky and Soju, going for "disco," are obviously going to have an issue. There is no family resemblance. Maybe a similar wig could have gotten them there, but overall there's little attempt to pretend these two are related. Silky can usually sell a mediocre runway effort with her singular charisma and energy, but she looks distracted tonight. And Michelle notes, as she walks away from her, that the "pads are messy again." This won't be good. Sure to garner an opposite reaction from Michelle is Miss Vanjie, who has executed an elegant pair of looks for her and Ariel. There's a lot of growth here, and the runway presentation manages to incorporate some signature Vanjie humor as well. Finally, Brooke Lynn and Plastique are Brooke Lynn and Plastique. Velvet evening gowns, movie-star hair, pageantry, etc. It's extremely well choreographed on top of it all. A-plus across the board.
When the judges deliver their critiques, Ross says Yvie's looks are "almost chic" but too crafty. Wana notes that it feels like her sister Scarlet is literally wearing "scraps." It's not necessarily a negative critique, but it doesn't feel good. Michelle clocks Nina for her makeup work on Shuga, and a closeup shot reveals she's right. Shuga don't look like Shuga under Nina's eye. The judges agree Nina's looks are costumey and don't feel cohesive, which is a shame because they love the message. "Simple but effective," says Michelle of A'Keria and Honey. Ross agrees that "you're not reinventing the wheel," but that's likely because the wheel looks damn good already. Silky will obviously be in the bottom following the judges' critiques, and she tries to reason with them that she had to bring her energy down in order to feature Soju. But, Michelle says, if that were true, Soju's makeup wouldn't look so damn bad. It's rough. Michelle glows with pride as Ariel details how painstakingly Vanjie made sure Ariel was fitted into her garment, and Brooke Lynn Hytes also gets deserved praise for her performance.
Ru then asks the girls, all the girls, who should go home tonight, resulting in an even mix of girls saying Silky and Yvie. The battle lines have clearly been drawn. Dreamgirls & Co. generally side against Yvie, and everyone else wants to see Silky gone. It obviously upsets both queens, two very different rivals who both want to be here and both have claims to the top four, if you ask me and if we're looking at this season in a vacuum.
The judges agree that Silky is headed to the bottom two, but joining her instead of Yvie is Nina West. The lip-sync number is "No Scrubs" by TLC, and it's confounding to watch. This has to be one of the worst lip syncs in series history, as nothing really happens throughout. It's clear that Nina knows the words but makes absolutely no effort to do anything with the song. Silky's energy is all over the place, but she's doing a little bit more in terms of using the space and simply being watchable. In the end, I think it comes down to who Ru would like to see more of, and that's Silky. Nina West nobly finishes in sixth place, and we have our top five of Vanjie, Silky, Yvie, A'Keria, and Brooke Lynn. At this point in the competition, it would be pretty tough to argue that this isn't Brooke Lynn's to lose, but this entire season has reminded me of season nine, in which the competition really got going right around this point in the game. Might we see a polished underdog pull a Sasha Velour and take this from under a front-runner's nose? Only two more competitive weeks left!