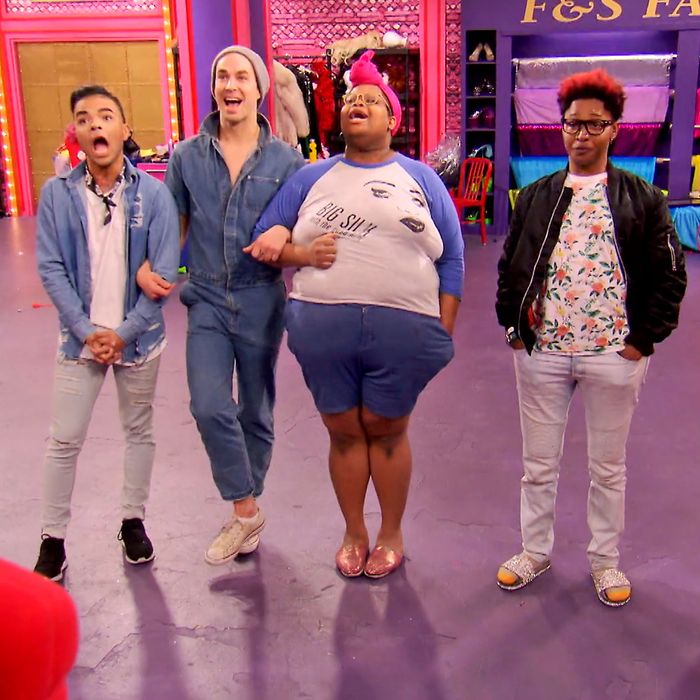 Sure! That's my response to this episode. Sure. The top five of our season are given the full final-four treatment? Sure. The bottom two this week were actually the bottom two? Sure. Todrick acting masc? Suuuuuure. After this installment, in which the queens lip-sync and perform an original verse on Ru's track "Queens Everywhere" and hit the stage in their Best Drag to make a final case for themselves to be in the finale, I can't help but feel like I'm looking forward to a break from a show that seems to have lost its edge, its emotional appeal, or something. Every season, I'm on the verge of tears listening to the queens' final, desperate speeches about why they should be included in the finale. This year? Sure! Sure.
Let's get into it by assessing these queens one by one, in the order that they perform in "Queens Everywhere."
A'Keria Chanel Davenport
While she'd have us believe (and we would fully believe) that choreography is not her strong suit in the slightest, A'Keria ends up turning out a good performance in "Queens Everywhere," especially given how tough it is to be the queen who goes first in such a grand spectacle. By this time the queens know what to expect from this challenge, and they know they have to deliver excellence. That has to make rehearsing with the relentless and tough Todrick very difficult, and it has to be even more intimidating to work with Masc Todrick, who has apparently cut the head off Femme Todrick and decided to start living his life here today.
You can tell A'Keria is nervous throughout the rehearsal, but it doesn't really show up onstage. Something I noticed from the beginning and will always appreciate about Ms. Davenport is that she is always looking that camera right in its goddamn face when it's time to perform. She doesn't look shook, like Vanjie, or chaotic, like Silky. She is ready for television, damn it. The lyrics are terrific because they elevate her persona: "The Diahann Carroll of Ru's Dynasty," "Miss Ass Almighty," "say 'hey, Miss A'Keria!' when you see her." The bitch is branding! She moves well, especially taking into account where she started, and she looks like she got to a place where she's having fun doing it.
A'Keria's emotional arc gets some filling out in her interview on Ru's podcast What's The Tee w/Michelle Visage, in which it's revealed that she is a primary caregiver to her 2-year-old nephew. And her final runway presentation is classic A'Keria, but that might be a little bit of an issue when all is said and done. For a queen who touted herself as being as big as Texas, pure southern pageant drag, this feels a little bit withdrawn. It's not that it's not ornate and gorgeous, but there's something missing that keeps it from feeling like A'Keria to the max. In her preseason "Meet the Queens" interview, her wig was twice as big as this. Where is that A'Keria? Because it's fully the penultimate episode of the show. This is the final runway! All in all, she looks beautiful, but more is more at this point, and she should probably know that.
All season long, I have been rooting for A'Keria, and I think she deserves a spot in the Top Four. But when it comes to this type of drag and how we can see it elevated in a season of Drag Race, I can't help but think of Asia O'Hara last season and how she might just mop the floor with any of these final five girls. Hold the butterflies, of course. But A'Keria feels like that kind of regal, elegant pageant drag from Texas … only without the gumption to come out in a fish mask.
Brooke Lynn Hytes
It's almost harder to be Brooke Lynn Hytes in a challenge like this one, because the audience, the judges, and the other queens all know what she is capable of, and that's pure excellence. When it comes to dancing and performance or lip-sync challenges, Brooke Lynn has always been borderline unbeatable, so it would seem like this is fully a cakewalk to the finale for her.
Her verse is, as expected, executed flawlessly, but even that doesn't seem to be enough for the judges. They comment on a lack of "passion" in her performance, in which the degree of difficulty is about 500 times higher than her peers', and I have to raise an eyebrow. Really? Could the "passion" be missing because she's literally flying through the air from pole to pole, executing grade-A Nomi Malone stripper realness? Did the "passion" not read because the camera was five yards farther away from her than any other queen? You can skip me with the negative critiques, because we all know she was put in the bottom two for narrative purposes. What I'll talk about here instead is the sheer physical commitment it takes to do what Brooke Lynn does, and how impressive it's been all season long. As a gorgeous, tall, blonde, white queen, she reeks of a sort of privilege that makes it difficult to root for her, but you do because she backs it the fuck up almost every single time. Who is mad when they watch any of her performances?
That said, I can almost understand the choice to put her in the bottom two based on her Best Drag runway, because it's truly not her best drag. I mean, we've seen her in better drag than this. Also, the "being en pointe" of it all hits a little less hard when we've seen it before. Again, as with A'Keria, I would have preferred Brooke Lynn to push her personal "hot, glamorous pageant bitch" aesthetic to the max over the ballerina choice, but it's certainly pretty and she certainly can get up on them toes and stay up on them toes.
Her What's the Tee interview mostly consists of struggling with looking stupid in the competition, when she has had to be so perfect in her drag and dance pursuits, and checking in on the relationship between her and Vanjie, which she says they will try to continue to the best of their ability. Brooke Lynn is obviously the front-runner of the season, with the most wins and maybe even the most impressive moments throughout, but I can't help but draw a comparison between her and Aquaria, last year's winner. Not only was she impressive on the runway, she was able to be fashion-forward and bold every step of the way. She also rarely, if ever, stumbled in performance challenges, even winning Snatch Game. Do you kinda see what I'm saying here? Regardless, Brooke Lynn Hytes has 100 percent earned her spot in the finals. She'll be tough to beat for the crown.
Silky Nutmeg Ganache
I, for one, am consistently amazed that Silky can turn what she can in a challenge like this. She is obviously hindered by her own proportions, but for the most part she gets up off that floor as quickly as she throws herself onto that floor. Even Masc Todrick is impressed when Silky mostly nails the tough choreography he has laid out for the ladies. What I appreciate about Silky is that she is always fucking going for it, despite it all. There seems to be a positivity and a radiance that never goes away, and while I can sort of understand the (apparently pretty intense) ire some fans have over the fact that she's still in the competition on the basis of skill level and polish, tell me you don't want to rewind her performance here in the challenge again and again. It's completely chaotic and wild, but it's also go-for-broke in a way I appreciate. It's extra comical to watch her after Brooke Lynn Hytes, who truly never seems to miss a step. I love that Silky fills her verse with the sort of fun and personality that's missing from the other queens. She flies out of a bathroom stall, decks two bitches, and slams herself on her back screaming "Twirl!" and "Whip!" If you don't like this, why are you watching this show?
On the runway, Silky looks absolutely beautiful. You can't argue with the mug, and it's gotta feel like something to be in that corset, knowing what Silky's body is like outside of it. I have one qualm though, and I will frame it as a frantic question: Is that A'Keria's fucking wig?! If that is A'Keria's wig that she truly just wore on the runway last week, after Yvie just came for her about having help with her hair week after week, so help me God. This may be what loses the crown this time for Silky. (I say "this time" because she has All Stars written all over her, truly.)
I think we would all like to see a plus-size queen win. But if she's out there wearing other people's wigs, and the question when it comes to Silky is polish, how can you feel good about giving her the crown when Eureka O'Hara has lost twice? Tell me you don't think Eureka O'Hara rips the competition apart this year, if she's here. Tell me that. Either way, Silky is Top Four and it will be fun to watch her try her best in the finale. Godspeed to the Revered.
Vanessa Vanjie Mateo
No one could say, ever, that Miss Vanjie is not a star. That is not up for debate. From the second she left the competition last year, it was clear. There was never a doubt in anyone's mind that she'd be back for this season, and we were all gagged in the early weeks of the competition to see how much she had grown and what it seemed like she was suddenly capable of. There was a confidence there that hadn't been there before, but there was also, it was revealed, a nervousness that she may not be able to live up to the massive expectations the fans now had for her. What we end up with, in what turns out to be her final episode of this season, is a result of both of those elements.
In the rehearsal, Vanessa is slaying. Todrick is simply not worried about her, and neither are we. She is obviously the best suited to this style of dance, you buy right off the bat that she will be able to turn out a rap verse, and she is so galvanized, having made it this far after a rough few weeks of being in the bottom, that you just can't see her dropping the ball. But the thing is, Vanjie is human. Something happens when the camera transitions from Silky's verse to Vanjie's. Maybe it's that she's a little slow on the first couple steps and that throws her off. Maybe the edit didn't show that she actually was struggling more during rehearsal than we thought. But if A'Keria is the perfect example of being present and focused when the camera is on, Vanessa is the opposite. There is no connection between her and the audience. She misses a lot of words in the lip-sync, which is a shame because her lyrics give her the opportunity to shine. It's hard to have to say this, but there is just not a lot of fierceness in the performance, and we're left wanting more. The verse simply isn't attacked the way we've been led to believe it will be.
Vanjie's final runway is pretty. It would be fantastic at a senior prom. But nothing about it says anything about her personality or gives any of the Vanjie flavor. There's no danger in this look. It's just a gorgeous dress. She looks facially beautiful, but it's difficult to say that this is going to be enough. And in the end, it isn't.
Yvie Oddly
Of all the contestants on this season of Drag Race, the one I've personally had the most difficult time with is Yvie. On the one hand, I appreciate that she is different from everyone else, and not just in a "I am making a choice to act different than everyone else" type of way. She is authentically and singularly her. It's not spooky. It's not scary. It's odd. And the fact that she is able to home in on a specific brand like this is something to be proud of, and her drag is always simultaneously polished and interesting. On the other hand, I find her personality and attitude to be more than grating. I never understood the superiority radiating off of her, why she felt comfortable giving other queens notes or hammering on critiques the judges had already given, and I do feel she crossed a line into cruelty when she called Silky untalented.
This all being said, she executes her shit. She is obviously the most memorable and impressive verse in this "Queens Everywhere" song, no doubt about it. You sometimes forget what she is physically capable of until she is doing it, and her backward crab walk on that bartop is truly wild. She is somehow able to slay her lip-sync throughout, and gives you that on-camera presence I noted with A'Keria earlier as well. "Pardon me, bitches, if I don't seem humble," she concludes, and I guess I have to just eat it, huh?
Her final runway look completes the assignment more than any of her competitors. It is Yvie's brand and Best Drag, but make it Final Runway. Three tits, three eyes, and I think three assholes? Absolutely. Her makeup looks the best it ever has, which the judges note, and I genuinely believe that if a winner were to be named based on this final challenge, it would be Yvie in a landslide. She soars into the Top Four, deservedly. I'm stuck one thing, though: The beginning of Yvie's verse almost directly mirrors Sasha Velour's "Category Is" entrance in season nine, and I'm nostalgic for that Top Four, who I felt all had huge claims to the RuPaul's Drag Race crown. But Yvie, more than her competitors this season, fares better in direct comparison to any past finalist, and maybe that means something. Maybe the fact that she is the closest thing to an original means she should be this season's winner. But also, maybe fuck all this and Kameron Michaels fully wins this season if she's here? I don't know, bitch.
The Top Four is Yvie, Silky, Brooke Lynn, and A'Keria, and we say good-bye to Miss Vanjie, who made a valiant run for it but stumbled at the finals. The lip-sync to "Pride: A Deeper Love," by Aretha Franklin, is one of the more competitive of the season, but the writing is on the wall from the setup. Do we really expect to not see Brooke Lynn Hytes in the finale? Get real. The producers want to see the couple lip-sync against each other, it probably should have been Silky in the bottom with Vanjie if we're being fully real, etc. Again, I say, sure.
Overall, I think this episode came too soon, and I enjoy it a lot more when we're given even just one more week of regular competition before we get to all the pomp and circumstance and "talking to your younger self" of this episode, but here we are. I don't think this has shaped up to be a strong season of the show at all, as I feel you can name numerous queens from seasons past who would win this one, no contest (how about Shea Couleé in this season? You have to laugh.), but I'm willing to be proved wrong with an explosive lip-sync tournament finale. The promise of a Brooke Lynn Hytes and Yvie Oddly rematch after their amazing "Sorry Not Sorry" performance a few weeks ago is definitely enticing. And I'm sure Drag Race will find a way to give us that.
I'm suuuuuuure of it.