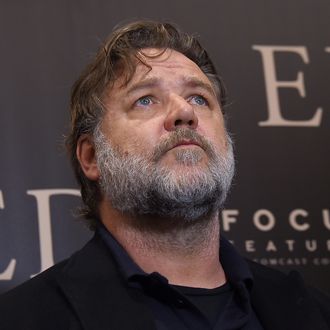 Photo: Michael Loccisano/Getty Images
You've never run into even a single possessed doll; zero demons have entered your body through an ancient tome; and most houses are blissfully ghost-free. Russell Crowe's new thriller Unhinged, however, is mixing it up by preying on a more down-to-earth fear: road rage.
Crowe will star in the film, written by Red Eye screenwriter Carl Ellsworth and produced by Solstice Studios, as the titular unhinged. Per Solstice's announcement: "Unhinged takes an ordinary, everyday incident to its most terrifying conclusion in telling the story of a mother who leans on her horn at the wrong time, to the wrong guy (played by Crowe). 'Road rage' doesn't begin to describe what he's about to do to her and everyone she knows." Someone honks their horn? Not a reason to flip out. Someone talks during a screening of Unhinged? Look, you gotta do what you gotta do.