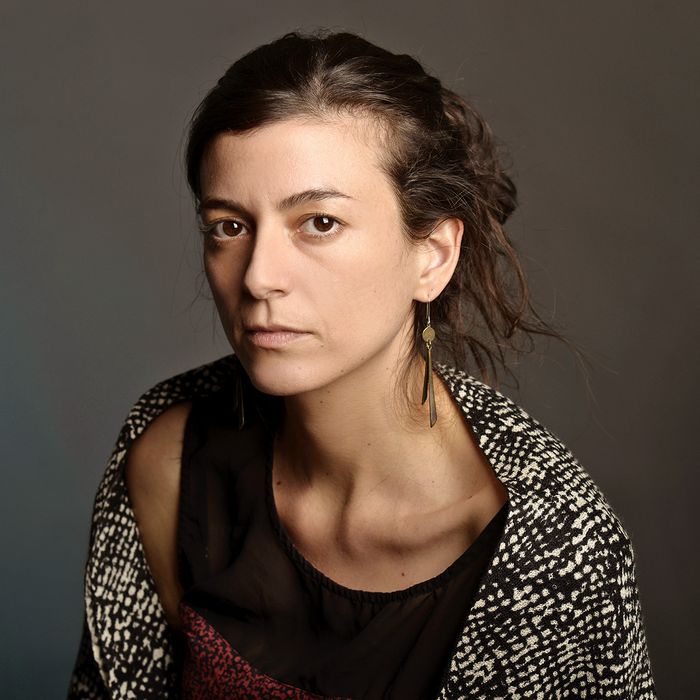 Samanta Schweblin.
Photo: Alejandra Lopez
May kicks off with the 15th annual PEN World Voices Festival, when international authors take over New York for a week of panels and events, and ends with the announcement of the 2019 Man Booker International Prize. In celebration of a month replete with world literature, Vulture has a roundup of 15 recent translations you should definitely read; a publisher's thoughts on the "3 percent problem" of translated literature; and, below, an encounter with one of the most exciting young novelists writing today.
When the Argentinian author Samanta Schweblin was 12 years old, she decided to stop talking. It was shockingly simple. She had gotten into one of those devastating fights 12-year-old children have with their friends, and was consumed by indignation over not being able to defend herself. "Words abandoned me," she says now. "They weren't sufficiently precise to explain to the world what my grievance was." So she did the only reasonable thing a 12 year old could do: She became mute.
We think of a silent world as a constricted one. But for Schweblin, it became a space to flourish. "[Spoken] language has always bothered me," she says. "I'm always trying to say something, I'm trying to search for words and they don't appear — I'm always uncomfortable." Spending her day with books was a significant improvement over having to talk to people. Eventually her teachers gave her parents an ultimatum: Schweblin either needed to get a note from a psychoanalyst or start talking. So after a year of silence, she begrudgingly reentered the land of speech. But her silence had set something monumental in motion: "When I stopped talking, language exploded — in the best possible way. I was constantly reading, I started writing, and my interior world was enormous."
Though Schweblin's reticence endures to this day, last month I managed to convince her to meet me — another Argentinian living in Berlin — at an outdoor café around the corner from her Kreuzberg apartment and speak to me about how much she dislikes speaking, especially about her work. "I literally feel that every time I open my mouth, I'm making my books worse," she says, laughing and stirring her espresso. "Because I really feel that everything I wanted to say, I already said exactly how I wanted to say it in the book."
But there is no escaping the curiosity of her fans. They are inevitably going to wonder about the warm, smiling woman who can write so hauntingly about, among other things, teen girls eating live birds, brides abandoned along a haunted highway, strange diseases coursing through a town's water supply, and artists obsessed with smashing people's heads against concrete.
Schweblin's work has only been available in English since 2017, when her terse, nail-bitingly-unsettling novel Distancia del rescate was translated as Fever Dream. It was shortlisted for the Man Booker International Prize, won the Shirley Jackson Award, and is currently being adapted for Netflix by Claudia Llosa, who directed the Oscar-nominated The Milk of Sorrow. She had stories published in Harper's and The New Yorker, and earlier this year she published her second translated book, the beguiling collection Mouthful of Birds, which is once again shortlisted for the Man Booker. Her rise seems swift, but as with so many non-English writers, it's been a long time coming. Anglophone readers have a lot of catching up to do.
Before a word of her work had been translated into English, Schweblin had already been translated into more than 20 different languages, and her oeuvre, including the short story collection Siete Casas Vacías and her recent novel Kentukis, is passionately acclaimed in Argentina and across the Spanish-speaking world. It's exciting to see an English-speaking audience start to dig deeper into her work, but it should also be said that Schweblin has been having a moment for a very long time, ever since El núcleo del disturbio came out in 2002 and started raking in prizes throughout Latin America.
The fault is not entirely that of America and its aversion to translated literature. Schweblin had been approached by English translators over the years, but was too cautious to accept them — or perhaps too savvy. "There were some really interesting offers from independent publishers, but I've seen it happen to other Latin American authors where their books simply got lost with really small publishers," she explains. "If a book of mine were to be published in English, it would have to do really well. Because if a translation was done and the book didn't really sell, then that book is dead. That book only has one chance."
Her anxiety about being misunderstood, misinterpreted, or taken out of context makes sense when you see how masterfully she handles her prose — a writer in full control on the page. Her language is economical, yet supremely effective at creating a tense, claustrophobic atmosphere; shadows lurk behind the words left unwritten, the sentences that refuse to reveal the hidden things just around the corner. Rarely, if ever, is the horror named. It is simply felt. Nothing can be trusted.
Schweblin has placed her full trust in Megan McDowell, who translated Fever Dream (and is currently working on Kentukis), and has been able to preserve the thrillingly sinister spirit of her writing. In Mouthful of Birds, opening lines put us on alert. "Gismondi found it odd that the children and the dogs didn't run out to greet him when he arrived," begins one story. In another, the smile of a ticket vendor in an otherwise abandoned train station feels foreboding both in English and Spanish. You can see why Schweblin wanted to wait until she found a translator who could get it exactly right.
Schweblin also feels right about the timing of her U.S. arrival. Readers seem to finally be widening their horizons a little bit — looking abroad for everything from Elena Ferrante's sweeping dramas of friendship to Scandinavian thrillers. Schweblin credits the creation of the Man Booker International Prize, established in 2015, with introducing a broader range of writers to anglophone readers, giving them a shot at bestseller lists where Americans once held a near-monopoly. Perhaps, less fortunately, there is also the sense that Americans are no longer immune to the sorts of troubles that afflict flailing democracies around the world. "There are so many people who feel so furious and so trapped," she says, "that there's this very strong need to look outward."
Sitting in that Kreuzberg sidewalk café as bits of German, Turkish, English, Russian, and Spanish mix in the air around us, she tells me about her own need to look outward. "I really wanted to live abroad. Not because of Buenos Aires — I love Buenos Aires. But just for the sake of being somewhere else." When the opportunity arose, in 2012, to come to Berlin on a year-long fellowship, she didn't hesitate. She's been here ever since, and although I've lived on and off in this city for several years, I can only envy her full integration here. She's part of Berlin's tight-knit Latin American literary expat community and regularly leads Spanish-language literary workshops — but still insists she is a "stranger in this city."
Our conversation keeps circling back to Argentina. Suddenly we're getting excited about the pañuelos verdes and their fight to legalize abortion, reminiscing about Buenos Aires and what streets we used to live on, who's gone and who's still there. Maybe she'll return one day, she says, when things have calmed down there and it would be easier to live. Maybe.
For me there will always be something distinctly Argentinian in her writing, which I can only clumsily identify as a neurotic unease. The vaguely unidentifiable dread you feel when you're in the campo, the Argentinian countryside, where the darkness teems with the legends passed around slowly through the sleepy, dusty pueblos. Or those weird moments in Buenos Aires, when you turn a corner and suddenly come across an eerily quiet street, and are overcome with the sensation of something watching you from behind the rotting wooden shutters of a Belle Époque house.
Perhaps there is simply some inherent melancholy in the culture. Perhaps it's the undercurrent of existential dread as economic crisis after economic crisis batters the country, as poverty rates skyrocket and crime and violence feel commonplace. Perhaps it's a high tolerance for the absurdity of the nation's politics. The Argentinian capacity to imagine — and experience — tragedy has always been copious.
All of this pervades the writing of Schweblin — a necessary corrective to outdated ideas about the region's politics and especially its literature. For many readers throughout the U.S. and Europe, Latin American literature is still firmly rooted in the 60s, when the boom latinoamericano brought García Márquez, Cortázar, Fuentes, and co. onto the world stage. Schweblin is thankful for their legacy, but also delicately suggests the need to move forward. "There are moments during interviews, at festivals, or at readings where you're asked about the boom, and to me it's like they're asking me about some really old grandfather who I've never really known," she says. "It's a bit disconcerting." Just as contemporary American literature is no longer solely defined by mildly depressed kings of the suburbs like Updike and Cheever, Latin American literature contains multitudes beyond magical realism.
Between the boom and Schweblin are what she calls "two lost generations," mostly unknown to Anglophone readers — writers just now being "rediscovered." Another Argentinian, Sara Gallardo, comes to mind — a household name in Spanish but only posthumously translated into English last year. Or the late Argentinian Hebe Uhart, who's also just being translated now. Or Mario Benedetti; Eliécer Cárdenas; María Luisa Puga — the list can go on. As I said, there's a lot of catching up to do.
In Schweblin's case, it was the writer herself who needed to move beyond her borders to break new ground: "Leaving Argentina," she says, "brought me closer to Latin America." Because paper is very expensive in Argentina, it was easier to find a wide variety of Latin American literature in Berlin than in her home country. Germany also prodded her to look beyond Argentina in her writing. Kentukis is a technological dystopia following various protagonists across several countries; it's her first attempt to write a truly "global" work. "I don't know if I would have had the courage to make a move like that if I hadn't left Argentina," she says.
Berlin also helped in practical terms, thanks to her fellowship. "I had an entire year where I didn't do anything other than write," she says. "The first three years in Berlin were the three most productive years of my life." Berlin brought the world to Schweblin, and ultimately, it brought Schweblin to the world — into 25 languages, on the verge of global literary fame, and, Netflix willing, pop success as well. "We're quite provincial, us Argentinians," she says. "Argentina is so far away from everything, it's even far away from the rest of Latin America. It's something an Argentinian doesn't realize until they leave." You could say much the same thing about American readers as well.