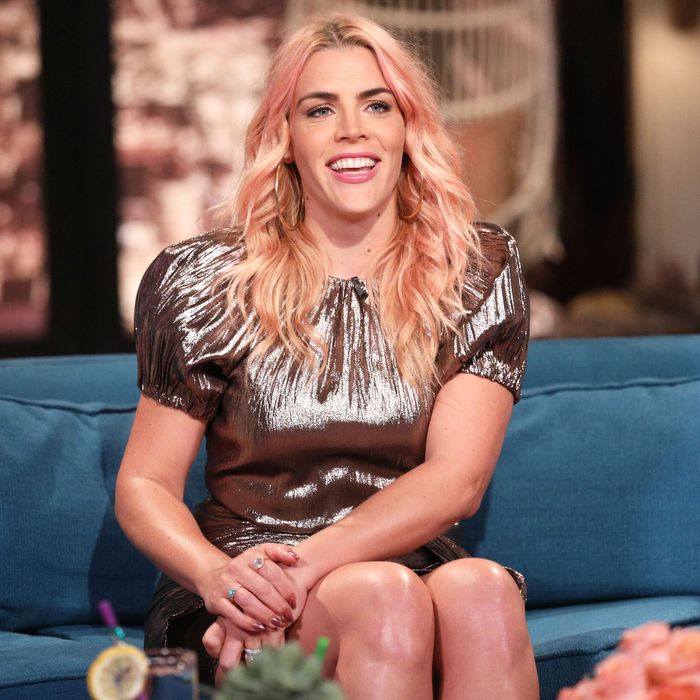 Busy Tonight.
Photo: Jordin Althaus/E! Entertainment
Last weekend, Busy Philipps announced the cancellation of her E! talk show. She did it as she does most things: on Instagram stories. In her trademark Mr. Nightgown, Busy flopped onto her bed and let us all know that the show was leaving E!, but they were shopping it around, and that she loves all of us very much. That love is what I'll miss most about Busy Tonight. She ended every show with a song and a sincere "I love you" to camera, but every episode felt candid and chummy. This was the strength of Busy Tonight: the intimacy. Philipps might have been the first talk-show host to let the audience know every time she was on her period.
It felt radical and liberating to have the host of a talk show be this transparent about her body and what its whole deal even was. From the beginning, Busy Tonight was uniquely itself: an ode to pop culture and issues usually too femme for the late-night Jameses. Sometimes monologue jokes can feel perfunctory on a standard-issue late-night show. You get the sense that the writers are covering a topic because it's expected of them, not because they actually feel a need to share a certain story. Trump coverage often falls into this category. The hackiest president results in less-than-stellar material. Busy Philipps never said Trump's name on her show. There was no need. We know who's in office — what we don't know is what was with the destination wedding in Made of Honor.
Not mentioning Trump was a deliberate choice on the part of Philipps and showrunner Caissie St. Onge. Also intentional was the creative staff of 89% women. I attended a taping of Busy Tonight, and the atmosphere was unlike any other show I've seen. Staffers sat in the back of the audience and playfully heckled Philipps. The talent coordinator and security guard chatted and hugged. The security guard complimented my hat, and they gave us wine. Truly everyone was made to feel welcome. Jenna Fischer called Busy Tonight "One of my favorite talk show experiences ever," and Jenna Fischer has done the circuit more than once. People got to freak out about what they felt on Busy Tonight. One of my favorite segments was when Abby's star Natalie Morales got to fulfill her dream of being a talk-show animal expert. They just gave her a couple critters and let her go buck wild.
This week, Seth Meyers pushed back at Meghan McCain's Islamophobic comments on The View. Her husband went apeshit about it on Twitter, which was amusing. The McCain and husband reaction was outsized to what Meyers said, especially since he tried to close the interview on common ground. It was all very funny, but hard-hiting news and social commentary is not the only way to be on late night. Asking tough questions takes strength, but Busy Tonight showed there was also strength in vulnerability. Whether it was crying at the drop of a hat or talking about her abortion after the Georgia ban was passed, Philipps showed that it was normal to be affected by the world around you. So in honor of her, I'm tearing up as I write this. Fuck, this show was so fun.