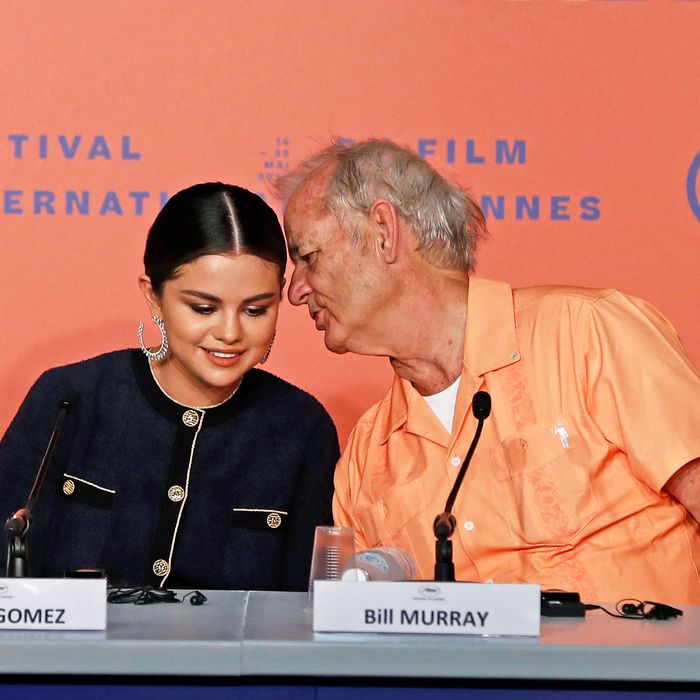 Photo: John Phillips/Getty Images
The Dead Don't Die, Jim Jarmusch's deadpan zombie comedy that premiered at Cannes Tuesday night, has a cast so stacked it's almost, well, terrifying. On Wednesday morning, several of them — Bill Murray, Tilda Swinton, Selena Gomez, Chloë Sevigny, and Jarmusch — gathered for a press conference on the film, where the questions centered on horrors both fictional and all too real.
One reporter asked the cast to explain their own relationships to horror, as well as the things that currently terrify them. Each had a thoughtful — and surprising — answer.
"I find Cannes terrifying," replied Murray. "Haven't seen any zombies wandering the Croisette so far," replied the moderator. "Says you!" Murray shot back.
Murray then went on a tangent about the "dangers" of making a film. "Making movies is a dangerous business," he said. "It's far more dangerous than people think. And every day you go to work, there's the chance that someone could be seriously injured. It sounds crazy, because we look so fabulous up here, especially the men, who I'll stick up for fashion-wise. Even the danger we went through just getting in this building today. I try to keep it light [on set], and realize that every single day could be the last day of shooting."
"You want to be one less burden for the director. Look what he has to deal with up here," added Murray, gesturing to his castmates. He then addressed the journalists present: "I hope I've confused you."
Swinton replied that her own relationship to the horror genre was "nascent — I've been dabbling recently with Luca Guadagnino [in Suspiria]," and that she was never exposed to horror as a child. "I'm very unversed in horror," said Swinton, who's played a vampire, an undead witch, and, in The Dead Don't Die, an otherworldly mortician. "I'm slowly working out that it thrills me to the core, and it's not actually a scare that I want to avoid."
Sevigny admitted that, as a young girl raised Catholic, she was most terrified of The Exorcist. Her priest told her that the film was "true" and that she'd be "inviting the devil into her soul" by watching it; she says she's been "terrified ever since."
Gomez, on the other hand, was raised on horror films and still can't get enough of them. "I'm obsessed with horror films," she said. "Growing up, my dad used to let me watch them to scare me so he could laugh. Eventually I became obsessed. I like everything from Zombieland to 28 Days Later to The Walking Dead." She grew a little more serious when addressing one of her most pressing real-world fears: social media.
"For my generation specifically, and I guess this is what Jim gestured to in the film, social media has really been terrible. It's amazing to use your platform, but it does scare me when you see how exposed these young girls and young boys are. They're not really aware of the news or anything going on. It's just — I don't want to say selfish, that feels rude, but I think it's dangerous for sure," she said.
When asked how she might improve social-media platforms as one of the most-followed people on Instagram, Gomez replied, "It's impossible to make it safe at this point. I'm very grateful to have a platform. In any way I can, I'll share things I'm very passionate about. I don't do a lot of pointless pictures — I like to be intentional with it. It just scares me, that's all. I see young girls at meet-and-greets, and they're just devastated, dealing with bullying and not able to have their own voices. [Social media] can be great in moments, but I'd just be careful and allow yourself some time limits — when to use it, and when you shouldn't."
Jarmusch, who said his most pressing fear was "watching nature decline at unprecedented rates in the history of humans," chimed in to support Gomez's point: "Selena has been incredibly admirable, in my consciousness, in encouraging young people to have their own will and be strong people. She's looked up to by so many young people because of her personality and will and supportiveness. She's a remarkable person."