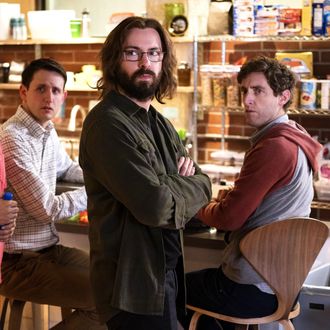 Goodnight, sweet nerds.
Photo: HBO
As you'll learn from talking to anyone in the Bay Area — or just staring deeply into the eyes of Elizabeth Holmes — you can't stick around in the tech industry forever; there's just a certain unsettling darkness there. In keeping with that mantra, HBO has announced that its comedy Silicon Valley will end after its sixth season, which will consist of seven episodes airing later this year. The series stars Thomas Middleditch as the awkward, aspiring entrepreneur Richard Hendricks and helped bolster the careers of his co-stars Kumail Nanjiani, Zach Woods, Martin Starr and T.J. Miller (up until the point when Miller left the show and was later accused of sexual harassment, assault, and bullying).
Creators Mike Judge and Alec Berg had previously talked about having a six-season plan for the series. "Silicon Valley has been a career and life highlight for us. We'll miss it desperately, but we've always let Pied Piper's journey guide the way, and Season 6 seems to be the fitting conclusion," they said in a statement today. "We are forever indebted to our incredible cast, crew, and partners at HBO. At a certain point, there's only so much we can do to make the world a better place." This means that Silicon Valley will have the chance to end just as they always intended: with Richard torching much of San Francisco in dragon fire, Dinesh stabbing him, and everyone handing over the reigns of Pied Piper to its rightful chief executive, Jared.