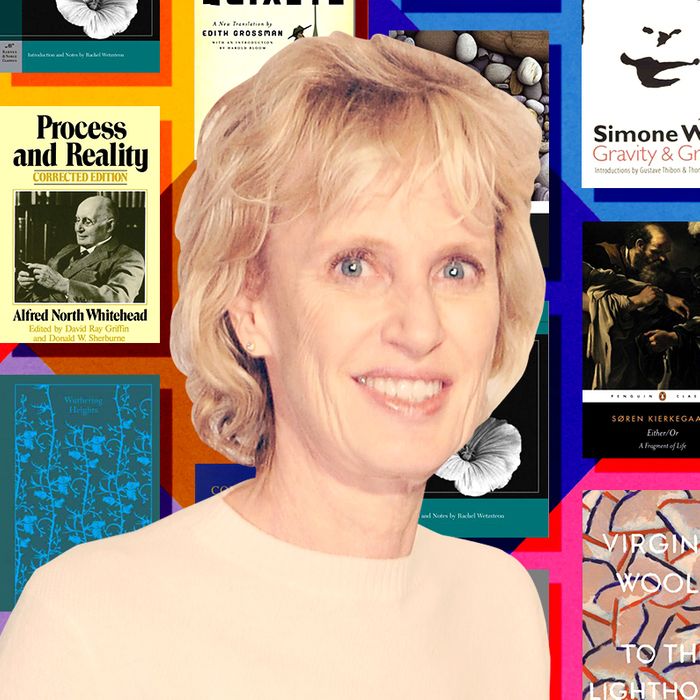 Photo: Vulture and Getty Images
Bookseller One Grand Books has asked celebrities to name the ten titles they'd take to a desert island, and they've shared the results with Vulture. Below is writer and Memories of the Future author Siri Hustvedt's list.
No one can agree about what Heraclitus actually meant or how to characterize his philosophy. This is promising for desert island reading because I could spend hours puzzling over just one of riddles.
I refer to the philosopher often and would need him on my island, too.
Lots of exciting stories, poems, and mysteries for a stranger in a strange land.
Although it was published in 1605, this hilarious and brilliant book seems to contain all the possibilities of the novel in a single volume.
Kierkegaard's ironies have driven me crazy for many years, but I crave them anyway. Every time I read it, this novel as philosophy or philosophy as novel never stops producing new meanings.
This diabolical work of fiction is so complex in its structure that I remain awed by it. I have no doubt that I could read it again and again and still not get to the bottom of it.
Dickinson has amazed me since I was 11 years old.
This extraordinary book takes you into a luminous mind at work.
My admiration for this book is complete. It is as beautiful, poignant, and ruthless as anything I have ever read.
Whitehead is a bold philosopher who fascinates me, but this book is maddeningly difficult. Weeks of reading and rereading might make it a wee bit easier.