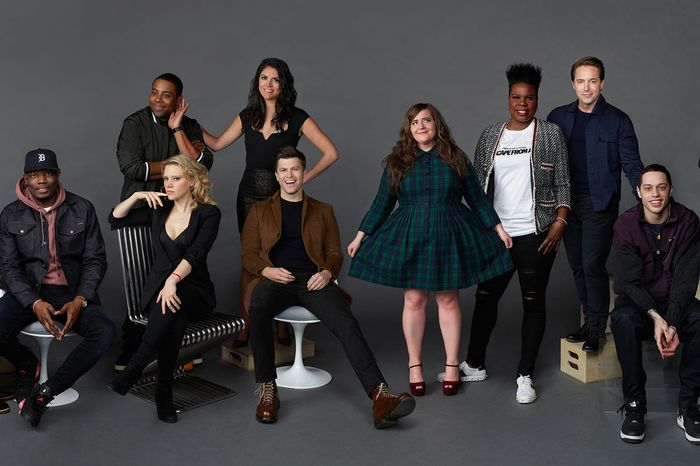 The season 44
SNL
cast.
Photo: Mary Ellen Matthews/NBC
Saturday Night Live season 44 has come to a close. The one show comedy fans can watch like a sport is over for now, so it's time for the Sunday quarterbacking. We broke down each cast member's screen time, determining how much comedic real estate they occupied. The screen time evaluation system was developed by former Splitsider contributor Erik Voss and brought into the YouTube and cancel culture age by yours truly. This system lets us moneyball SNL.
Rather than use a stopwatch to time exactly how long Mikey Day is in any given scene, a point system is employed. Leading a sketch carried more weight than being part of an ensemble or doing a thankless waiter walk-on. Extra points were awarded for applause breaks, which happen more and more for recurring characters or impersonations of polarizing figures. Kate McKinnon got sustained applause every time she poked her li'l muskrat head out as Jeff Sessions, as did Melissa Villaseñor for portraying our woke savior Alexandria Ocasio-Cortez. Points were deducted for generating think pieces, because who needs that? There is such a thing as bad press nowadays. And, justified or not, Colin Jost gets a lot of it.
Cast members also got bonus points for saying "Live from New York, it's Saturday Night!" Being in that iconic moment every week solidifies the marriage between a comedian's personal brand and that of the show. Kate McKinnon got the most "LFNY" bumps of any regular cast member, and it really helped her numbers. Here's the full "LFNY" breakdown:
We also measured screen time in sketches that were cut, but released later on YouTube. That data wasn't part of the overall screen time count, but we still think it's an interesting stat to see for the season. In a perfect world, there would be a giant computer with many, many vacuum tubes that would weigh each cast member's participation in a sketch against the clicks each sketch got at YouTube and NBC. But until then, I will clack away with my abacus.
People get different things out of their SNL time. Movie careers or sitcoms are a possibility, but this cast has been getting a lot out of guesting in each other's side projects. Beck Bennett has been in every show I've watched in the past year. (Somehow including old reruns of Star Trek: Deep Space Nine. Did they edit him in? Who benefits?) Aidy Bryant found a way to shoot and promote Shrill while staying on SNL, and Beck guest-starred. And Pete Davidson captured the hearts of Ariana Grande, Kate Beckinsale, and John Mulaney while also doing "Update" pieces once a month. Next year, Kenan Thompson will star in a sitcom, EP the All That reboot, and still play Steve Harvey at least four times on season 45. The cast is so big, people can slip out pretty easily and it goes without notice.
The finale began with a nearly all-cast sing-along, with special guests Alec Baldwin and Robert De Niro. It was typical of this season: a true ensemble affair. Big scenes dominated, and performers who could hang benefited. The cold open was typical of season 44 in another way: too many cameos. Because of the explosion of celebrity guests on SNL this season, we included all the cameos in our tallying too. If New York is a character on Sex and the City, Lorne Michaels's love for famous people is definitely a recurring character on SNL. And with that, here's the complete SNL screen time breakdown for season 44:
The "Update" Boys
Colin Jost: 2.63%
Michael Che: 2.75%
Previous versions of this column have excluded the "Update" anchors from the rating, since they usually only appear in one sketch of the night. But that one segment (that's usually more like four) takes up almost a third of nonmusic run time. And much of the casual SNL fan's weekly involvement with the show is "Weekend Update" GIFs, or dunking on Colin Jost.
Jost is one of the more polarizing SNLers in recent memory, which is weird since the thing people don't like about him is that he's average. Jost got dinged in the points tally for being think-pieced, and Che got dinged for the truly bonkers ways he's tried to defend Jost and react to criticism. The "Update" Boys are at the bottom of this list, but they aren't going anywhere. "Update" gets longer with every Trump outrage. Plus, how could a show have only one head writer?
Ego Nwodim: 3.76%
Freshman cast member Ego Nwodim didn't get her own feature sketch until the second-to-last episode of the season, when she played a "Cash Me Outside"–like talk-show guest. Before that, Nwodim was mostly relegated to one- or two-liners, and the occasional Okoye. But something cool that's come from Nwodim's hiring is that there are now ensemble majority-black sketches on SNL, like "Them Trumps" or "Cha Cha Slide." That's been impossible before this season.
Chris Redd: 4.29%
Chris Redd has been coming into his own this season, filling the "joke raps" slot SNL has required ever since the Lonely Island. When he's not rapping (or playing a rapper like Kanye), Redd tends to blend into scenes. He's been given many "I am one person at this dinner party not pleased with the host's oafish behavior" roles. And although those need filling, Redd really excels at mania and menace. Give him more of that to play.
Melissa Villaseñor: 4.53%
Besides her impersonations, Melissa Villaseñor's biggest contribution to SNL season 44 was playing somewhat normal characters who are onboard with the featured character's craziness. Often the host or another Not Ready for Prime Time Player was the fire in that one cartoon of the dog, and Villaseñor was the dog saying "This is fine." She played that role when Kit Harington did burlesque, and again when Beck hid from Jason Momoa in "First Impression." Her chipper demeanor in the face of gnarliness is funny, but hopefully next year she'll get to be Lady Gaga or Gwen Stefani some more.
Alex Moffat: 5.3%
Bigger casts of the past have been called bloated. But rather than a symptom of being lost or lacking a point of view, this cast feels more like there's something for everyone. Am I the world's only Alex Moffat stan? I hope not, but even if I am, he's there for me. Moffat's wide range of dinguses gave him spots in cold opens (as Eric Trump) and the "Update" desk (Boat Guy), but he's not above being the utilitarian Guy Pointing Out the Crazy Guy for his showier castmates.
TIE
Leslie Jones, Heidi Gardner, and Kyle Mooney: 5.58%
Newest in the three-way tie is Gardner, who is just flourishing at the "Update" desk. She does the skittish Goop employee, the blustering Angel, and the flirty Bailey Gismert. She has the range! When heavy hitters like Cecily Strong and Kate McKinnon leave, Gardner is going to clean up this game. In the meantime, she's just going to keep building the character library.
Leslie Jones is also an "Update" player more than anything else. She is almost always herself, whether it's doing stand-up while sitting down behind the "Update" desk or playing characters like Duchess Meghan's distant relative. Jones is at SNL to do a very specific thing: be Leslie Jones. That usually translates into yelling. If you need a reserved performance, look elsewhere.
Kyle Mooney's stature in SNL is outsize compared to his actual presence on the show. The sketches he stars in are so distinctive, he seems like a heavier hitter than he really is. But Mooney actually had two episodes this season where he appeared in no sketches. He was in sponsored content created by Broadway Video that aired during the show, but that's not exactly the same thing. Like Jones, Mooney is always extremely Mooney when he's onscreen, so he takes up more headspace than someone who can blend into an office scene.
Pete Davidson: 5.7%
Pete's season 44 started out with a bang. Dude was with Ariana Grande, and it was the main point of discussion in the season premiere. Then they broke up, "Thank U, Next" fell upon us, and Davidson shared his struggles with mental health in the wake of his engagement's end. His presence on the show scaled back, but he warmed our hearts with his bromance with John Mulaney and did regular wellness checks at the "Update" desk.
The Concept of Fame: 6.15%
It really says something that cameos had a better year than half of the cast. As Saturday Night Live has progressed from scrappy show that could to cultural institution, the stunt casting has really gotten out of hand. Robert Mueller went from being one of Kate McKinnon's many labors to yet another nail in Robert De Niro's coffin. Why does he keep doing it? He can't quite read the cue cards and can NEVER say "Live from New York, it's Saturday Night!" It's madness. Perhaps the most egregious celeb cameo was when Dan Crenshaw came on the show to dress down Pete Davidson. Dude wants a 12-week abortion ban. He can take a joke at his appearance's expense.
Mikey Day: 6.8%
Mikey Day plays frustrated and/or ignorant very well. That's why he plays embedded reporters so often. On SNL a reporter in the field is either mad at all the shenanigans, or unaware that his dick is out or something. Whether he's reporting using Snapchat or on the collapse of a name-change center, Day will be the implacable center of the craziness storm.
Aidy Bryant: 7%
We love a vers queen. Aidy Bryant can play goofy, or she can play straight. She can lead a sketch with a weird accent, or play the dejected mom. Whatever the company needs! Sarah Huckabee Sanders is her main impression, and her refusal to give press briefings has hurt Bryant's visibility. But the best moments come when Aidy has to pretend not to be upset, like when she portrayed the astronaut who didn't get to walk in space because of sexism.
Beck Bennett: 7.97%
Beck Bennett's politically salient impressions got him a lot of screen time this season. When you're the three most important men in Trump's life (Mike Pence, Mitch McConnell, and Putin), you're going to come up a lot. He also had one of the standout new "Update" characters: Jules, who sees things a little differently. Bennett always does Putin shirtless, and I need to know if he works out at all before doing sketches as him. But he won't reply to any of my letters!
Cecily Strong: 8.09%
Vulture's Jesse David Fox believes Strong deserves at least two Emmys for her Judge Jeanine Pirro, and he's not wrong. Cecily Strong can do no wrong, and I'm not just saying that because it rhymes. Her chav British accent is a thing of legend. And her commercial voice-over is so good, Strong is literally the spokesperson of every food and drug approved by the Food and Drug Administration. It's now illegal for a new drug to come to market without Strong doing the VO for the commercials. She's just that good.
Kenan Thompson: 9.06%
The longest-running cast member in SNL history is still near the top of the pack. King of the Game Show Hosts Kenan Thompson and Impression-meister Kate McKinnon vied for the top spot. Ultimately, McKinnon pulled ahead at the penultimate ep, after a season where Thompson was streets ahead of the competition. Thompson not only kept the pace of many an ensemble sketch, he led with impressions of Bill Cosby in jail, Julius Trump (a.k.a. Terrence Howard), and R. Kelly.
Kate McKinnon: 9.22%
It should have never been in doubt. If there is one "star" of Saturday Night Live at the moment, it is Kate McKinnon. McKinnon plays multiple goblins in the Trump administration, and she gets a sustained applause break every time. Plus, she can carry a sketch like "Teacher Fell Down" or "To Have and Have Not" when a host wants a breather from being the focus. McKinnon's bug-eyed energy keeps the momentum moving forward. She will continue racking up Emmy nominations until a movie career falls at her feet, or her Audible show somehow fills the void Game of Thrones has left in our hearts.