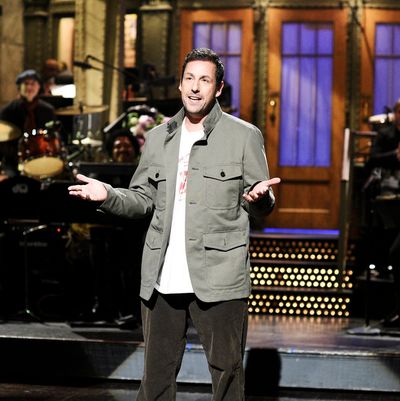 Photo: NBC/Will Heath/NBC
Adam Sandler devotees had long given up any hope of him ever hosting SNL. Sandler himself swore he had no reason to do it as recently as 2014 on Norm MacDonald Live. Yet here we are: Nearly a quarter century after his early departure from Studio 8H, Sandler did the honors for the first time. Maybe Sandler and Lorne Michaels made amends; maybe Sandler got the itch after doing some stand-up and filming his Netflix special 100% Fresh; maybe it's as he said this week on Late Night with Seth Meyers: "It was a mistake. They caught me at a weak moment." Whatever the case, it brought back several of Sandler's writing partners — Robert Smigel, Tim Herlihy, and Steven Koren — and was an opportunity for Sandler to let people see the moments of maturity he lends to his usual immaturity in 100% Fresh.
(As usual, we've ranked this week's sketches from best to worst.)
Adam Sandler Monologue
Why, when Sandler's time at SNL was "the greatest time of [his] life," did he leave? After years of telling interviewers that he had some agency in his exit, this little ditty lets everyone know what really happened: "I was fired." He recounts telling his sad tale to Chris Farley, who replied, "they fired my ass, too." Chris Rock, who was also canned, comes on to commiserate. When Pete Davidson arrives to talk about being fired, Sandler tells him it hasn't happened yet but he ought to "be patient" because "it's coming soon." Sandler's conclusion: "I was fired, I was fired, NBC said I was done / Then I made over $4 billion at the box office, so I guess you can say I won." This plays right to Sandler's strengths, and his self-deprecating perspective (with just a sliver of sweet revenge) is pretty irresistible.
Weekend Update
"Update" is happy to take on the political news not addressed by the cold open, including William Barr's no-show, Representative Steve Cohen's terrible chicken-related gags, and possible contempt proceedings. "Man, just steal the damn report," suggests Michael Che. Democrats are acting like "white parents at the supermarket," who let their kids run wild and then just say, "I'll count to 40, Mister!" The "Update" crew can really only think of two people the Dems have held to account over the last two years: Scott Pruitt (sort of) and Roseanne. Colin Jost plays a bit of audio in which Trump says that Putin smiled during a phone call, and Jost summed things up: "Our president is hearing smiles, our Congress is talking to chickens, and the thing people seem angriest about is that Sonic the Hedgehog has human teeth." Kate McKinnon comes on as Elizabeth Warren, who wants to talk about what sets her apart from the other presidential candidates. Beto O'Rourke is doing "parkour in a Starbucks," Pete Buttigieg is "playing piano and speaking fluent Klingon," while Warren is working on education and debt forgiveness. Biden, the "Amtrak masseuse," is reading Tom Clancy and "picking salt water taffy out of his veneers." There's some really amazing imagery here, and McKinnon's Warren is only becoming richer and more defined.
Returning to the news, Jost looks at a new Moby book which talks about a time he somehow rubbed his penis against Donald Trump. The title of the book: "Stories No One Wants." There's some broad swipes here, but things come to life with the return of Sandler as Opera Man. Among the headlines he tackles: The end of Game of Thrones, James Harden's eye injury, movies in which the shlub gets the hot lady, Democratic presidential nominees, and William Barr. On the Kentucky Derby: "Winning horse is magnifioso / Losing horse is delicioso." His last run, to the "Tarantella Napoletana," is a funny one regarding Trump's incompetence, the people he has fired, and Putin's influence. It's well worth watching.
Romano Tours
Travel agency Romano Tours books trips to Italy for people all over the world, but "mostly Long Island and New Jersey." They'll get you pointing and laughing at the Leaning Tower, and help you see the wetness of Venice. But Joe Romano (Sandler) has to issue this disclaimer in order to keep his Yelp reviews positive: A trip to Italy cannot make you a happier person. Romano can help you unwind and "see some different-looking squirrels," but some of your problems are going to require "incremental lifestyle changes over time." That means they can put you on wine-tasting tour, but can't change the reason why you drink. Being in Italy also won't suddenly make you want to be in pictures or touch your spouse, if you're inclined otherwise. Best to lower your expectations. The observation, the details, and the gags here are all just delightful.
Last Call
It's last call at Donnelly's, which can only mean one thing: That hornball Shiela Sovage (McKinnon) is on the prowl. This time, her targets are the disturbing Bernie Letsby (Sandler) and his partner, the terribly tanned Melba Toast (Kristen Wiig), who, lucky Shiela, happen to be looking for a third. Bernie is packing five inches, "if you measure from my hemorrhoid" and Melba got her "colostomy bag caught in the jukebox." Sounds like a perfect opportunity to do not the double-69 but the 7-11 — that's when you "get in bed, roll around like old hot dogs, and not touch each other." While their disgusting courtship takes place, the bartender (Keenan Thompson) smokes a stick of dynamite like a cigar and otherwise tries to make it all stop. Pretty soon, though, the trio is Lady & the Tramping it over a plate of spaghetti. The writing in the sketch, sharp and gross as always — and yes, the commitment to the make-out session — is really remarkable.
Sandler Family Reunion
Every single family member at the Sandler reunion happens to behave like a version of Sandler from his comedic past. Cousins Matt and Ray (Mikey Day and Kyle Mooney) wiggle their fingers and spit little nonsense phrases before hollering "Shut up!" at each other. Though one guy (Davidson) is a lot like Little Nicky, one gal (Melissa Villaseñor) is remarkably similar to The Waterboy's Bobby Boucher, and yet another woman (Leslie Jones) is basically Chubbs from Happy Gilmore, Sandler insists his characters aren't based on family. Mom (Kristen Wiig) and dad (Jimmy Fallon) also feel eerily similar to Sandler characters. Even Shawn (musical guest Shawn Mendes) quotes Big Daddy. Sandler has to cut off a family rendition of "The Hanukkah Song" so they can take a family photo. It's as silly as it sounds, and a perfect way for everyone to get their hack Sandler impressions out there.
Rectix
Father and son (Sandler and Beck Bennett) have a heart-to-heart discussion on the porch when their respective spouses (Aidy Bryant and Heidi Gardner) go inside for a moment. Sometimes, the son confesses, he has trouble performing in bed. Dad presents a solution: Rectix, a massive pill that is not taken orally, but anally. In fact, it's just inserted and stays up there until it's all over. "So it's a butt plug?" the son asks. No, no, it's a pill, a vibrating pill, one that mom just put up there after saying "relax and breathe." Dad offers to let the son borrow his, because they clean the thing off in the dishwasher. So it's a vibrator joke, yeah, but the idea of a dad blooming sexually only by maintaining a flimsy lie is pretty funny.
Family Feud Cold Open
Rather that recount Attorney General William Barr's testimony in the Senate and lack of testimony in the House, SNL goes with something "all Americans can get behind," a game of Family Feud with The Avengers facing off against Game of Thrones characters. Steve Harvey (Kenan Thompson) points out that, like the Avengers movies, the first 45 minutes of this will be introductions. On one side: Thor (Alex Moffat), Thanos (Beck Bennett), Okoye (Ego Nwodim), and Groot (Leslie Jones). On the other: Brienne (Kate McKinnon), Tormund (Mikey Day), Melisandre (Cecily Strong), and Bran (Kyle Mooney). The question: What's on the characters' bucket lists when their respective franchises are ending? While it's an odd sketch to start with, and there aren't any knockout impressions, there are a few funny moments. Most notable is the sense that SNL may be getting as tired of talking politics as much of the electorate.
Chris Farley Song
Sandler breaks out the acoustic guitar for his new number about Chris Farley. It's a trip down memory lane as Sandler recalls all of Farley's famous roles, including Matt Foley and Tommy Boy. Though Sandler and his friends warned Farley about dying young like John Belushi and John Candy, he was apparently happy to go out like his heroes. While it's not meant to be particularly funny, it's very sweet and heartfelt. And despite the fact that this song is a part of 100% Fresh, and won't be new to Sandlerites, there isn't a stage on which it would make more sense.
War Zone Reporter
While reporting on chaotic circumstances in Tripoli, reporter Brian Makins (Mikey Day) has only one tool for getting his message out: Snapchat. Back at the CNN studio, Brooke Baldwin (Cecily Strong) and Arthur Wenzel (Beck Bennett) await updates on a very serious situation as Makins's image is transformed by filters that turn him into a little girl with pigtails and a toothless yokel. Then a lieutenant in the People's Militia (Sandler) gets filtered into a weirdo in a pageboy hat and a woman, too. Phrases like, "Blood will never stop flowing until our people are free" don't have the same ring when they're shouted by a hot dog with a mouth. The sketch is one gag with slight variations; it's amusing, but not worth devoting an entire sketch to. Maybe Snapchat users would love it?
Holes
The members of rock outfit Von Bonjour (Beck Bennett and Kyle Mooney) want the audience to know something: Clothes are made of holes. Shirts are neck holes, arm holes, waist holes; pants, kind of the same. And "we get inside those holes to cover our private holes." Even celebrities like Andy Warhol and Roberto Benigni had to cover their holes with holes. One more metalhead rocker (Sandler) steps in to wail on his axe and talk about pressing and steaming his holes, and taking his holes to the cleaners. Bennett and Mooney's strange songs usually have something compelling about them, but the central conceit they're trying to pass off here just doesn't quite work.
One of the smartest moves of the night was SNL's acknowledgement of the Sandler brand in the Sandler Family Reunion sketch. It may not have been the best sketch of the episode, but it gave both the actors and the audience the opportunity to acknowledge and enjoy Sandler's various, unavoidable incarnations and then get on with the night.
With the obvious comedic go-tos out of the way, Sandler picked up at 8H right where he left off, bringing some new tricks with him. Many of the sketches play right to Sandler's strengths, and just like in 100% Fresh, he lends a world-weary vulnerability and sense of ease in his own skin to many moments (e.g. the Romano Tours sketch). There are clunkers, sure, but the highs are really high. Next week, Emma Thompson tries to keep that high going in the second to last show of the season.