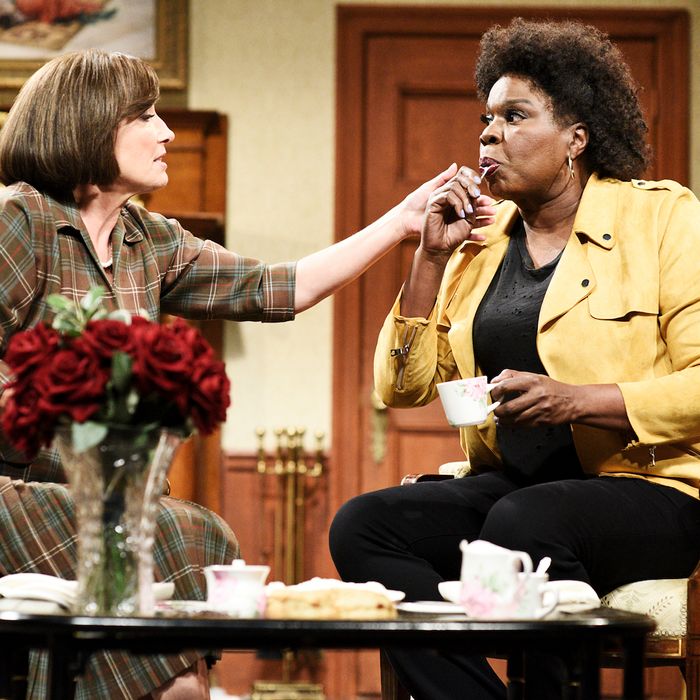 Emma Thompson might be best known for mannered period dramas, but much of her early career was comedy: Her first screen credit was as a cast member on Fry and Laurie's first series There's Nothing to Worry About!, and she even had a short-lived sketch show of her own, Thompson. Really, the comic thread has always been there, whether Thompson was playing word games in Wit or squawking in an alien tongue in Men in Black 3. Though she'd never hosted Saturday Night Live, the gig seems to be old hat for a new Dame.*
Meet the Press Cold Open
Host Chuck Todd (Kyle Mooney) brings on conservative senators Mitch McConnell (Beck Bennett), Susan Collins (Cecily Strong) and Lindsey Graham (Kate McKinnon) to ask about their fealty to Trump. If all they do is say "no collusion" at inappropriate moments, and call Trump a "business Jesus," what might the president do to lose their support? What if Trump turned out to be Muslim or if he divorced Melania and got remarried to Alexandria Ocasio-Cortez? What if he slapped one of them across the face? "Harder, daddy," replies Graham, and his answer is indicative of the Republicans' collective stubbornness. They say they wouldn't abandon Trump if he married the leader of ISIS while wearing the original Constitution as a diaper — so long as they get tax cuts and there's potential to overturn Roe v. Wade. The sketch smartly narrows in on something liberals (and probably many conservatives) wonder about on more days than not.
Weekend Update
Digging into a Times investigation about Trump's taxes and business losses in the '80s and '90s, Colin Jost says Trump is "not the financial genius no one ever really thought he was." He also insists that writing The Art of the Deal at that time would be like R. Kelly writing "a book about babysitting." Jost later shows clips of Trump going off the rails at a rally in Florida, ending with the president's proclamation, "Let law enforcement know when you see a kook." (Cut to Jost on the phone, ready to inform on Trump.) One of the best lines, which happens between jokes, is that Mitch McConnell "always looks like he's watching a man slowly drown." Heidi Gardner then comes on as teen movie critic Bailey Gismert. While she can't get behind the new live-action Aladdin — it's so random — she loves the title character from Detective Pikachu a little too much. "He's smart, he's hot, he has a good job," she says. When Che asks her if she has a crush on Pikachu, she melts down. The piece may have only a few big laugh lines, but Gardner's chops and smarts are evident every time she does this character.
There are several good one-off jokes in the second half, including ones about Georgia's abortion laws, Facebook's "Secret Crush" app, a driver who was charged for having an "I Eat Ass" bumper sticker, and a poll that found Newark Airport to be the worst airport in the nation (it came in "just below the Hudson River"). Pete Davidson comes on to talk about his mom, with whom he still lives. And while they're "just homies" living in a house Davidson bought, he says it's weird to get caught masturbating as an adult. Davidson's younger sister lives there, too, so if there's another man in the house, he can't tell if the guy is a creep preying on his sister or a saint taking out his single mother. Davidson's mother Amy eventually comes on, and while Davidson tells her that Jon Hamm might be watching, Hamm is in fact backstage. Happy Mother's Day!
Emma Thompson Monologue
Because it's the Mother's Day show, Thompson brings on two other mothers — Tina Fey and Amy Poehler — to help translate some momspeak. When mom says, "Oh, I like that shirt," she means, "Oh, I think I bought you that shirt." When she says, "I love all my kids the same," she means, "Your sister's winning." Moms in Philly sass in a Philly accent, while moms in Boston do the Bawstahn thing. As far as Brits are concerned, "splendid" means "I'm sad, I'm happy, how are you, you embarrass me, I'm crazy, you're drunk." And even when conflict comes up, words of frustration really mean, "You're the best thing that happened to me." It's a sweet monologue buoyed by several light, fun jokes.
Last Word
In this episode of Cinema Classics, host Reese De'What (Kenan Thompson) introduces '50s gem Always Be Sisters, which features two competitive actresses (Emma Thompson and Kate McKinnon) who each want to have the last line in the scene. When Barbara visits her frenemy Midge backstage on opening night, neither will leave the dressing room in an attempt to score the final point. "Once I leave, it's the end," says Barbara, before there's a volley of word association about guilt, innocence, and that old schoolyard rhyme "lawyer, lawyer, pants on fire." Even after the duo says the movie's final line together, they both continue to say "bye" repeatedly until the shot is definitely over. The premise is simple, but as with all of the Cinema Classics sketches, the play between the actors makes things more dynamic. Also noteworthy: The writers create really playful bits for Reese's intro and outro.
Etiquette Lesson
Shante Thomas (Leslie Jones) is a friend of Meghan Markle, and therefore has the chance to attend the royal christening. First, she has to meet with Vivian Hargrave (Emma Thompson), the royal etiquette coach, to learn proper manners for high tea. Vivian demonstrates the proper way to stir, even sings a little song about it; Shante just can't get it right, however, and Vivian slaps the cup out of Shante's hand. Shante then gets a slap across the face for popping a spoon in her mouth. She also gets punched for improperly separating the halves of a scone, and gets a face full of clotted cream because she is a little grossed out by it. The initial wacko Mary Poppins vibe is pretty delightful, though it gets less interesting as Vivian transforms into an MMA fighter.
Chopped
Two contestants, Georgina (Leslie Jones) and Claire (Melissa Villaseñor), fight it out in the final round of this cooking competition. The three judges (Thompson, Alex Moffat, and Aidy Bryant) threw some strange ingredients at the cooks, including loose sugar and a five-pound horse penis, but the cooks kept going. One chef overdresses her salad (in a tiny tuxedo) and one serves steak that's a little too raw (so raw, in fact, it talks shit to a judge). One serves dessert; one serves a judge divorce papers. One chef shoots at another to get to the ice-cream maker first. Antic and surreal with lots of puns, this appealing parody will endear itself to those who love Kent Sublette sketches, e.g. "House Hunters."
A Perfect Mother
This filmed piece finds a harried young mom (Heidi Gardner) trying to glean child-rearing secrets from her own mother (Emma Thompson). "You were a perfect mother," says the daughter, "Always so put together." Flashbacks show otherwise: The elder mom displayed fits of madness when her daughter wouldn't sleep or smeared paint all over the TV. She also was not the gentle and put-together soul her daughter remembers, taking out the garbage with no pants on and reading her daughter's diary. A few flashbacks from the recent past show that the daughter isn't perfect, either — there are meltdowns about toy giraffes and diaper failures. SNL's message is, "To us you were perfect, even when you weren't." Once this sketch gets going, it's pretty predictable, but it's genuine and has some well-acted moments.
Bad Girl Talk Show
On this "Millennials Gone Bad" episode of her talk show, host Tracy (Kate McKinnon) welcomes disheartened dad Sherman (Kenan Thompson) and his troubled daughter Rae Rae (Ego Nwodim). Though Rae Rae insists that the haters in the crowd doesn't know her, the audience is actually pretty understanding and seems to know her pretty well. One guy (Chris Redd) knows that she quit Crossfit because it seemed culty, and one woman (Heidi Gardner) is certain that Rae Rae identifies more with Michelle Williams than she does with Beyoncé. Resident therapist Dr. Jill (Emma Thompson) is so close to Rae Rae that they share two halves of the same locket. Unfortunately, Rae Rae is committed to being misunderstood. The twist of this sketch is enjoyable, even if the audience doesn't quite latch on.
Judge Court
This daytime court show has not one but three judges (Thompson, Kate McKinnon, and Aidy Bryant). Linda Christina, Christina Miami, and Marlene Wet are best friends who know nothing about the law, so they send everyone to jail and take defendants' dogs to a nice dinner at Buca di Beppo. When one of the plaintiffs gets sassy, the judges defend their best friends. (After all, the selfless Marlene gave Christina $10,000 so Marlene's "painfully shy" son could get a sex pillow.) The Jonas Brothers even show up to apologize for burning down another guy's vacation home, and the judges can't help but adopt those naughty Jonases. The dynamic between Thompson, McKinnon, and Bryant is fun, but the sketch leans too heavily on accent and affectation to be more than that.
Beauty and the Beast
In this live-action version of the Disney musical, the Beast (Beck Bennett) has to work out to achieve those ripped abs. "Have you ever seen a buffalo before?" he asks Belle (Cecily Strong). "They're fat as hell." All of the kettlebells and dumbbells (Kenan Thompson, Melissa Villaseñor, and Kyle Mooney) escape from the basement and start spilling the beast's secrets: He has posters of 17-year-old Britney Spears and he says things to himself like, "Big boy gonna get swole." A hairy teacup called Chafe (Pete Davidson) shows up, and Belle realizes the Beast had sex with Mrs. Potts (Emma Thompson). Belle is already grossed out, and the Shake Weight (Mikey Day) just makes it worse. It's fine, but the bar is set pretty low here.
Continuity Errors
Inspired by the already infamous coffee cup that made it into Game of Thrones, "Wait a Second, That Shouldn't Be There" and its host Frank Parisi (Kyle Mooney) introduce clips of history's biggest continuity errors. In the 2016 remake of Roots, while Kunta Kinte (Kenan Thompson) and Jinna (Ego Nwodim) talk about dreams, she sucks on a Big Gulp. In Shakespeare in Love, Will (Mikey Day) eats Sun Chips and opens a laptop to start his next play. On an episode of Downton Abbey, Lady Grantham (Emma Thompson) wears headphones and a novelty beer-slurping hat, and orders a Domino's pizza. The premise is worth a giggle, but from there, its specifics don't really expand the sketch.
Dauntless thesp Emma Thompson displays no nerves and no doubts in her SNL debut. The material, however, doesn't feel all that suited to her. Though writers do tap into some of the mannered stuff one might expect, there are only a few moments with strange and wonderful things for Thompson to do, like the first moment when she swats the cup from Leslie Jones's hands in "Etiquette Lesson." Some of the sketches that promise great dynamics, including the new edition of Cinema Classics, don't get as far as they might. Next week, Paul Rudd will surely charm the pants off of everyone in the SNL season finale.