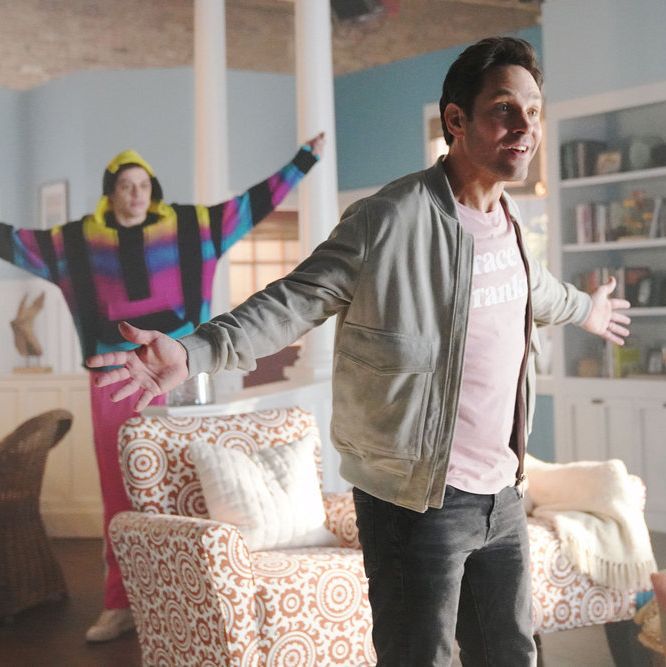 Photo: NBC/Steven Molina Contreras/NBC
Who doesn't love Paul Rudd? He's affable, charming, handsome, self-effacing, funny, and preternaturally ageless — a man who has remarkably never grown out of his approachable heartthrob phase. And in recent years, as Ant-Man, he's brought more playful banter to the blockbuster superhero movie than any other Marvel retread. But oddly, though he has hosted SNL three times prior to this week's season finale, he's not been a part of many remarkable sketches. He played the world's biggest One Direction fan, the son in the overly affectionate Vogelcheck family, and one more guy who loved Bill Brasky (along with the rest of the Anchorman cast). Of course, each new hosting gig is a chance to make some memories …
As always, we're listing this week's sketches in order of overall quality.
Weekend Update
Though the season began in 2018, "Update" evaluates the news headlines about tension with Iran and Alabama's abortion ban and concludes that it will end "somewhere back in the 1970s." Michael Che talks about the trade war with China and Alyssa Milano's call for a sex strike to oppose the new abortion bills. "I don't think these senators are getting Alyssa Milano–level sex at home," says Che. "I bet if their wives said, 'I'm on a sex strike,' they'd be like, 'Cool. I'll be at the airport bathroom, don't wait up for me.'" Cecily Strong comes on as Jeanine Pirro to loudly dismiss her suspension from Fox News, defend Trump, and do spit takes all over Colin Jost. Strong's take is good and her performance is even better.
The politics in the first half feels like preamble to get to the next segment, which is Jost and Che delivering jokes the other person wrote for them — but they have not yet seen. In the process, each gets the other to say some perfectly inappropriate things. When considering how human activity disrupts chimpanzee culture in Africa, Jost is forced to say, "Incidentally, 'chimpanzee culture' is what my grandpa calls hip-hop." And of Pope Francis announcing that the church will take abuse in the church "head-on," Che has to deliver this punch line: "Instead of their usual way, face-down, ass-up." Then Leslie Jones comes on in a Handmaid's Tale costume to talk about abortion and women's rights. Determined to throw off the shackles, Jones says, "Ain't no box big enough to hold me — and I know, because one time I tried to mail myself to a dude." The entire speech is fiery and fun at the same time.
A Journey Through Time
Researchers (Aidy Bryant and Mikey Day) study Mrs. Rafferty (Kate McKinnon) and her cohorts Dex and Sharon (Rudd and Strong) after they get sucked through a time portal. While the friends were pulled into a city of crystal and met an advanced race who represent a warm future possibility, Mrs. Rafferty was rudely shoved back into the past. She quickly found herself surrounded by cavemen ("I don't know if you've ever been on the business end of 50 balloon knots, but it ain't exactly a Tuscan sunset"). Then she demonstrates on Dex just how the alpha female humped her head and simultaneously sucked the wax out of her ears. This recurring sketch still hasn't worn out its welcome, thanks to some continued creative writing, the relish with which Kate McKinnon plays this beautiful creep, and her steady attempts to get Bryant to break.
Don't Stop Me Now Cold Open
Summing up a year's worth of Trump happenings is a daunting task, so in the opener for this season finale, Trump (Alec Baldwin) and a coterie of affiliates taunt dissatisfied Americans by singing a doctored version of Queen's "Don't Stop Me Now." Melania (Strong), Mike Pence (Beck Bennett), Sarah Huckabee Sanders (Aidy Bryant), Rudy Giuliani (McKinnon), and even Kanye West (Chris Redd) pop in to sing about how Trump is a "loose cannon ripping up the laws of society" who is "burning every bridge" and "picking every fight." Even Don Jr. and Eric (Mikey Day and Eric Moffat) beg to be part of it before Robert Mueller (Robert De Niro) interrupts. Eh, even he can't stop things: "Just try and impeach / We might even get rid of freedom of speech."
The View
This episode of The View finds Whoopi (Jones) & Co. talking about the Alabama abortion ban. Abby Huntsman (Strong) preaches love, Ana Navarro (Melissa Villaseñor) gets stuck in a linguistic loop, Joy Behar (McKinnon) grouses, and Meghan McCain (Bryant) tries to outdo everyone else. Then Pete Buttigieg (Rudd) comes on and tries to show everyone how approachable he is. "I'm a Harvard-educated, multilingual war veteran Rhodes scholar: I'm just like you," he says. The ladies force Buttigieg to bring on his husband, Chasten (Beck Bennett), but nothing is going to stop them from loving that scamp Joe Biden. (LeeAnn Rimes's "I Need You" plays while they hug their Biden-shaped pillows.) It's nice to hear the writers prodding Buttigieg a little, and the rest of the best moments are, as usual, roasting the weepy and self-righteous McCain.
What's Wrong With this Picture?
On this game show, contestants merely need to look at childlike illustrations and identify what is off about them — but the contestants (Rudd, Bryant, and Pete Davidson) are a little off themselves. When host Elliot Pants (Kenan Thompson) shows them an image of a boy and girl playing on a swing, they miss the obvious physical impossibility depicted. The contestants can only talk about how her pigtails look like shrimp and the idea that the boy is "pointing to her butt door and explaining its features." Pants tries again, but an image of a woman looking at her reflection makes the players wonder whether the mirror is actually a fish tank, and whether the woman "just did blackface and got away with it." This doesn't stand out in a recent series of dopey character lineups, but there are some great, weird lines.
Ouija
When the teenage Christine (Heidi Gardner) and all of her girlfriends (Ego Nwodim, Strong, Bryant, and Kate McKinnon) have a slumber party, they've got two things with which to contend. One, Christine's "dorky dad" (Rudd), and two, the demon Beealthor (Villaseñor), whom they summon using the Ouija board. After telling the girls who will get married first — it's Samantha — the demon tries to ingratiate herself enough to hang. The girls aren't having any of it until Dad returns to convince them that difference is good, and just because Beealthor has horns doesn't mean she can't be cool in her own way. Villaseñor's demon is delightful, and the premise has a fun flip on the ostracized teenager trope, but the sketch doesn't have a great follow-through.
Music Box
Two parents (Strong and Kyle Mooney) wander an antique store with their kid and come upon an old music box with a ballerina inside. The gray-haired owner (Rudd) encourages them to wind the box so that they might hear the song, "Fancy Party." There are even words, all about how the ballerina farted at the aforementioned party and how this had a "catastrophic effect on her life, relationships, and dancing career." It turns out they all know the words about beefing in tights; even some stranger (Kenan Thompson) shows up to sing about it. Things get sinister when the wife accidentally breaks the music box, and that random stranger turns out to be Jordan Peele; it's all an episode of The Twilight Zone. It's much ado about a fart joke, but if you can't at least chuckle at a fart joke, you might be dead inside.
Leslie & Kyle
This Kyle Mooney and Leslie Jones sketch begins as Kyle and Leslie remember the series of SNL sketches they made about the two of them falling in love. When Leslie asks Kyle to stick around, drink wine, and watch videos, things pick up where they left off. "Is this happening right now?" Kyle wonders, just before they start making out. Oh yes, it is: They are carried to a land of pastels and flowers, where they sing the Carpenters' "Close to You." Paul Rudd comes into what is apparently his dressing room and interrupts the boning session. It's gross until Kyle and Leslie put their hands on him and he wonders, "Is this happening?" Oh yes, it is. The sketch succeeds on its terms, in that it's a light and silly continuation of this ongoing odd-couple saga.
Paul Rudd Monologue
For this, "the most anticipated finale of this weekend," Rudd delivers a monologue that he determines should be like the best man's speech at a wedding. Glass of Champagne in hand, he talks about SNL like it's an old college pal and doesn't shy away from talking about those wild times that they made out. (Here, Rudd shows images of him making out with Bill Hader, Kristen Wiig, and Fred Armisen as part of the Vogelcheck family sketches.) "Thousands of people have been on you," Rudd says while recalling SNL's wilder days. Rudd remembers 1975, when he "had just turned 30," and he told Lorne Michaels he'd one day be hosting SNL. Michaels, naturally, had him thrown from the building. The material is fine, but made better by that oh-so-delightful Rudd.
GoT Tribute
When Pete Davidson starts spitting about Game of Thrones, it becomes clear he just wants to go with the trend and has never watched an episode. Kenan Thompson and Jacob Anderson, who plays Grey Worm on GoT, call Davidson out. At this, Davidson decides he's just going to rap about a show that really matters to him: Netflix series Grace & Frankie. It's about "two sweet old ladies" played by Lily Tomlin and Jane Fonda, and "it's a nice show." Even DJ Khaled and Paul Rudd jump in to sing the praises of a show with seemingly mild adventures. ("Remember Robert had that sleep apnea?" says Khaled. "That was crazy!") Thompson reminds everyone, "Guys, this is getting expensive," but they've still got some recapping to do in order to cover five seasons. Plus Tomlin and Fonda need time for cameos. (Rest easy, they don't rap.) It's a strangely sweet, certainly unlikely tribute; even if it isn't Davidson, one of the writers loves this show.
Though there aren't any memorable sketches to set Rudd's hosting gig apart from his others, there really aren't any clunkers, either. It's just in Rudd's genes: He is reliably funny. The cold open doesn't have a lot to say politically, and neither does "Update" — but "Update" has an excellent segment of Jost and Che doing their best to make one another say something atrocious. It says something that the best straight sketch of the night is a recurring one, but watching McKinnon as Mrs. Rafferty has yet to get old. If only there were more words like "cooter" and "tooter"! And on that, we'll see you in the fall for SNL's 45th.