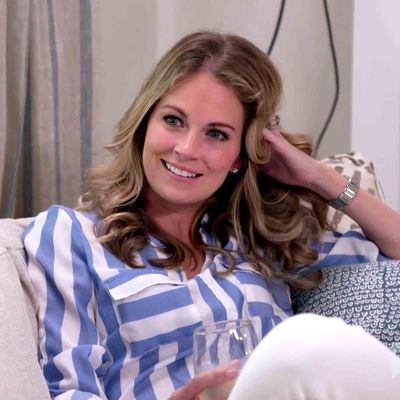 Bravo finally cut ties with Thomas Ravenel, which means two things. First — imagine me screaming allegedly as I write this, as I do while drafting all of my recaps — that your television set can expect far less cocaine in its bloodstream this summer. (The veins are the wires. The blood is electrons. Trust me on this.) And second, that the return of Southern Charm raises a vital question: How do you excise a cancerous core character from a long-running reality-TV ensemble? Pretty easily, it turns out!
But before we dive in, hi there! I'm Molly Fitzpatrick and I'll be filling in for Brian Moylan for the first half of season six while he's busy bussing tables at the Regency on Wednesday nights.
The premiere opens with the cast reacting in dismay, if not exactly surprise, to Thomas's arrest on charges of assault and battery. Patricia's butler Michael puts it as only he could: "I noticed that Mr. Ravenel was in the paper having some bit of difficulty." At first, Thomas's mug shot struck me as a relatively flattering entry in this genre of portraiture, but then I realized it's just that Thomas has always looked like a mug shot that's been enchanted to move and speak, Harry Potter style.
Accused of rape by the family's former nanny, Thomas faces a possible three-year prison sentence if convicted. "Honestly, like, he can handle himself," predicts Shep authoritatively, though I guarantee you his entire conception of the U.S. prison system is based on a single hung-over morning spent fast-forwarding to all the Orange Is the New Black scenes with boobs in them.
In a confessional, Cameran takes an ice-rattling sip from a McDonald's soda cup — I have literally never enjoyed her more — and demurs. "I'm not saying anything negative about Thomas because I don't want to be sued, sorry," she says.
At least Kathryn seems to be weathering the storm as well as can be expected. So long, Thomas. You will not be missed.
A tan and beardy Craig has recently returned from an extended Eat, Pray, Love adventure in the Bahamas — or, as he tells it, more of a Spear Fish, Harvest Fruit, Split Open Coconuts With a Machete experience. I would not be shocked to learn that, much like with Ryan Howard's trip to Thailand, Craig spent the last three months in Fort Lauderdale.
Even more improbable and alarming than the fact that someone allowed Craig to acquire a machete is the fact that someone has allowed Craig to acquire a dog. In the most confusing Bravo crossover yet, her name is Bethany.
Miraculously, Craig has updated his home décor from Pier 1's Depression Detritus collection — Amazon boxes in every possible size they make, stray unmatched socks, and a printer on the floor that almost certainly has never been hooked up to any kind of network — to actual adult objects like cushions sewn to completion and functioning lamps. And yet ex-girlfriend Naomie won't give him the time of day, Craig says, perhaps because she's "very secretly" still upset about their breakup. In fact, it seems that Naomie's inner turmoil is so secret that it is unknown even to Naomie, who is otherwise occupied hanging out with her hunky new boyfriend, Metul.
Austen is still dating Madison — no, not Victoria, the woman who got mad at him for taking a cuddly Instagram photo with Chelsea, the woman he was and continues to be obviously in love with, but Madison, the woman he called an "insane person" when she walked in on him having apparently just wrapped a threesome she was not a part of, as conveniently recorded by someone who was part of it. Now, don't you feel silly for confusing them?
Shep objects to this relationship, opting not to forever hold his peace. You see, after Austen's infidelity, Madison supposedly enjoyed a "dalliance" of her own. And via the inviolable principles of cheating algebra, a subfield of mathematics in which Professor Rose is considered one of the world's foremost thinkers, this makes Madison the unequivocal villain of the pair. "I don't respect what he did, but I totally don't respect what she did," he explains to Chelsea, who, as always, must be feeling incredibly secure in her choice to date neither of these men.
We're off to Patricia's for a dinner party to celebrate Whitney's return from Europe, and also, effectively, to celebrate my remembering that Whitney is a person who exists. (And, according to Austen, a person who may or may not have slept with Kathryn over the summer.)
He Whose Instagram Handle Must Not Be Shown Unblurred — Bravo's legal team is clearly working overtime this season — is emphatically not invited, but Kathryn is! I could not be more thrilled that her wee seedling of a hard-earned friendship with Patricia is taking root. Craig arrives with a flamingo-emblazoned gift pillow for the hostess in one arm and a human date, Caroline, on the other. Naomie's roommate Wilson whispers that Caroline looks like her. Caroline does not actually look like her, but Wilson is a good friend.
An extra place has been set for the prophet Eliza, a family friend of Thomas's and an ally of Ashley's (Ashley does not appear in this episode, but even typing the letters A-S-H-L-E-Y sends a poisonous thrill down my spine, like I've called out "Bloody Mary" three times in front of a mirror at a fifth-grade sleepover) who is also our newest cast member. I'm already exhausted by her.
Twenty-two-year-old Eliza suffers from a rare, little-understood medical condition, the physical inability to shut the fuck up. She expounds at length about how "I now know how old people feel that are crippled," because she's sore from playing polo. "I had someone stalk me in Target," she will announce later. And in Eliza's single crowning moment of glory, she declares, "I'm sorry I'm young and hot and just graduated college a year and a half ago." I'm left to decide whether I should order those 16 words engraved on my tombstone or simply get them tattooed across my ribcage. (It would be tacky to do both, no? Or am I overthinking this?)
A vital tangent: I did a Google on Eliza and learned that she is dating one Struthers McBride, which is the most delightfully southern name I've encountered since, well, yesterday, when I read a New York Times article that quoted a West Virginian known as Billyjack Buzzard.
Kathryn was already displeased with Eliza for "spreading lies" about her sobriety after she got out of rehab, but by dinner's end, Eliza has successfully conducted a wide-ranging smear campaign against herself, even convincing Shep, her escort for the evening, of exactly how annoying she is. It's like she was specifically recruited to make Southern Charm's men seem emotionally mature by comparison, which is no easy feat.
Sensing the tide has already turned against her within less than five minutes of screentime, Eliza takes Kathryn aside to offer a classic I'm sorry for whatever it is I may have done to offend you non-apology. "I didn't even know you still lived here and my coattails are about worn out," Kathryn responds with truly exquisite meanness.
Barring an 11th-hour My Fair Lady–ification by Patricia (her name is Eliza, after all), I think it's safe to say the new gal is in for a rough time.