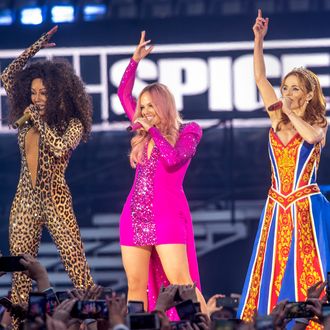 Photo: Dave J Hogan/Dave J Hogan/Getty Images
The Spice Girls are finally, mostly, back, bringing with them chaos and inclusivity, but they make it fashion. They kicked off their reunion tour on Friday night by announcing they were here to spice up ALL our lives. "We welcome all ages, all races, all gender identifies, all countries of origin, all sexual orientations, all religions and beliefs, all abilities," they said in the show's opening. Unfortunately, not everyone could actually hear this very important announcement. According to Variety and a number of angry tweets, the sound in some areas of the stadium was so bad that fans couldn't tell what song was being performed.
Yikes. Mel B took to Instagram to apologize, writing "Thank you for attending our show tonight in Dublin. We will see you in Cardiff and hopefully the vocals and sound will be much, much better… Pfft." There is no word on whether refunds will be issued, but plenty of other fans loved the show, and the Daily Mail confirmed that the group celebrated by buying tequila shots for their whole production crew afterwards. Because if the Spice Girls have taught us anything, it's never give up on the good times.