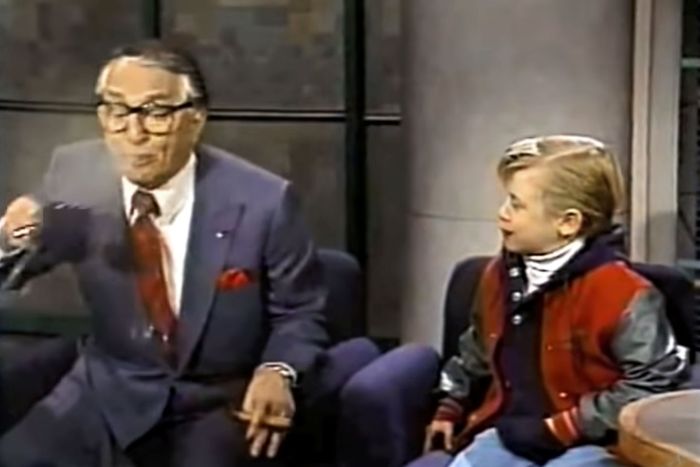 Danny Thomas on
Late Night with David Letterman.
Photo: Don Giller/YouTube
Only last month, "spit take" was added to the Merriam-Webster dictionary. At last, the term is an established member of the English language. The act itself has been around for more than a century, and if the adage that comedy doesn't get any respect is true, then the spit take especially is considered by some to be low-hanging fruit. But from movies to television to late night, the spit take is one of comedy's most universal and relatable tropes. And lately, it's been on a roll.
Academy Award-winner Charlize Theron delivers a dandy spritz in the romantic comedy Long Shot, which opened earlier this month. The fleeting moment captures the essence of the spit take's enduring appeal. "It happens in everyday life — everyone's done a spit take," says Long Shot director Jonathan Levine. "There is nothing more endearing and vulnerable than seeing someone being themselves. Charlize's character is almost royalty, and we needed her to feel approachable. I loved giving her things like the spit take to do because she's such a gifted physical performer."
So many spit takes, so little space. Jimmy Fallon recently engaged Ryan Reynolds in a game of "Spit Take Roulette" on The Tonight Show. In the first episode of Tuca & Bertie, the new Netflix animated series from BoJack Horseman production designer Lisa Hanawalt, Bertie does a spit take on her muffin when she learns that the sugar bowl she just loaned to her best friend actually contains the ashes of her live-in boyfriend's grandmother.
Here, unstuck in time, are some memorable spit takes through the ages. Just don't watch them while taking a sip of your drink.
Danny Thomas, Make Room for Daddy
Danny Thomas is the performer most closely associated with the spit take. As the star of the sitcom Make Room for Daddy, which ran for 11 seasons in the 1950s and '60s, Thomas portrayed nightclub entertainer Danny Williams. Unlike most TV dads of that era — and this was the key to his signature spit take — he had an excitable temperament. Danny would try to hold it together, then perhaps his son Rusty would crack wise and push Danny over the edge, resulting in a gloriously funny geyser.
Beyond his technique, there was another reason he became so closely associated with the spit take. "He was on television, for God's sake," says his daughter, the actress, author, and activist Marlo Thomas. "More people saw him do it, and he did it a lot. It was one of his favorite reactions, and he really did them great. It made me laugh every time."
Robert Hays, Airplane! (1980)
"A spit take has to make sense," Long Shot's Jonathan Levine says. "There's a lot of thought that goes into something that stupid."
Take Jerry and David Zucker and Jim Abrahams's Airplane!, which boasts one of the screen's most innovative spit takes. In the hospital flashback, Robert Hays's Ted Striker is recuperating after a failed mission for which he blames himself. "Because of my mistake, six men didn't return from that raid," he tells Julie Haggerty's Elaine. "Seven," she corrects him. "Lieutenant Zipp died this morning." The camera stays on her as she ducks a spray of water.
"When we were kids, we watched Danny Thomas, Milton Berle, and [Desi Arnaz]," Jerry Zucker says in a conference call with David and Jim. "We had seen those spit takes. If we couldn't go beyond Danny Thomas, then what we were doing?"
Eliminating the actual spit take and focusing instead on the reaction shot was the ingenious twist. "Any comedy director will talk about the importance of reaction shots," says David Zucker. Added Abrahams, "One of our rules of comedy is you can't do a joke on a joke, so on the face of it, the close-up on Julie's face runs in the face of that. But at the end of the day, there are no rules."
Alan Arkin, Big Trouble (1986)
Is it a pure spit take if the spitter is merely projecting something that tastes bad? Like Abrahams says, there are no rules. In Big Trouble, Alan Arkin stars as an insurance agent who is offered sardine liqueur by his new client, portrayed by Peter Falk. The anticipatory revulsion on Arkin's face is palpable. Turns out that sardine liqueur tastes just as vile as you would imagine.
Lark Voorhies, Saved by the Bell (1989)
Lark Voorhies, who at 15 portrayed Lisa Marie Turtle on Saved by the Bell, moved to the head of the class with her spit take in the episode "Beauty and the Screech," in which Tiffani Thiessen's Kelly reveals she has a crush on class geek Screech. Voorhies, seated across from Thiessen, had to take care, she says, to not spritz on her co-star, which would have required touch-ups from the make-up department and would have slowed production (although we can glimpse an extra wiping off his arm).
"I was definitely sincere," Voorhies recalls in a phone interview. "There is a certain amount of wind permitted in the mouth and you purse your lips and let the fluid fly, is how it was explained to me. Aim, fire, and shoot. It was atrocious, beautiful, and awesome at the same time."
Estelle Getty, The Golden Girls (1991)
References to Danny Thomas and the spit take are a comedy cliché on par with jokes about Milton Berle's prodigious penis. In the 1991 Golden Girls episode "Melodrama," Betty White's Rose announces, "I told the news director I was interested in the reporter's position, and guess what he did?" Bea Arthur's Dorothy responds, "A Danny Thomas spit take?" When Rose reports she has scored an on-air audition, Estelle Getty's Sophia performs a spit take worthy of the master.
Danny Thomas, Late Night with David Letterman (1991)
The 1990s saw a spike in the term, and that put the spit take on Merriam-Webster's radar, according to the dictionary's associate editor Emily Brewster. At that time, the spit take and references to Thomas became a recurring bit on Late Night with David Letterman. In one memorable 1991 broadcast, Letterman praised Thomas's spit take as "the best in show business" and brought the entertainer, who happened to be taping an interview promoting his memoir across the hall, onto the program to perform one. (Thomas passed away one month later, and columnists made note of his status as a spit take guru.)
Steve Young, a Late Night writer for 25 years and the featured attraction in last year's documentary about the bygone era of corporate musicals, Bathtubs Over Broadway, reflected on how the spit take became comic fodder for the show. "Though a spit take isn't inherently clever," he says in an email, "it is satisfying and can get a legitimate laugh, especially when it's unexpected and done well. It taps into something of the same primal entertainment zone as when Dave would throw items off a tall building to see them smash on the ground below."
The oft-quoted adage "Dying is easy, comedy is hard" is especially true of the spit take. Just ask Marlo Thomas, who just three days after her father's appearance was prompted by Letterman to perform her own when she was a Late Night guest. "I had never done one in my life but I watched my father do it 100 times," she tells Vulture. "Dave gave me a glass of water. I whispered to him the set-up. I did my spit take and it didn't really go very far; it kind of dribbled out. My father called me later and said, 'Honey, don't spit; blow.' His exact words were, 'Blow, sweetheart.'"
The Cast of Will & Grace
"There is nothing like a good spit take because it's a piece of broad comedy that you can get away with," states James Burrows, the Emmy Award-winning director of Will & Grace, which consistently boasts the best spit takes in primetime. In the first episode of the 2017 reboot, Debra Messing performed an epic spray against a window in President Trump's Oval Office. "There is nothing subtle about Will & Grace," Burrows says over the phone. "We do outrageous things on that show, so the spit take does not look that extraordinary. Sometimes it's written [in the script] and sometimes it's improvised on set, but it doesn't stay in unless it's funny."
Aubrey Plaza and Chris Pratt, Parks and Recreation (2009)
You can't teach a good spit take, as Aubrey Plaza's smitten April Ludgate learns while trying to bond with Chris Pratt's Andy in this second-season episode. You'd think he'd be a natural, but while his spritz is impressive, he can't land the spit instigator. ("What do you mean … the squirrel … took the … nuts out of the … out of that kid's backpack?")
Goldie Hawn, Snatched (2017)
With Theron's Long Shot spit take, Levine made Hollywood history as the only director to direct two Oscar-winners in a spit take. The first was Goldie Hawn in the 2017 action-comedy Snatched. Accepting a drink upon checking into a hotel, Hawn's character takes a sip and mishears "welcome" as "whale-cum" and she spews into the face of her daughter, portrayed by Amy Schumer.
Levine suggests that this bit of film trivia might secure his inclusion in the "In Memoriam" when his time comes. "I can see it," he says. "It'll be a black-and-white photo of me and then it will dissolve slow-motion to each of the spit takes."
He took an expertly-timed beat. "That got dark pretty quick," he says with a laugh.
Charlize Theron, Long Shot (2019)
Theron is best known for psychologically challenging and physically punishing roles, but she was game for the spit take, Levine says. She told the Los Angeles Times, "I will do a spit take! I will spit take the … out of this spit take!" And she does, as captured in the film's trailer.
In Long Shot, Theron stars as Charlotte Field, Secretary of State and presidential aspirant. She hires as her speechwriter Seth Rogen's Fred Flarsky, a principled journalist who, turns out, she once babysat for and on whom he had an adolescent crush. At a formal dinner in Sweden, Flarsky, without proper attire, is forced to don a ridiculous-looking traditional Swedish costume. It's spit take at first sight.
"It's one of the few times we actually did what was in the script," Levine says, "and she got it instinctively. It's very exciting to try these tried-and-true comic tropes in new contexts and really put our stamp on them. When you can get the math, timing, and context right, nailing one of those is one of the most rewarding things you can do as a comedic director. It is having the secret weapon of Academy Award-winner Charlize Theron doing it that just makes it that much more fun."