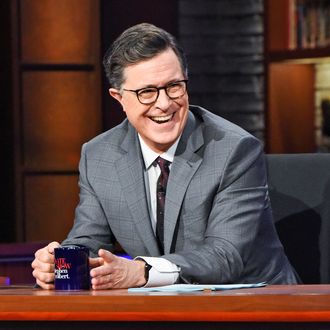 Photo: Scott Kowalchyk/CBS
Stephen Colbert's Late Show is ending the 2018–19 TV season more dominant than ever. With the official Nielsen-ratings measurement period ending Wednesday, the CBS late-night series will expand its total viewer lead over chief competitor The Tonight Show Starring Jimmy Fallon and, for the first time in nearly 25 years, finish a season at number one in the all-important adults-under-50 demo. But there's a warning light flashing for Colbert. After two years of growth, powered in no small part by an aggressive focus on President Trump's travails, the Late Show gave back some of its recent gains this season, particularly among younger viewers. The good news for Colbert: His rivals suffered even steeper declines.
While final numbers won't be out until next month, Nielsen data through last week has the Late Show averaging roughly 3.8 million viewers this season, about 1.4 million ahead of second-place Tonight (2.4 million) and nearly 1.8 million in front of third-place Jimmy Kimmel Live (2 million). Colbert ended the 2017–18 season with a 1.2-million-viewer lead over Fallon (and 1.6 million viewers ahead of Kimmel), so the Late Show's margin of victory grew more impressive during the past nine months. Meanwhile, among adults under 50, the Late Show went from clearly losing the 2017–18 ratings period (a 0.59 rating vs. 0.65 for Tonight) to a narrow win (0.52 for Colbert, 0.51 for Fallon.) The Tonight camp can rightly note the weekly ratings race has tightened a bit during the last few months of the season, and that Fallon's show outperforms the others in terms of social media and YouTube views. But the bottom line in the ratings war between Colbert and Fallon this season? More than ever, Colbert is the clear king of late night.
Still, it takes nothing away from the Late Show's win to also take note of a cooling in its Nielsen momentum. For much of the first two years of Trump's administration, the Late Show's trajectory was one of virtually uninterrupted growth, both in overall audience and among younger viewers. Colbert's audience grew by nearly 20 percent between mid-2017 and mid-2018, jumping from around 3.2 million viewers at the end of May 2017 to nearly 3.9 million a year later. By contrast, the Late Show looks likely to lose about 100,000 viewers this season. That's a very tiny dip — around 2 percent — and the sort of Nielsen stability almost unheard of these days in primetime, where almost every established program now suffers far more significant year-to-year audience erosion. And it's also a much smaller drop than the other 11:35 P.M. shows: Tonight lost 9 percent of its viewership this season, and Kimmel's declined by 10 percent.
Colbert's declines are a tad steeper in the adults-under-50 demo: The Late Show is currently on track to lose about 12 percent of its young adult audience this season. But again, the other shows are doing worse. Kimmel looks to end down around 18 percent, while Tonight nosedived 22 percent this season (in part because last season's numbers may have been inflated by the halo from NBC's broadcast of both the Winter Olympics and the Super Bowl.) While the Late Show's overall audience is still well ahead of where it was two or three years ago, its current demo average (0.52) is now below where it was at the end of the 2016–17 season (0.58).
Is this a sign younger audiences are growing tired of anti-Trump humor? Probably not. Fact is, younger viewers are fleeing network (and cable) TV at a far faster clip than audiences over 50, so it's not surprising that Nielsen gravity has caught up to the Late Show. While it's possible some percentage of younger viewers are watching Colbert less frequently since much of the mystery surrounding the Mueller report has faded, the basic stability in Colbert's overall audience suggests he's not suffering from his focus on Trump's travails. A safer takeaway from the end-of-season numbers: Being the comedy face of the anti-Trump resistance is no longer enough to recruit new viewers to late night. Fortunately for Colbert, the 2020 election cycle is just months away from kicking into high gear.