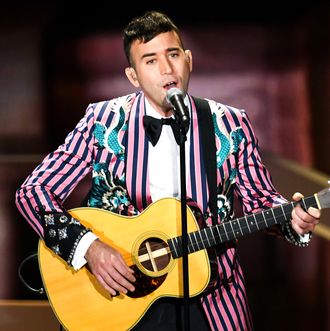 Sufjan Stevens.
Photo: Kevin Winter/Getty Images
Happy Pride! On Wednesday, Sufjan Stevens released a pair of new singles to welcome in the monthlong celebration: "Love Yourself," its demo and a reprise, and "With My Whole Heart." (Justin Bieber's "Love Yourself" was about how his mom didn't like you, even though she likes everyone; Sufjan Stevens's new single with the same title is decidedly more dreamy and optimistic.) Per a release, "Love Yourself" is based on a sketch Stevens wrote 20 years ago. "With My Whole Heart" was created as a personal challenge to "write an upbeat and sincere love song without conflict, anxiety, or self-deprecation." Listen to the songs below:
Stevens also designed and released a Pride-themed T-shirt for sale on his platform Sufjamz. Congratulations Elio Perlman! You have two new songs to weep in front a fireplace to.