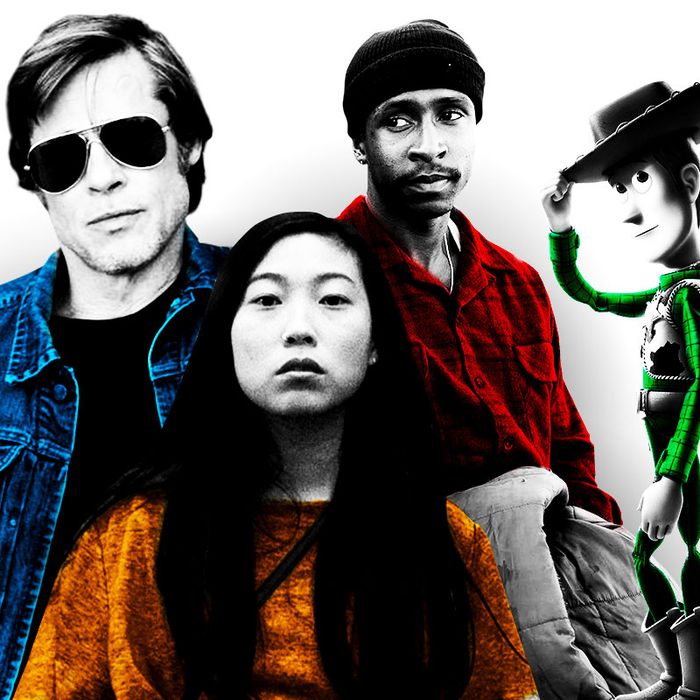 Photo-Illustration: Maya Robinson/Vulture and Photos by Sony Pictures, A24 and Pixar
It's almost hot hot. Sticky hot. The kind of hot when your boobs sweat through your shirt or when sunglasses don't just slide down your nose, they slide off. Let some summer movies — and, maybe more important, some time spent basking in a movie theater's AC — cool you off. This is the summer of revivals, sequels, new installments, and remakes: The Fast and the Furious spins off a movie about two extremely hot, extremely shiny bald men, Hobbs and Shaw; Tessa Thompson and Chris Hemsworth are your new Men in Black; and Spider-Man studies abroad with Jake Gyllenhaal. There's a lot to sing along to — Elton John hits in Rocketman, Beyoncé and Donald Glover singing "Can You Feel the Love Tonight" in The Lion King — and a lot to fall in love with (specifically, Maya Erskine in Plus One). And of course, there's a new Quentin Tarantino, and it's a period piece. Here's what to pencil in time for this summer.
Rocketman (May 31)
A star is born, a star puts on a pair of absolutely dizzying bedazzled sunglasses and bejeweled jumpsuits, and a star has a real sex scene! Taron Egerton stars as Sir Elton John in the musical biopic Rocketman from director Dexter Fletcher. Its Cannes premiere earned reviews that were fair to favorable, and Egerton is certainly in the early stages of a justified Oscar campaign. (There's a lot riding on this movie, in which he's doing his own singing!) Whatever happens, you shouldn't need an excuse to see it, drink too much at a divey spot, and dance on the bar, singing, "Hey, kids, shake it loose a lemon!" Elton would be proud.
Late Night (June 7)
Late Night looks to be The Devil Wears Prada but with a little less "get Demarchelier on the line" and a little more of the neuroses involved in writing punch lines: Emma Thompson is a veteran late-night host who has just hired Mindy Kaling, her first and only female staff writer. What begins as a begrudging diversity hire turns into a wonky office-work romance between the two women in the weird, funny business of writing for late-night television. (And we promise we're not just biased because it's the only movie this year — that we know of — that comes complete with fake Vulture headlines.)
Plus One (June 14)
Plus One is a winning pitch to make Pen15's Maya Erskine the Meg Ryan of our current romantic-comedy renaissance: She's the kind of girl you want to sit through a wedding gossiping with, the one who can wear Reformation and pass gas, who adopts charming, weirdo exclamations like Booyah! (In her defense, Erskine does spend a lot of time around middle schoolers thanks to the very brilliant Pen15.) In Plus One, she's a regular 30-something who makes a pact with one of her guy friends to be each other's plus-one for the dozen weddings they have to attend that year. The formula is pretty standard — these college friends hook up until one of them gets cold feet — but Erskine's charisma makes it all sing. Plus One won the audience award at the Tribeca Film Festival this spring.
Midsommar (July 3)
Will you need to watch this new Ari Aster joint through interlaced fingers because it looks that scary? Yes. Will we still be there opening weekend? Also yes. At a party this winter, Aster told Vulture the Scandinavian folk-horror movie would be a "Wizard of Oz for perverts." Say no more! "It's a breakup movie in the same way that Hereditary is a family tragedy," Aster continued. "It's less overtly a horror movie, but it's still working in that same space. It's very macabre, but people shouldn't go in expecting Hereditary." Florence Pugh is a girlfriend who tags along on her boyfriend's trip to a friend's hometown. They arrive to a dreamy retreat that seems to turn as grisly as it is colorful.
The Farewell (July 12)
A24's call-your-mom agenda — the one that lives in Lady Bird and 20th Century Women — continues with The Farewell, a movie that whispers its sublime tenderness. Lulu Wang's feature is full of sly observations about family and relationships and the power of forgiveness, especially the apologies we can only give to and receive from the people we love unconditionally. Awkwafina plays Billi, a Chinese-American woman who returns to China with her parents when they find out her grandmother is dying of cancer. The family has decided to lie to the grandmother about her mortality, making up an excuse for a makeshift family reunion so everyone can say good-bye. The evolution of this lie, and how Billi grows to rely on it, is a woman's emotional coming of age.
The Lion King (July 19)
A-weema-weh, a-weema-weh! In the jungle, the mighty jungle, Beyoncé rests her sweet, immaculate head. There is much to be said about Disney's live-action Lion King, but none of it really compares to the fact that it stars none other than Beyoncé Giselle Knowles-Carter as Nala. You know how this one goes: Simba (Donald Glover) loves his dad, Mufasa (James Earl Jones, reprising his role from the cartoon original because how else could this thing work?), more than anything, until his uncle Scar (Chiwetel Ejiofor) orchestrates Mufasa's death. Simba befriends a pair of misfits — Timon and Pumbaa, or Billy Eichner and Seth Rogen — falls for Nala (Mrs. Carter!), and claims his throne. Stunningly, visual-effects animals do not emote in the same way cartoon animals do, yet catch us in the front row, probably pregaming with Homecoming.
Once Upon a Time in Hollywood (July 26)
Hollywood is split into two factions: People who are in this summer's Once Upon a Time in Hollywood and people who are in the Top Gun sequel. Here's who you can catch in the former, Quentin Tarantino's extremely anticipated 1969-set ninth feature: Brad Pitt, Leonardo DiCaprio, Brad Pitt's aviator sunglasses, Leonardo DiCaprio's sideburns, Margot Robbie, Dakota Fanning, Al Pacino, Damian Lewis, Emile Hirsch, Timothy Olyphant, Tim Roth, Kurt Russell, and James Marsden. Oh yes — and Lena Dunham, Bruce Dern, Scoot McNairy, Margaret Qualley, Danny Strong, and Michael Madsen. Details are sparse on the plot, but it's said to revolve around an actor (DiCaprio) and his stunt double (Pitt) who live near Sharon Tate's house during the summer of the Manson murders. Most likely, though, we had you at "Tarantino."
May 31
The Fall of the American Empire
Ma
Rocketman
Godzilla: King of the Monsters
Domino
Too Late to Die Young
Always Be My Maybe
June 7
Late Night
Leto
Burn Your Maps
Framing John DeLorean
Dark Phoenix
Pavarotti
Papi Chulo
The Secret Life of Pets 2
The Last Black Man in San Francisco
This One's for the Ladies
June 14
Murder Mystery (Netflix)
Shaft
Hampstead
American Woman
Men in Black: International
Plus One
The Dead Don't Die
June 18
Wig
June 21
Wild Rose
Child's Play
Nightmare Cinema
Anna
Toni Morrison: The Pieces I Am
Toy Story 4
June 26
The Chambermaid
June 28
Ophelia
Yesterday
July 3
Midsommar
July 5
Spider-Man: Far From Home
July 12
Crawl
The Art of Self-Defense
The Farewell
Stuber
Sword of Trust
July 19
The Lion King
July 26
Once Upon a Time in Hollywood
Skin
August 2
Fast & Furious Presents: Hobbs & Shaw
Otherhood
Luce
Them That Follow
August 9
Dora and the Lost City of Gold
Scary Stories to Tell in the Dark
The Kitchen
The Art of Racing in the Rain
August 14
Blinded by the Light
August 16
The Angry Birds Movie 2
Where'd You Go, Bernadette
Good Boys
Boss Level
The Informer
47 Meters Down: The Next Chapter
August 23
Angel Has Fallen
Ready or Not
My Spy
Official Secrets