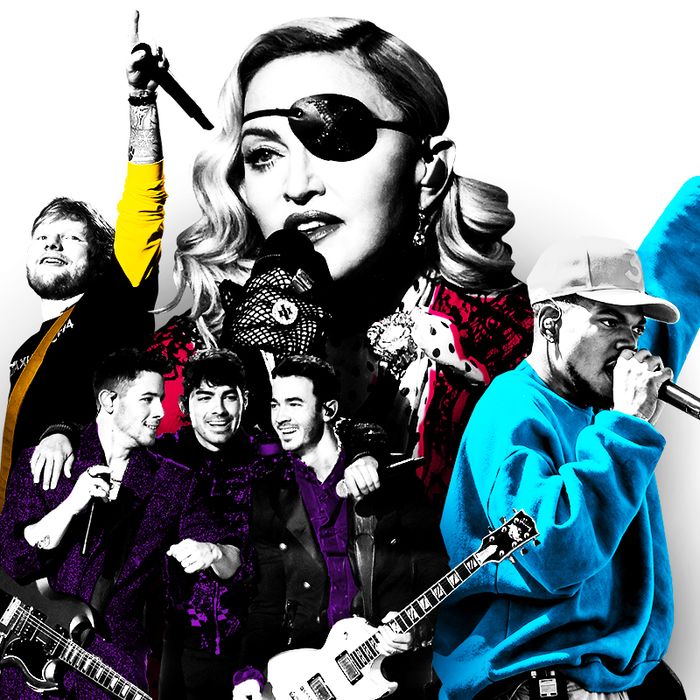 Photo-Illustration: Maya Robinson/Vulture and Photos by Getty Images
It's been a relatively slow-and-steady year for music releases so far (catch up on all the standouts right here), which can only mean one thing: Prepare to be exhausted by surprise drops all summer long. Right now, the list of confirmed album releases for the warmer months is slim but stacked — we've got new projects from Madonna, Ed Sheeran, Chance the Rapper, and Bruce Springsteen on the horizon. Then there's the list of speculative releases possibly waiting in the wings for a sneak attack. Might we finally get that new Lana, Rihanna, and Taylor after all this time? No one knows! But that's no excuse not to stay ready. Here are some of the highlights of the scheduled releases and a few you should know about anyway, just in case.
Skepta, Ignorance Is Bliss (May 31)
U.K. grime vet Skepta's 2016 album Konnichiwa tripped off a long-overdue spike in interest in the North London rapper in the States, where everyone from Drake to A$AP Rocky to Playboi Carti has tapped him for features. This spring's Ignorance Is Bliss scales back on the commercial sheen and refines the Boy Better Know co-founder's sound. Fans of bangers like "Shutdown" and "That's Not Me" will be pleased. The slower, more reflective songs don't disappoint either. —Craig Jenkins
Thomas Rhett, Center Point Road (May 31)
Pop-country prince Thomas Rhett ups the ante with this year's Center Point Road, the slickest, catchiest entry in a back catalog of slick, catchy country-pop hybrids. Until Sam Hunt comes out of hiding, Rhett's the only guy in the biz wild enough to put Little Big Town on a Prince-type groove and coax neo-traditional cowboy Jon Pardi onto a dance track about drinking brews. The deep cuts are better than the singles; just wait till you hear the opener and the title track. —C.J.
Jonas Brothers, Happiness Begins (June 7)
Few could've predicted we'd be talking about a new Jonas Brothers album in 2019, and we'd venture to guess even fewer could've predicted it'd be hotly anticipated. But the JoBros have had a late-career reconsideration now that they've reunited after breaking up in 2013 to pursue solo projects and family life and whatnot. Suddenly, the consensus has swung the other way: The JoBros are … good? But the point is they've always been good (or at least better than they got credit for), and as lead single "Sucker" (their first-ever No. 1 hit, all these years later) shows, they still possess a keen sense of what makes a smart pop single despite sitting out a massive transitional period in pop music. —Dee Lockett
Bruce Springsteen, Western Stars (June 14)
Building on the momentum of last year's Broadway show and Netflix special Springsteen on Broadway, the Boss returns this summer with his 19th album, Western Stars. Springsteen says the new music is "character-driven" and influenced by orchestral '70s Southern California pop music. Lead single "Hello Sunshine" recalls the ornate country hits of the late Glen Campbell, but the hip-hop drums on "There Goes My Miracle" suggest the album's concept might be more slippery than we think. —C.J.
Madonna, Madame X (June 14)
Because this is Madonna and she can do nothing without spectacle and intrigue, she's invented a whole new persona — how many are we at now? — for her 14th album. According to her, this Madame X character is an amalgam of all sorts of personalities and professions (secret agent, cha-cha instructor, freedom fighter), which means the sonics of the album will likely be just as schizophrenic and versatile, drawing, she says, from time abroad in Lisbon (it'll be multilingual for that reason, too). It'll likely still keep a unifying, summery theme, though: Singles "Medellín," featuring Maluma, and "Future," featuring Quavo, offer strong beach vibes. —D.L.
Titus Andronicus, An Obelisk (June 21)
Jersey punk outfit Titus Andronicus took an intriguing left turn last year on A Productive Cough, an album that traded the quartet's signature grit and abrasiveness for lush, acoustic Pogues-like tunes about people trying to get by. This summer's An Obelisk is a lean rejoinder; the band sought out Hüsker Dü and Sugar's Bob Mould for guidance and Chicago rock legend Steve Albini for production. This thing's built to blow the doors off a live show. If you can catch them on their lightning-fast East Coast tour, run, don't walk. —C.J.
Chance the Rapper, TBA (July)
Should it even matter that Chance the Rapper has dubbed his next project his debut album? After all his efforts to break the music-industry wheel, it seems regressive to now shortchange his previous releases by distinguishing one as The Album and all the rest as, well, not that. (What stopped Coloring Book from fitting the bill?) Whatever he wants to call it, though, it'll ultimately be an extension of the quirky nursery-rhyme raps he's known for. It might also be very sentimental — Chance has said the project is inspired by his wedding reception. Take that as you will. In keeping with Chance's previous anti-label (in all respects) ethos, it's hard to say if we've even heard anything from it yet; he randomly released four songs last summer and, more recently, one called "Groceries," without saying what it's for. Stay tuned, per usual. —D.L.
Ed Sheeran, No. 6 Collaborations Project (July 12)
If you were scratching your head wondering what that new Ed Sheeran/Justin Bieber song was all about, considering they've both been fairly quiet on the release front, the mystery is solved. Sheeran is releasing an album. But it's not what you think. He's going back to his pre-fame roots, when, in 2011, he made an EP that wasn't really about him so much as it was about the collective sounds of the U.K. At the time, he enlisted a bunch of local grime artists for the collaborative project; but, you know, since Sheeran's gone all Big Pop now, the guest list for its sequel is considerably more VIP now: In addition to Biebs, it's got features from Chance the Rapper and probably enough massive names that it'll look like a DJ Khaled tracklist. —D.L.
Slipknot, We Are Not Your Kind (August 9)
Five years after the mournful gothic rock of 2014's .5: The Gray Chapter, which memorialized the band's late bass player, Paul Gray, Slipknot snaps back to the heavier end of its creative spectrum with August's We Are Not Your Kind. The band intends to reward its fans for weathering the longest-ever gap between studio albums with a new collection singer Corey Taylor describes as a mix of the heaviness of the 2001 classic Iowa and the experimentation of its follow-up, 2004's Vol. 3: The Subliminal Verses. —C.J.
Tool, TBA (August 30)
After over a decade of side projects, legal battles, promising reports from the studio, and disconcerting news stories, California prog-metal quartet Tool releases its first album since 2006's 10,000 Days, which seems likely to include recent tour staples "Descending" and "Invincible." A lot has changed in the world and for the band since the Bush era. Does the new music address it, or does it stay the course? —C.J.
Lana Del Rey, Norman Fucking Rockwell (TBD)
Lana del Rey does whatever she wants. She might chillax at a Moody Blues show on Instagram Live. She might drop a cover of Sublime. She might take time out of a date to inform you that you'd be first up for the guillotine in a revolution. The singles for new album Norman Fucking Rockwell are literary and engrossing — see: "Hope Is a Dangerous Thing for a Woman Like Me to Have — But I Have It," "Venice Bitch," and "Mariner's Apartment Complex." She might drop the album this summer, and she might not. —C.J.
Rihanna (TBD)
Rihanna has made it loud and clear that we'll get her ninth album when she damn well pleases, and in the meantime, stop pestering her about it. We'll obey her wishes and not dare to ask for any further detail — just set all your appropriate alerts, and follow all the necessary stan accounts. But the fact that Rih has, at least, acknowledged in an interview that her reggae album, while untitled and seemingly unfinished, does exist is a good sign that it's probably the closest to completion that it's ever been. (Perhaps her LVMH line is the last side project she intends to introduce before refocusing on music.) Even better? We can relax knowing that Drake and his Caribbean mimicry will stay far, far away from it. —D.L.
Taylor Swift (TBD)
Taylor Swift's villain era was a necessary maneuver in a spot of bad PR, but now that she's finished with airing grievances, it looks like she's back to business as usual, namely, stepping out in pastel colors and making impossibly slick hits about rainbows and friendship. Can she pivot out of the feuds and rap vibes of the Reputation era into this happy, peppy Splatoon phase without coming off as cloying? What can't she do? —C.J.
Lil Uzi Vert, Eternal Atake (TBD)
The saga of Lil Uzi Vert's delayed sophomore album is the saga of just about every young rapper who signed to the majors without reading the fine print. According to Uzi, he's been unable to release the follow-up to 2017's Luv Is Rage 2 because of label bureaucracy, causing him to prematurely "retire." Which really just meant a lot of pouting on Instagram and a moratorium on releases, which he's been so prolific at since bursting on the scene a few years ago. He's since returned — self-leaking the loosie "Free Uzi," which forced the label's hand to drop two singles, "That's a Rack" and "Sanguine Paradise" — and told the crowd at Miami rap festival Rolling Loud the other week that the album is a go. Expect it to drop with no warning, like he's always done. —D.L.
Tame Impala (TBD)
Tame Impala's trip from the pristine, psychedelic Beatles worship of 2010's Innerspeaker to the festival-ready dance-rock of 2015's Currents has been a whirlwind. "Yes, I'm Changing" is an understatement. Every time we hear from ringleader Kevin Parker, he's a mile away from where he was last album. Time spent working with Lady Gaga, Kanye West, and Rihanna appears to have rubbed off on his flagship act. New singles "Borderline" and "Patience" suggest Parker's finally pulling the straight-up disco pivot Currents hinted at on "Let It Happen." —C.J.