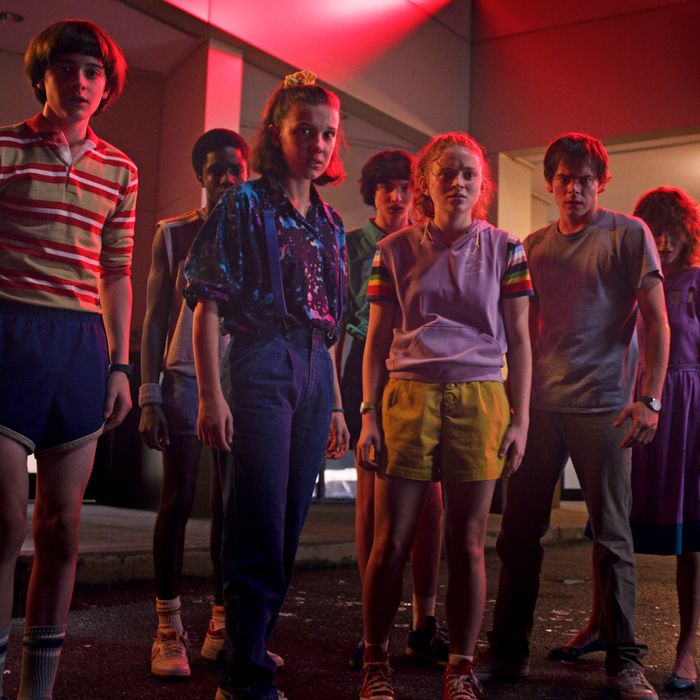 The
Stranger Things
teens are clearly ready for the summer.
Photo: Netflix
Now that Game of Thrones is over — spoiler alert, the finale aired last Sunday and literally everyone loved it! — we can fully turn our attention to the coming wave of summer TV.
Watching television in any season is no longer a casual thing. You have to plan and prepare ahead of time, and we at Vulture are here to help. Ahead of the beach-and-barbecue months, here's a list of ten returning shows this summer worth catching up on (or rewatching) before they come back. It's Memorial Day weekend, so you've got three days to get a head start.
Vida (Starz)
Returning: Thursday, May 23
Where to stream the previous season: Starz (or Hulu and Amazon Prime with a Starz subscription)
The first show on television with an all-Latinx writing staff, Vida explores gentrification in East Los Angeles, queer relationships, and the family dynamics within the Hernandez clan, all with an eye on cultural specificity. In season one, sisters Lyn (Melissa Barrera) and Emma (Mishel Prada) lose their mother, Vida, they return to L.A. and must sort through their feelings as well as their plans for the apartment building and bar Vida owned. Season two premiered this week, but the six 30-minute episodes from the first season are a quick binge.
The Handmaid's Tale
Returning: Wednesday, June 5
Where to stream previous seasons: Hulu
I know; I know: The last thing you want to think about while trying to decompress is a society based on the systemic oppression of women. These days especially, that's not exactly escapism. But in the third season of the Hulu series inspired by Margaret Atwood's novel, there may be some signs of hope for June (Elisabeth Moss) and her efforts to resist the ways of Gilead. Translation: You'll want to tune in, which, for those just joining, makes it pretty necessary to view seasons one and two.
Big Little Lies
Returning: Sunday, June 9
Where to stream previous seasons: HBO
The irresistible drama about Monterey moms harboring various secrets comes back for a second season that will probably earn multiple Emmy Award nominations roughly a year from now. I mean, I haven't seen it yet. But the entire cast — including Nicole Kidman, Reese Witherspoon, and Laura Dern — is back, plus Meryl Streep, so I stand by that prediction. The first season aired more than two years ago, so even if you've seen it, another binge of those first seven addictive episodes is in order.
Pose
Returning: Sunday, June 9
Where to stream the previous season: Netflix, FX+
Ryan Murphy, Steven Canals, and Brad Falchuk's immersion into New York ballroom culture returns for a second season with a time jump to 1990. Before taking that leap, get grounded in season one, which is set in the late 1980s, before voguing hit the mainstream.
Dark
Returning: Friday, June 21
Where to stream previous seasons: Netflix
Dark, a complex German mystery-thriller about time travel, a nuclear power plant, and tragedy that shattered multiple families, first appeared on Netflix in 2017. That's more than long enough for all of the details of that dense first season to have leaked right out of your head. No problem. The first ten episodes are waiting on Netflix to be rewatched.
Stranger Things
Returning: Thursday, July 4
Where to stream previous seasons: Netflix
America's favorite streaming series about Demogorgons is back for the July 4 holiday weekend with a third season that has everything: the summer of 1985! The Stranger Things kids, now, disconcertingly, teenagers! Even New Coke! But before you take a sip of that special formula, don't forget to revisit seasons one and two.
Snowfall
Returning: Wednesday, July 10
Where to stream previous seasons: FX+
If you've been revisiting the work of John Singleton in the wake of his recent death, consider carving out some time for Snowfall, the crime drama he co-created about the crack cocaine epidemic in L.A. in the early 1980s. Stream the first two seasons before the third one begins in July.
Veronica Mars
Returning: Friday, July 26
Where to stream previous seasons: The first three seasons will land on Hulu this summer; in the meantime, rent on Amazon, iTunes, or YouTube
Veronica Mars already returned once, in 2014, in movie form. But the upcoming fourth season marks the first episodic comeback for the show about Neptune's finest detective. To refresh your memories, you'll soon be able to turn to Hulu, which acquired streaming rights for the previous episodes (and movie) and will start streaming later this summer.
BH 90210
Returning: Wednesday, August 7
Where to stream previous seasons: Hulu or CBS All Access
Perhaps you don't need a reason to while away a summer afternoon confirming, for the 80th time, that Donna Martin will indeed graduate. But with the meta reboot of Beverly Hills, 90210 coming in August with all of the original cast, save for the late Luke Perry, you've got one anyway.
Lodge 49
Returning: Monday, August 12
Where to stream previous seasons: Hulu
This AMC series about an aimless surfer dude (Wyatt Russell) who finds purpose and odd mystery in a fraternal organization was one of last summer's most pleasant surprises. It's the sort of pleasantly weird, ambling series that's perfect for summertime, so catch up before it's back in August.